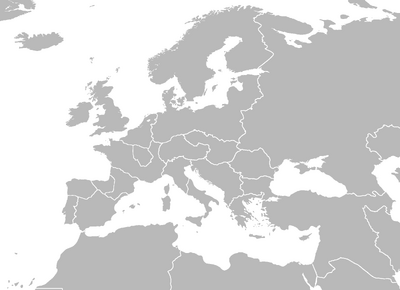 Europe is, by convention, one of the world's seven continents. It comprises the westernmost peninsula of Eurasia, Europe is generally 'divided' from Asia to its east by the watershed divides of the Ural and Caucasus Mountains, the Ural River, the Caspian and Black Seas, and the waterways connecting the Black and Aegean Seas. Europe is bordered by the Arctic Ocean and other bodies of water to the north, the Atlantic Ocean to the west, the Mediterranean Sea to the south, and the Black Sea and connected waterways to the southeast.
Europe is the world's second-smallest continent by surface area, covering about 10,180,000 sq km (3,930,000 sq mi) or 2% of the Earth's surface and about 6.8% of its land area. Of Europe's approximately 50 states, Russia is the largest by both area and population (although the country has territory in both Europe and Asia), while the Vatican City is the smallest. Europe is the third-most populous continent after Asia and Africa, with a population of 733 million or about 11% of the world's population.
Europe is known as the Red Continent due to the prevalance of Communist governments in many major countries such as France, Germany and Italy. However, there are a handful of authoritarian nations (Great Britain, Portugal, Iceland, Burgundy, Basque State and Serbia) and Russia, the only monarchy in Europe.
Countries
Communist States
Non-Communist States
See Also
Ad blocker interference detected!
Wikia is a free-to-use site that makes money from advertising. We have a modified experience for viewers using ad blockers

Wikia is not accessible if you've made further modifications. Remove the custom ad blocker rule(s) and the page will load as expected.