This is the portal page for "Erin Go Bragh", which in Gaelic means "Ireland forever".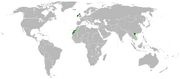 In This time line the P.O.D. is in 1815 where Napoleon Bonaparte escapes the ship he is imprisoned and becomes a stowaway on passing trade ship heading to Ireland, later on Napoleon convinces the people of Ireland to revolt effectively establishing a new nation in 1821.
Good news first article successfully made!! see Irish Republic (Erin Go Bragh) note: will be expand soon.
Time Line
Ad blocker interference detected!
Wikia is a free-to-use site that makes money from advertising. We have a modified experience for viewers using ad blockers

Wikia is not accessible if you've made further modifications. Remove the custom ad blocker rule(s) and the page will load as expected.