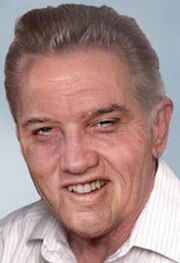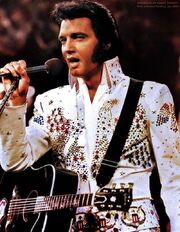 Elvis Aaron Presley (January 8, 1935) is an American singer and actor. A cultural icon, he is commonly known by the single name
Elvis
. He is one of the most popular musicians and film stars in the world, he is often referred to as the "King of Rock and Roll" or simply "the King".
Elvis credits President Nixon on his turn around in 1976. It was then that Elvis visiting Nixon after the assassination attempt on Nixon's life that Elvis came to grips on his own mortality. Elvis would later start the Elvis Presley Center, to help other go for rehabilitation. Elvis continues to perform both on and off Earth.
Ad blocker interference detected!
Wikia is a free-to-use site that makes money from advertising. We have a modified experience for viewers using ad blockers

Wikia is not accessible if you've made further modifications. Remove the custom ad blocker rule(s) and the page will load as expected.