Elizabeth Shannon


Portrait of Elizabeth Shannon

38th President of the United States
January 20, 1981-January 20, 1989

Predecessor
Neill Wallace
Successor
Robert Redford
Vice President
Robert Redford

42nd Governor of Michigan
January 3, 1971-January 2, 1975

Predecessor
George Romney
Successor
Dean Shugart

US Representative, Michigan 5th District
1965-1971

Predecessor
Carl Hammond
Successor
John Battery
Born
October 10, 1928
Died
March 26, 2011
First Husband
Roger Shannon
Political Party
National Party
Elizabeth Annabelle Rose Shannon (nee Danson) (October 10, 1928 - March 26, 2011) was the 38th President of the United States of America, serving 1981-1989, and was the first and to date only female president in American history, and the only female to ever run on the top of a national party ticket (three other women have run as Vice Presidential candidates).

Elizabeth "Liz" Shannon was also, from 1971-1975, the first female Governor of Michigan and only the fourth woman to ever serve as a Governor in the United States, and prior to her term as Governor she was a United States Congresswoman representing Michigan's 5th District, from 1965-1971.
Early Life
Edit
Elizabeth Annabelle Rose Danson was born in Kalamazoo, Michigan in 1928 to Peter H. Danson (1900-1984) and Rose Danson (1903-1954). Her parents were both English teachers who had met while studying at the University of Michigan and young "Liz" was their first child. She also had a younger sister, Beatrice Rose Danson (1932-).
Elizabeth Danson graduated from Kalamazoo Women's Preparatory School and attended the University of Michigan as an undergraduate from 1947-1951, obtaining her degree in political science. Danson was a progressively-minded activist during her time in Ann Arbor and was part of the Women's Club, where she was friends with future feminist leader Sandra Bettis. Danson obtained work in 1952 working for the campaign of Michigan's Nationalist Senator, George Brandon, and she obtained knowledge of canvassing and campaign tactics as well as earning the respect of Brandon himself, who considered her work with encouraging housewives to come out and vote for Brandon "invaluable."
It was on the 1952 campaign that Danson met young business administrator Roger Shannon (1924-2006), whom she married in 1954. The Shannons moved to Ann Arbor in 1956 so her husband could pursue work with the General Motors company, and Liz stayed at home with their young son Peter (1957-). In 1960, Liz gave birth to their second son, Brian, and she had twin girls, Laura and Rose, in 1962.
In the late 1950's and early 1960's, Liz continued to be heavily involved with various campaigns and became known around the Detroit area as an expert campaign manager. She was the chief manager of the rousing election victory of Keith McKeeney, who became the first Nationalist in sixty years to become the Mayor of Detroit with his win the 1960 mayoral campaign. Shannon disliked President Hoover and famously declared that she didn't vote for either candidate in the 1960 election because "neither fits my understanding of a President."
Congress and Governorship: 1965-1975
Edit
By 1964, Shannon had built up a very strong acumen as one of the leading female Nationalists in Michigan, and her husband's work at GM had made her family very comfortably middle class. In 1964, Shannon approached her husband about running for the United States Congress. While Roger was initially reluctant, feeling that the social mores of the time suggested she ought to stay at home, especially with young toddlers, Liz went ahead with the campaign regardless, often bringing her children along with her.
Shannon narrowly won in the 5th District, which covered Ann Arbor and the areas south of it, despite much protest in suburban Detroit about the inappropriateness of a housewife in Congress. Still, her election victory was considered a huge step for the women's rights movement.
Shannon sided often with the liberal wing of the Nationalist Party, voting in favor of many of the landmark civil rights passages enacted during Dick Van Dyke's first term. Her status as a conservative female activist attracted the attention of numerous influential party members, including Senator Tom Heaps of Florida, Senator John Burns of Deseret and de facto party leader Anthony Nicci. Shannon even befriended President Van Dyke during the time, and despite lacking any serious seniority in Congress was assigned to the Congressional Civil Rights Committee, which was designed to investigate breaches of civil rights law, in 1967.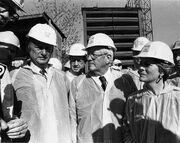 Despite being celebrated as a presence in Congress, Shannon's actual legislative achievements were minimal and despite her popularity in her district, she elected to not seek a third term in the House of Representatives. She was a vocal critic of Betty Douglas, the Democratic Vice Presidential nominee in 1968, condemning Douglas for "taking credit for the women's rights movement without actually representing the things most women believe in," and called her a "liberal agitator, a feminist revolutionary."
Shannon returned to Michigan and began laying the groundwork for a campaign for the Governor's office. This plan was met with an initially tepid response until many of the men she had helped get elected jumped to her aid, and her fundraising support within the National Party helped her become the frontrunner to replace incumbent George Romney after he stepped down following the 1970 elections. Shannon won a narrow victory over Democratic challenger Henry Reinhard and was inaugurated as the first female Governor of Michigan on January 5th, 1971.
As Governor, Shannon was once again not a legislative overachiever. The economy in Michigan was booming during the early 1970's thanks to the still-strong United States steel industry and she haggled an enormously favorable contract with Parker Automotive, one of the largest producers of tractor trailers in the country, to build their new factories outside of Detroit after they vacated their former manufacturing sites in Huron. Shannon also implemented several of the civil rights laws she had helped pass through Congress during the 1960's but helped pass a law forbidding busing, feeling that it was "reverse racism" and had no place in Michigan. She also advocated for a constitutional amendment giving the Governor of the state a limit of two four-year terms, similar to the Presidency, as opposed to unlimited two year terms, which she successfully passed. She handily won the 1972 gubernatorial election and spoke at the '72 Nationalist Party Convention in Detroit as one of the keynote speakers, being seen as a rising star in the party. Conservative commentator Ronald Reagan said at the convention that, "Mrs. Shannon is one of the most capable, level-headed politicians I've ever seen. She'll be a landmark Vice Presidential pick one day for the right candidate."
Despite being eligible for a full four year term after the 1974 election, Shannon declined to run again, deciding instead to turn her attention to national politics, much of which involved setting up for the 1980 Presidential election, which regardless of the outcome in '76, a Nationalist would be eligible to run in. Reportedly, in early 1976, Shannon told her husband and her family that she wanted to be the first female President and that she believed that she had the broad appeal to "break the glass ceiling."
1980 Presidential Election
Edit
See also: 1980 US Presidential Election
Presidency: 1981-1989
Edit
Shannon was referred to by conservative commentator Ronald Reagan as "the ultimate pragmatist;" while she held fast to her conservative family values and fiscal beliefs, Shannon was also a noted deal-cutter who was approachable to Democratic leaders who were in power in Congress for large swaths of her term and who preferred involving herself in the legislative process to help hash out compromises between the two parties as opposed to deferring to Congressional leaders to do so themselves.
Domestic Agenda
Edit
Shannon's highest domestic priority entering office was to tackle the ongoing economic crisis while dealing with the sudden rise in racial strife across the country. While integration and equal rights was a long-ago achieved goal, the depression had caused racial turmoil to emerge once more.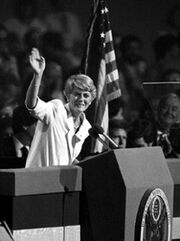 Shannon delegated much of the domestic agenda to Vice President Redford, whom she thought was a more effective communicator of ideas based on his successful record in California and his approachability to the people, while she focused personally on the economy and foreign policy. In early 1982, Shannon made a televised address to the nation in which she outlind her "Decade of Goals," which included a permanent law on the status of abortion, a Presidential Women's Council, a national crackdown on crime, especially drug crime, by cracking down on suppliers as opposed to buyers, a balanced national budget and a lofty plan to establish a permanent presence on the moon by 1995.
Shannon focused heavily on her federal crime initiatives in her first term, plugging through Congress the Alton-Ringler Narcotics Distribution Act in 1984, which changed the focus of the DEA and law enforcement from draconian laws against low-income addicts and recreational buyers, and instead focusing efforts on punishing suppliers, smugglers, and high-end dealers. The law was hailed as a huge success in that it appropriated almost a billion dollars in government funds to modernizing the techniqeus in which federal and state narcotics agents could find and punish lawbreakers while providing new financial support and training to cash-strapped police departments nationwide as they struggled to recover from the depression.
In 1985, Shannon won her next big legislative coup by personally appealing the the Supreme Court about a ruling that would permanently leave the matter of abortion to the individual state, and in the landmark ruling Johnson v. Mississippi, the Court upheld the 1975 law passed by Dawley guaranteeing the state's right to determining the legality of abortion, denying the defendant's argument that the federal government was denying her right to privacy. Shannon later commented that despite her own support of abortion, she felt that a significant portion of the United States disagreed with her stance and that it was unfair for the federal government to unilaterally ban or allow the practice.
Shannon threw enormous support behind the measures of Mothers Against Drunk Driving and in 1986 helped force a federal mandated increase in the drinking age from 18 to 20 across the country, feeling that "two years of development and independence from the family will mature people enough to make intelligent decisions with alcohol," but in accordance, Shannon also fought to raise the age of draft eligibility to 20, as she claimed, "it is unfair that you can die for your country but not have a beer." The draft age was raised in 1990 under her successor, Robert Redford. However, the law would maintain that 18 year old men could still volunteer for military service at 18 and still vote at that age.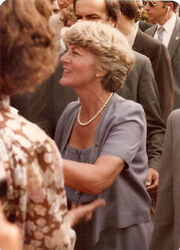 The next big-ticket items on Shannon's domestic agenda during her second term fell flat to an extent, and she found herself battling a measure to mandate universal health care that was being pushed by the emerging liberal wing of the Democratic Party. Shannon, who wanted to focus on new civil rights measures that would jointly affect minorities, women and homosexuals, was forced to go head-to-head with powerful Congressional Democrats, especially in the Senate, throughout 1987 and 1988 over their National Health Care Act. Eventually, Shannon vetoed what she called an "omnibus bill of crippling proportions" in August of 1988, and as Congressional election races began heating up, the Senate was unable to override her veto.
Shannon's greatest second-term accomplishment on the civil rights front, however, was her unequivocal backing of Bill Cosby during his sensationalized 1986 racketeering trial. Shannon swore to pardon Cosby were he to be convicted, but declined to pressure the state of Pennsylvania from dropping their racketeering and fraud charges against him. When Cosby was eventually acquitted following signs of procedural error by the state prosecution, Shannon flew Cosby to Washington to declare that "justice has been served appropriately." The support of Shannon and the following groundswell of Nationalist donors to the Civil Front further tied the National Party to the civil rights movement and continued to eradicate the influence of Southern Democrats who at one point had opposed such measures.
Economic Policy
Edit
Shannon entered the White House during the roughest economic period in United States history in almost sixty years and declared in her inauguration address that it was "time to clean shop." Her first act in office, only hours after inauguration, was to demand the resignations of every member of the National Bank's board of directors, most of whom had inexplicably been retained since the stock market crash in 1979, including Chairman Francis McCay. While the worst of the depression was considered over by most economists by the time Shannon was inaugurated in January 1981, the new President decided to immediately make her presence felt with what she called an "overhaul" of the federal government's regulatory system.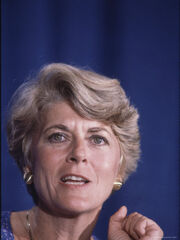 While Shannon emphasized the government's new role in jump-starting the economy, her methods in doing so were about as far from the stimulus-focused and deficit spending efforts of the Wallace administration that preceded her. Shannon instantly ordered a freeze on interest rates from the National Bank, passed a sixth month "loan reprieve" from all commercial banks lending from the federal source, and also signed into law a bill that would separate investment and commercial banks from one another.
The depression gave way to the "lingering recession," which Shannon combatted with a policy of "Build Here, Build Now," in which billions were invested in infrastructure projects and defense spending. Shannon's kickstart of the defense contracting industry helped phase out generation-old fighter jets and built newer, safer and more efficient modern weapons, bringing the competitive balance of the United States and French Empire back up to par. She also invested in a high-speed, federally regulated fiberoptic network to connect computers throughout the nation and usher in "the computer era of economics," which would in turn cause the 1987-1991 technology boom.
Shannon's conservative but pragmatic financial strategies did not bring about a reversal of economic fortunes, as the period between 1983-1993 is often referred to as the "Lost Decade" - on New Year's Day 1994, the stock market finally reached the same pre-1979 levels it had once enjoyed. Still, the second half of Shannon's time in office experienced steady, healthy economic growth, although not nearly as robust as the 1970's had been. For this reason, Shannon is often credited with steering the US out of the deep recession with what was later titled "Elizanomics."
Foreign Policy and the "Shannon Doctrine"
Edit
Influenced by Secretary of State George Steinbrenner and Secretaries of Defense Julius Holmes (1981-1984), Carl Gerlich (1984-1987) and Brian Wolfenburg (1987-1989), Shannon focused her earliest efforts on the war effort in Brazil, going so far as to "delegate and divide" responsibility of domestic matters to Vice President Redford and her Attorney General, John Baihn.
Shannon's strategy in Brazil was to slowly withdraw American soldiers while escalating the "non-direct engagement," i.e an increase in aerial bombing, naval strikes and covert operations deep within Brazilian borders. In mid-1982, with the American presence in Brazil somewhat winding down as the Colombian army bought the largest single order of American-manufactured weapons in history, Shannon met with her top foreign policy and military aides at Camp Marks in the mountains of Maryland and outlined her new Cold War doctrine, summed up in a few words: "funding, not fighting."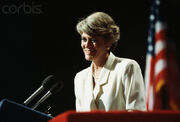 In an ensuing address to the nation on October 8th, 1982, the then-embattled Shannon declared, "Detente has failed, as we clearly see a foe in Brazil with the full support of the French Empire, prepared to battle to the death. Our support must now shift to a method of preventing more dominoes from falling, as opposed from trying to push the fallen ones back the way they've already toppled."
The implementation of the Shannon Doctrine and disastrous "retreat" of American soldiers in Brazil effectively ended the brief era of detente enjoyed since the early 1970's but at the same time removed much of the Hoover/Van Dyke-era methods of direct engagement of American soldiers or intelligence operatives overseas to topple French-backed regimes. Shannon's Nationalists suffered heavily in the 1982 midterm elections, although Shannon's successful withdrawal of American soldiers back into Colombia by Christmas 1983 was hailed as a major step towards regional peace. Shannon ended the draft a month later and announced that the American presence in Colombia would be cut in half, to remain only within their ally's borders in case the Brazilians were to invade, but the message was clear: America had lost in Brazil.
Regardless, Shannon maintained a strong role in the Cold War and financed the Third Iberian War in 1985 and helped avoid a nuclear confrontation during the 1988 Persian Gulf War. Wary foreign leaders were often unsure how to greet Shannon while she was on foreign visits, but the first female President often showed enormous deference and reverence to local customs, even wearing a head shawl while visiting countries with a Muslim majority such as Turkey, Arabia or Egypt, and she wore a sari during her landmark tour of Bengal, Gangestan and Mysore in 1987. Her visit to France on Shroud Day 1986 was seen as an unusual but hailed moment in US-French relations.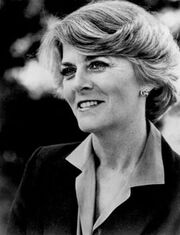 Possibly her greatest individual achievement as President, however, was the negotiation of lasting peace between Syria and the Zionist Liberation Front, punctuated by the Camp Marks Accords in 1986, in which the Syrian government agreed to establish an autonomous Zionist state within their borders, and which was followed in 1988 with the Jerusalem Treaty, which denationalized the city of Jerusalem and made it a special protectorate of the League of Nations, a territory all three Semitic faiths and people of all religions around the world could share equally, a treaty Shannon herself signed eagerly on the steps of the Dome of the Rock.
Cabinet and Appointments
Edit
Elizabeth Shannon made sure to surround herself with an enormously capable Cabinet, drawing from the model of Clyde Dawley and hiring advisors from both ends of the National Party's broad political spectrum. She made a surprising choice in 1983 when she fired her National Security Advisor, Carl Hunt, and hired Cyrus Bloch, the first black man to serve on the Cabinet.
During her term, three Supreme Court justices retired and one died, allowing Shannon to appoint a bevy of new, conservative minds to the Court, including the Court's first Hispanic in George Sanchez and the Court's first foreign-born member, English-born Howard Smith.
Probably Shannon's most influential Cabinet member was Secretary of State George Steinbrenner, a powerful, conservative foreign policy expert who hailed from the Center of International Relations, one of the largest foreign policy think tanks in Washington. Steinbrenner was the "arrow to Shannon's bow," as one administration official phrased it, and during his eight years at the State Department revolutionized the diplomatic field and exerted an enormous amount of influence over the foreign policy decisions of Shannon and even her successor Redford, and his 1986 trip to Portugal was seen as a political statement on his part, rather than America's. Another important member of her administration was Chief of Staff Robert Hyman (1986-1989), who would later serve as the ambassador to France between 1991 and 1994.
Public Image
Edit
As the first female President, there was a great deal made over her image as being "ladylike." Shannon was an admirer of Gangestani Prime Minister Indira Gandhi and she employed two wardrobe advisors whose entire job was to select which outfits she was to wear to what events. Shannon herself joked, "As the first woman President, I need someone to pick out my wardrobe, otherwise I'd never get anything done while I'm deciding what to wear!"
Shannon was also regarded by allies and opponents as a shifty political figure with a multi-faceted persona; she employed often a sympathetic, maternal image, leading her to be called "Grandma President" or "Aunt Liz," an image she equally embraced and spurned, depending on the context. Her 1984 Presidential campaign focused much on her matronly appeal to poorer voters, making sure they knew they had a President looking out for them as a mother looks after a child.
However, she also was known as "Iron Liz" or the "Iron Woman," due to her occasional brazen attitude and firm stance in the face of foreign or Congressional opposition. Presidential historian Clyde Bartley once commented that no President could stare someone down like Shannon, and that during her reputation around Washington was that "one moment, she's pulling cookies out of the oven and handing you a tall glass of milk, and then ten seconds later, she's an ice-cold bitch."
Shannon was aided enormously by the First Husband, Roger Shannon, who was an articulate former engineer who was often cited as one of the most influential spouses in Presidential history, due to his own political acumen and his confrontational, charismatic speaking style.
Shannon's approval rating was low for the majority of her first term, typically hovering right under 50%, before it moved up thanks to economic stability and the ending of the Brazilian conflict in 1984 just in time to help her reelection. Still, Democratic opponents jumped behind the slogan, "you can't spell Brazil without an L-I-Z" or referring to the conflict as the "Bra-Liz-ian War." Her "Elizanomics" were derided for being naive, and despite her relative youth at leaving office of 62, Shannon was often referred to as a "stale old woman" or "Little Old Grammy."
Post-Presidency and Legacy
Edit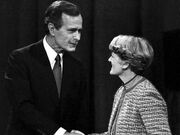 Elizabeth Shannon retired mostly from the political arena after leaving office in 1989, although she began an initiative as a humanitarian in 1993 aimed largely at the developing nations of South Asia and Africa. She spent most of the 1990's travelling in African and Indian countries on a variety of Aide Internationale missions and was made the Aide Internationale Goodwill Ambassador to Gangestan in 1998. Her memoir,
A Life Full of Firsts
, was published in 1999 and was an international bestseller that sold almost five million copies within two months. In 2001, she was awarded the Nobel Peace Prize, largely due to her role in negotiating peace between the Zionists and Syrians. Shannon ended her various philanthropic and humanitarian efforts after a major stroke in 2007, which left her paralyzed from the waist down and bound to a wheelchair. Regardless, the 79-year old Shannon spoke at the 2008 Nationalist Convention to rousing applause, the first time she had spoken at a party convention since 1992.
Shannon opened her Presidential library in Clark, Michigan in 1994 and has stated that she wishes to be buried there someday. When her husband Roger passed away in 2006, he was interred at the Presidential library. On March 26, 2011, Shannon passed away from lingering complications caused by her 2007 stroke in Clark, Michigan at the age of 82, having been out of office for 22 years.