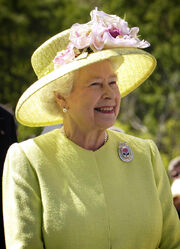 Elizabeth II (Elizabeth Alexandra Mary) is the Queen of Great Britain and Ireland and the Dominions of the British Empire, and she is the Empress of India. Through marriage, she is also Princess of Greece, Denmark and Norway.
She was born on 21 April 1926 in Mayfair, London, England, the oldest child and daughter of Prince Albert of Great Britain and Ireland, Duke of York, and his wife Lady Elizabeth Bowes-Lyon. She became Queen and Empress upon the death of her paternal uncle, Edward VIII, on 28 May 1972.
She married on 20 November 1947 at Westminster Abbey, London to Prince Philip of Greece, Denmark and Norway (born 1921), who was created Duke of Edinburgh by King Edward VIII upon marrying Elizabeth, who was presumed to inherit the throne, as the King had no issue, and the King's brother, Prince Albert, only had two daughters, Elizabeth being the oldest of them.
Elizabeth and Philip have the following children:
Prince Charles (born 1948)
Princess Anne (born 1950)
Prince Andrew (born 1960)
Prince Edward (born 1964)
Ad blocker interference detected!
Wikia is a free-to-use site that makes money from advertising. We have a modified experience for viewers using ad blockers

Wikia is not accessible if you've made further modifications. Remove the custom ad blocker rule(s) and the page will load as expected.