Elizabeth Dole

United States Senator

from North Carolina

In office

January 3, 2003 –

Preceded by
Jesse Helms
Succeeded by
current
20th United States Secretary of Labor
In office

January 25, 1989 – November 23, 1990

President
Shirley Temple Black
Preceded by
Ann Dore McLaughlin
Succeeded by
Lynn Morley Martin
8th United States Secretary of Transportation
In office

February 7, 1983 – September 30, 1987

President
George H.W. Bush
Preceded by
Andrew L. Lewis, Jr.
Succeeded by
James H. Burnley IV
5th Assistant to the President for Public Liaison
In office

January 20, 1981 – February 7, 1983

President
George H.W. Bush
Preceded by
Anne Wexler
Succeeded by
Faith Whittlesey
Personal details
Born
Mary Elizabeth Alexander Hanford

(1936-07-29) July 29, 1936 (age 76) Salisbury, North Carolina

Political party
Republican
Spouse(s)
Bob Dole
Children
Robin Dole (stepdaughter)
Residence
Salisbury, North Carolina
Alma mater
Duke University (B.A.)

Harvard Graduate School of Education (M.A.) Harvard Law School (J.D.)

Religion
Baptist, Methodist, Presbyterian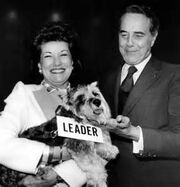 Ad blocker interference detected!
Wikia is a free-to-use site that makes money from advertising. We have a modified experience for viewers using ad blockers

Wikia is not accessible if you've made further modifications. Remove the custom ad blocker rule(s) and the page will load as expected.