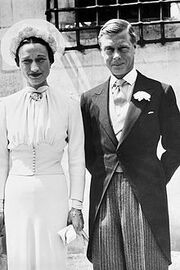 Edward VIII (Edward Albert Christian George Andrew Patrick David) was King of Great Britain and Ireland and the Dominions of the British Empire, and Emperor of India.
He was born on 23 June 1894 in White Lodge, Richmond, Surrey, England, son of the later King George V and Queen Mary, née Princess of Teck, and he (Edward) became King upon the death of his father on 20 January 1936.
He married on 3 June 1937 to American-born and twice-divorced Wallis Warfield (1896-1986), the only child of Teackle Wallis Warfield and Alice Montague. However, King Edward and Queen Wallis had no issue.
Edward VIII died on 28 May 1972 in London and was succeeded as monarch by his niece Elizabeth II.
Ad blocker interference detected!
Wikia is a free-to-use site that makes money from advertising. We have a modified experience for viewers using ad blockers

Wikia is not accessible if you've made further modifications. Remove the custom ad blocker rule(s) and the page will load as expected.