Edi Rama (b. 1964, Tirana), is the current Supreme Chancellor of the Austro-Hungarian Empire.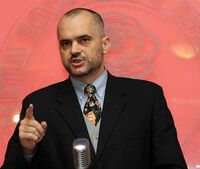 Rama was elected in 2003 in national elections in which his Union of Social Democracy won 45.4% of the national vote. He was chosen by the Congress to be its nominee for Supreme Chancellor on August 17. Just 39 years old at the time, Rama was and remains the youngest person to hold the office of Supreme Chancellor. He is also the first Supreme Chancellor to come from outside the Austrian or Hungarian provinces. Rama is Albanian. Prior to his nomination for Supreme Chancellor he was the Mayor of Tirana (1997-2003) and a member of the Congress (1999-2003). Rama was chosen as the USD's candidate after a power struggle emerged between supporters of Alfred Gusenbauer and Katalin Szili. Rama emerged as a compromise candidate and was adopted as the USD's candidate on March 5. After the election, Rama named both Gusenbauer and Szili to the Cabinet, appointing them as Finance Minister and Foreign Minister respectively.
Rama is said to have a less-than-cordial relationship with the Regent, Crown Prince Karl, and this has been reported a number of times in the media.
Rama is a commited Socialist, and has orchestrated a series of reforms to the Empire's health and education systems.
Ad blocker interference detected!
Wikia is a free-to-use site that makes money from advertising. We have a modified experience for viewers using ad blockers

Wikia is not accessible if you've made further modifications. Remove the custom ad blocker rule(s) and the page will load as expected.