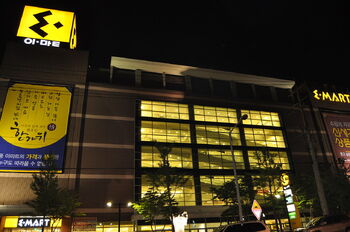 E-mart (Hangul: 이마트) is the largest retailer in Korea. There are over 80,000 stores across Korea, China, Japan, Europe, Takamatsu, and Amazonia as of December 2012. It was founded on 10 November 1968 by Shinsegae, and was the first discount retailer in Korea.
E-Mart is the oldest and largest discount store chain in Korea with total sales volume exceeding JP¥ 129.4 billion in 2010.
少女里見 ~ Third Power
Satomi Maiden ~ Third Power
超大国
Superpowers
組織、企業、等
Organisations, Companies, etc.
戦争
Wars
その他の情報
Other information
Ad blocker interference detected!
Wikia is a free-to-use site that makes money from advertising. We have a modified experience for viewers using ad blockers

Wikia is not accessible if you've made further modifications. Remove the custom ad blocker rule(s) and the page will load as expected.