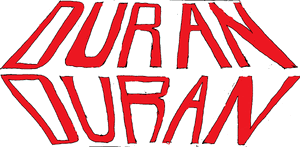 Duran Duran are a five-piece all-male band which formed in 1979. They were originally New Romantic in style, but later changed to develop a unique style of music, mainly electronic but with guitars. They were also one of the founding bands of the Videotheque movement. Some of their music and videos are also seen as quite sexually exploitative, though this has faded considerably in recent years.
Their songs tend to have SF themes and sound quite downbeat and austere, somewhat like Depeche Mode and Gary Numan, though they have also been escapist and camp. Later albums are more adult-oriented and melancholy.
Discography:
Albums:
1981: Excessive Machine
1982: Hold Back The Rain
1984: The Sound Of Thunder.
This is their first video album, released primarily as a laserdisc and Betamax cassette, though it was also available as an LP, CD and audio cassette. It's a concept album referring to the Ray Bradbury story of the same name. The cover features an airbrushed painting of a walking boot lying on its side with a butterfly crushed in its treads, in a prehistoric rain forest and a levitating silver walkway in the background. The track listing is as follows:
Election Day
Machines of Blue and Silver
Back Travel
Tyrant King
Looking for the Edge of the Pavement
Single Boot Problem
Butterfly Effect
Re-Election Day
The Sound of Thunder
This was a seminal album in the establishment of the Videotheque genre.
1985: Et In Arcadia Ego.
This includes the Bond film track "From A View To A Kill", whose lyrics quote from the folk song "D'Ye Ken John Peel". This album continued the trend away from single tracks towards a rock musical tendency. The album cover uses the Nicholas Poussin painting of the same name. The concept of the album is the development of music from prehistoric times until the present day and then on into the imagined future, with each track reflecting the change in style appropriate to the period. Other tracks include 'Luna' and a cover version of "Harvest For The World".
1985 was also the year of the
Live Aid
concert, during which they may have given their best performance. "From A View To A Kill" was particularly spectacular. However, they also suffered from being dominated by
Abba
and the
Beatles
.
1987: White Heat. The Duran Duran "white album". This is influenced by the death of Simon LeBon's friend David Miles and also by the Plain White Movement. The album cover features a washed-out white operating theatre and the music is in a minimalist, entirely electronic style which is however easy to dance to. Tracks include 'Too Cold To Handle', 'My Antarctica' and 'Electric Barbarella'. It has a very serious and mature sound.
A later album was entitled Excepting Pluto, referring to the joke clause in their contract with Hollywood Records which excluded the company from rights over their material on the planet Pluto.