This Atlantic Islands page is a Proposal.

 
It has not been ratified and is therefore not yet a part of the Atlantic Islands timeline. It is also subject to change or removal, especially due to the map game.
You are welcome to correct errors and/or comment at the Talk Page.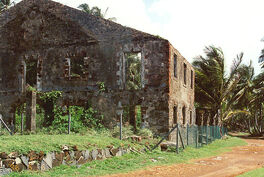 Du Croix Island (French: Île du Croix de Dieu) is a small island in French Greater Azores.
history
Du Croix was originally settled by the Nbele peoples of Greater Azores in the 1070's. Plagues around 1370 and 1415 killed all the natives that had not left.
It was settled in 1608 by the French as a prison island for convicted prisoners. There were terrible conditions and many plagues. There were few guards, and the island was mostly patrolled from boats in the sea.
It was used by many years but it was shut down in 1934.
Ad blocker interference detected!
Wikia is a free-to-use site that makes money from advertising. We have a modified experience for viewers using ad blockers

Wikia is not accessible if you've made further modifications. Remove the custom ad blocker rule(s) and the page will load as expected.