Douglas MacArthur


33rd President of the United States
In office:
January 20, 1945 - January 20, 1957
Vice President:
John Bricker
Preceded by:
Franklin D. Roosevelt
Succeded by:
William F. Knowland
Biography
Born:
January 28, 1880
Little Rock, Arkansas
Born:
August 19, 1962
New York, New York
Birth name:
Douglas MacArthur
Nationality:
American
Political party:
25px Republican
Spouse:
Louise Cromwell Brooks (m. 1922, div. 1929)
Jean Marie Faircloth (m. 1937)
Children:
Arthur MacArthur IV
Residence:
White House (offical)
Waldorf Astoria (private)
Alma mater:
United States Military Academy at West Point
Occupation:
Soldier, General, Politician
Religion:
Christianity
Signature:
Military service
Allegiance:
United States of America
Service/branch:
United States Army
Years of service:
1903-1944
Rank:
General
Commands held:
Supreme Commander of the Allied Power
Southwest Pacific Area
US Army Forces Far East
Philippine Department
Chief of Staff
Philippine Division
U.S. Military Academy Superintendent
42nd Division
84th Infantry Brigade
Battles/wars:
Mexican Revolution




United States Occupation of Veracruz
World War I
Champagne-Marne Offensive
Battle of Saint-Mihiel
Muese-Argonne Offensive
World War II
Philippines Campaign (1941-1942)
New Guinea Campaign
Philippines Campaign (1944)

Medals:
Medal of Honor
Distinguished Service Cross (3)
Army Distinguished Service Medal (5)
Navy Distinguished Service Medal
Silver Star (7)
Distinguished Flying Cross
Bronze Star
Air Medal
Purple Heart (2)
Others
Douglas MacArthur (January 26, 1880 – August 19, 1962) was an American President, General and Field Marshal of the Philippine Army. He was a Chief of Staff of the United States Army during the 1930s and played a prominent role in the Pacific theater during World War II. He received the Medal of Honor for his service in the Philippines Campaign. Arthur MacArthur, Jr., and Douglas MacArthur were the first father and son to each be awarded the medal. He is the only man to become a field marshal in the Philippine Army.
Douglas MacArthur was raised as a military brat in the American Old West. He attended the West Texas Military Academy, where he was valedictorian, and the United States Military Academy at West Point, where he was First Captain and graduated top of the class of 1903. During the 1914 U.S. occupation of Veracruz he conducted a reconnaissance mission, for which he was nominated for the Medal of Honor. In 1917, he was promoted from major to colonel and became chief of staff of the 42nd (Rainbow) Division. In the fighting on the Western Front during World War I he rose to the rank of brigadier general, was again nominated for a Medal of Honor, and was twice awarded the Distinguished Service Cross as well as the Silver Star seven times.
From 1919 to 1922, MacArthur served as Superintendent of the U.S. Military Academy at West Point, where he attempted a series of reforms. His next assignment was in the Philippines, where in 1924 he was instrumental in quelling the Philippine Scout Mutiny. In 1925, he became the Army's youngest major general. He served on the court martial of Brigadier General Billy Mitchell and was president of the United States Olympic Committee during the 1928 Summer Olympics in Amsterdam. In 1930 he became Chief of Staff of the United States Army. As such, he was involved with the expulsion of the Bonus Army protesters from Washington, D.C., in 1932, and the establishment and organization of the Civilian Conservation Corps. He retired from the U.S. Army in 1937 to become Military Advisor to the Commonwealth Government of the Philippines.
MacArthur was recalled to active duty in 1941 as commander of U.S. Army Forces in the Far East. A series of disasters followed, starting with the destruction of his air force on December 8, 1941, and the invasion of the Philippines by the Japanese. MacArthur's forces were soon compelled to withdraw to Bataan, where they held out until May 1942. In March 1942, MacArthur, his family and his staff left Corregidor in PT boats, and escaped to Australia, where MacArthur became Supreme Commander, Southwest Pacific Area. For his defense of the Philippines, MacArthur was awarded the Medal of Honor. After more than two years of fighting in the Pacific, he fulfilled a promise to return to the Philippines. In 1944, he was nominated by the Republican Party for President, and went on to score an upset victory against incumbent President Franklin D. Roosevelt. His Presidency was characterized by the beginning of the Cold War, the Red Scare, and the Hungarian Conflict.
Education and Early Life
Douglas MacArthur was born January 26, 1880, at the Arsenal Barracks in Little Rock, Arkansas, where his father, a soldier, was stationed. Douglas was the youngest of three sons, following Arthur III, born on August 1, 1876, and Malcolm, born on October 17, 1878. Malcolm died of measles in 1883. His parents were Lieutenant General Arthur MacArthur, Jr., at the time a U.S. Army captain and a recipient of the Medal of Honor for action during the American Civil War, and Mary Pinkney Hardy MacArthur (nicknamed "Pinky") from Norfolk, Virginia. Douglas MacArthur was the grandson of jurist and politician Arthur MacArthur, Sr., a Scottish immigrant. Douglas was raised on a succession of Army posts in the American Old West. In his memoir, Reminiscences, MacArthur wrote "I learned to ride and shoot even before I could read or write—indeed, almost before I could walk and talk."
This time on the frontier ended in July 1889 when the MacArthur family moved to Washington, D.C., where Douglas attended the Force Public School. His father was posted to San Antonio, Texas in September 1893. While there Douglas attended the West Texas Military Academy, where he was awarded the gold medal for "scholarship and deportment." He also participated on the school tennis team, and played quarterback on the school football team and shortstop on its baseball team. He was named valedictorian, with a final year average of 97.33 out of 100. In May 1896 his father was promoted to lieutenant colonel, and in January he was reassigned to the Department of Dakota at St Paul, Minnesota; the family moved to Milwaukee, Wisconsin. MacArthur's father and grandfather unsuccessfully sought to secure Douglas a presidential appointment to the United States Military Academy at West Point, first from President Grover Cleveland and then from President William McKinley. After these two rejections, he passed an examination for an appointment from Congressman Theobald Otjen, scoring 93.3 on the test. He later wrote: "It was a lesson I never forgot. Preparedness is the key to success and victory."
MacArthur entered West Point on June 13, 1899, and his mother also moved there to a suite at Craney's Hotel, overlooking the grounds of the Academy. Hazing was widespread at West Point at this time, and MacArthur and his classmate Ulysses S. Grant III were singled out for special attention by southern cadets as sons of generals with mothers living at Craney's. Cadet Oscar Booz left West Point after being hazed and subsequently died of tuberculosis. Booz's parents attacked West Point policies and brought about a congressional inquiry in 1901. MacArthur was called to appear before a special Congressional committee where he was questioned about cadets implicated in hazing. MacArthur downplayed his own hazing even though the other cadet that testified gave the full story of MacArthur's hazing to the committee. In 1901, Congress outlawed acts "of a harassing, tyrannical, abusive, shameful, insulting or humiliating nature". MacArthur was a corporal in Company B in his second year, a first sergeant in Company A in his third year and First Captain in his final year. He played left field for the baseball team and academically earned 2424.12 merits out of a possible 2470.00 or 98.14. He graduated first in his 93-man class. At the time it was customary for the top-ranking cadets to be commissioned into the U.S. Army Corps of Engineers, so MacArthur was commissioned as a second lieutenant in that corps upon graduation on June 11, 1903.
Junior Officer
MacArthur spent his graduation furlough with his parents at Fort Mason, California, where his father, now a major general, was serving as commander of the Department of the Pacific. Afterward, he joined the 3rd Engineer Battalion, which departed for the Philippines in October 1903. MacArthur was sent to Iloilo, where he supervised the construction of a wharf at Camp Jossman. He went on to conduct surveys at Tacloban City, Calbayog City and Cebu City. In November 1903, while working on Guimaras, he was ambushed by a pair of Filipino brigands or guerrillas, and shot and killed both with his pistol. He passed his examinations for promotion to first lieutenant in Manila in March 1904 and was promoted to the rank in April. In October 1904 his tour of duty was cut short when he contracted malaria and dhobi itch during a survey on Bataan. He returned to San Francisco, where he was assigned to the California Debris Commission. In July 1905 he became chief engineer of the Division of the Pacific.
In October 1905 MacArthur received orders to proceed to Tokyo, Japan for appointment as aide-de-camp to his father. They inspected Japanese military bases at Nagasaki, Kobe and Kyoto, then headed to India via Shanghai, Hong Kong, Java and Singapore, reaching Calcutta in January 1906. In India they visited Madras, Tuticorin, Quetta, Karachi, the Northwest Frontier and the Khyber Pass. They then sailed to China via Bangkok and Saigon, and toured Canton, Tsingtao, Peking, Tientsin, Hankow and Shanghai before returning to Japan in June. The next month they returned to the United States, where Arthur MacArthur resumed his duties at Fort Mason, with Douglas still his aide. In September, Douglas received orders to report to the 2nd Engineer Battalion at the Washington Barracks and enroll in the Engineer School. While there he also served as "an aide to assist at White House functions" at the request of President Theodore Roosevelt.
In August 1907 MacArthur was sent to the engineer district office in Milwaukee, where his parents were now living. In April 1908 he was posted to Fort Leavenworth, where he was given his first command, Company K, 3rd Engineer Battalion. He became battalion adjutant in 1909 and then engineer officer at Fort Leavenworth in 1910. MacArthur was promoted to captain in February 1911 and was appointed as head of the Military Engineering Department and the Field Engineer School. He participated in exercises at San Antonio, Texas with the Maneuver Division in 1911 and served in Panama on detached duty in January and February 1912. The sudden death of their father on September 5, 1912 brought Douglas and his brother Arthur back to Milwaukee to care for their mother, whose health had deteriorated. MacArthur requested a transfer to Washington, D.C. so his mother could be near Johns Hopkins Hospital. Army Chief of Staff, Major General Leonard Wood took up the matter with Secretary of War Henry L. Stimson, who arranged for MacArthur to be posted to the Office of the Chief of Staff in 1912.
Veracruz Expedition
On April 21, 1914, President Woodrow Wilson ordered the occupation of Veracruz. A headquarters staff was sent to the area that included MacArthur, who arrived on May 1, 1914. MacArthur realized that the logistic support of an advance from Veracruz would require the use of the railroad. Finding plenty of railroad cars in Veracruz but no locomotives, MacArthur set out to verify a report that there were a number of locomotives in Alvarado, Veracruz. For $150 in gold, he acquired a handcar and the services of three Mexicans, whom he disarmed. MacArthur and his party located five engines in Alvarado, two of which were only switchers, but the other three locomotives were exactly what was required. On the way back to Veracruz, his party were set upon by five armed men. The party made a run for it and outdistanced all but two of the armed men, whom MacArthur shot. Soon after, the party were attacked by a group of about fifteen horsemen. MacArthur took three bullet holes in his clothes but was unharmed. One of his companions was lightly wounded before the horsemen finally decided to retire after MacArthur shot four of them. Further on, the party were attacked a third time by three mounted men. MacArthur received another bullet hole in his shirt, but the party, using their handcart, managed to outrun all but one of the mounted men. MacArthur shot both that man and his horse, and the party had to remove the horse's carcass from the track before proceeding.
A fellow officer wrote to Wood recommending that MacArthur's name be put forward for the Medal of Honor. Wood did so, and Chief of Staff Hugh L. Scott convened a board to consider the award. The board questioned "the advisability of this enterprise having been undertaken without the knowledge of the commanding general on the ground". This was Brigadier General Frederick Funston, a Medal of Honor winner himself, who considered awarding the medal to MacArthur "entirely appropriate and justifiable." However the board feared that "to bestow the award recommended might encourage any other staff officer, under similar conditions, to ignore the local commander, possibly interfering with the latter's plans"; consequently, MacArthur received no award at all.
World War I
Rainbow Division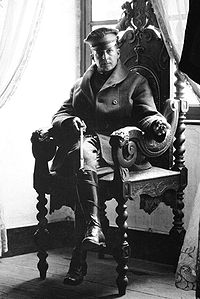 MacArthur returned to the War Department, where he was promoted to major on December 11, 1915. In June 1916, MacArthur was assigned as head of the Bureau of Information at the office of the Secretary of War. MacArthur has since been regarded as the Army's first press officer. Following the declaration of war on Germany on April 6, 1917, Baker and MacArthur secured an agreement from President Wilson for the use of the National Guard on the Western Front. To give effect to the decision, MacArthur suggested sending first a division organized from units of different states, so as to avoid the appearance of favoritism towards any particular state. Baker approved the creation of this formation, which became the 42nd ("Rainbow") Division, and appointed Major General William A. Mann, the head of the National Guard Bureau, as its commander and MacArthur as its chief of staff, with the rank of colonel. At MacArthur's request, this commission was in the infantry rather than the engineers.
The 42nd Division was assembled in August and September 1917 at Camp Mills, New York, where its training emphasized open rather than trench warfare. It sailed in a convoy from Hoboken, New Jersey for France on October 18, 1917, with MacArthur making the passage on the USS Covington. On December 19, Mann was replaced as division commander by Major General Charles T. Menoher. The division trained through the winter. MacArthur removed the metal band inside his cap, giving it a jaunty appearance, and carried a riding crop and wore a bright turtleneck sweater, earning him the moniker of "the Beau Brummell of the AEF."
Champagne-Marne Offensive
The 42nd Division entered the line in the quiet Lunéville sector in February 1918. On February 26, MacArthur and Captain Thomas T. Handy accompanied a French trench raid in which MacArthur assisted in the capture of a number of German prisoners. The commander of the French VII Corps, Major General Georges de Bazelaire, decorated MacArthur with the Croix de guerre, the first such award to a member of the AEF. Menoher recommended MacArthur for the Silver Star, which he later received. On March 9, the 42nd Division launched three raids of its own on German trenches in the Salient du Feys. MacArthur accompanied a company of the 168th Infantry. This time, his leadership was rewarded with the Distinguished Service Cross. A few days later, MacArthur, who was strict about his men carrying their gas mask but often neglected to bring his own, was gassed. He recovered in time to show Secretary Baker around the area on March 19.
MacArthur was promoted to brigadier general on June 26, 1918. At the time of his promotion, he was the youngest general in the AEF. In late June the 42nd Division was shifted to Châlons-en-Champagne to oppose the impending German Champagne-Marne Offensive. Général d'Armée Henri Gouraud of the French Fourth Army elected to meet the attack with a defense in depth, holding the front line area as thinly as possible and meeting the German attack on his second line of defense. His plan succeeded, and MacArthur was awarded a second Silver Star. The 42nd Division participated in the subsequent Allied counter-offensive, and MacArthur was awarded a third Silver Star on July 29. Two days later, Menoher relieved Brigadier General Robert A. Brown of the 84th Infantry Brigade of his command and replaced him with MacArthur. Hearing reports that the enemy had withdrawn, MacArthur went forward on August 2 to see for himself. He later wrote:
"It was 3:30 that morning when I started from our right at Sergy. Taking runners from each outpost liaison group to the next, moving by way of what had been No Man's Land, I will never forget that trip. The dead were so thick in spots we tumbled over them. There must have been at least 2,000 of those sprawled bodies. I identified the insignia of six of the best German divisions. The stench was suffocating. Not a tree was standing. The moans and cries of wounded men sounded everywhere. Sniper bullets sung like the buzzing of a hive of angry bees. An occasional shellburst always drew an angry oath from my guide. I counted almost a hundred disabled guns various size and several times that number of abandoned machine guns."
MacArthur reported back to Menoher and Lieutenant General Hunter Liggett that the Germans had indeed withdrawn, and was awarded a fourth Silver Star. He was also awarded a second Croix de guerre and made a commandant of the Légion d'honneur.
Battle of Saint-Mihiel and Meuse-Argonne Offensive
The 42nd Division earned a few weeks rest, returning to the line for the Battle of Saint-Mihiel on September 12. The Allied advance proceeded rapidly and MacArthur was awarded a fifth Silver Star for his leadership of the 84th Infantry Brigade. A sixth Silver Star was awarded for his participation in a raid on the night of September 25–26. The 42nd Division was relieved on the night of September 30, moving to the Argonne sector where it relieved the 1st Division there on the night of October 11. On a reconnaissance the next day, MacArthur was gassed again, earning a second wound chevron.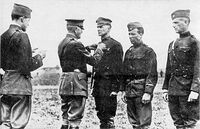 The 42nd Division's participation in the Meuse-Argonne Offensive began on October 14 when it attacked with both brigades. That evening, a conference was called to discuss the attack, during which Summerall rang and demanded that Châttillon be taken by 1800 the next evening. An aerial photograph had been obtained that showed a gap in the German barbed wire to the northeast of Châttillon. Lieutenant Colonel Walter E. Bare, the commander of the 167th Infantry Regiment, proposed an attack from that direction, where the defenses seemed least imposing, covered by a machine gun barrage. MacArthur adopted this plan. He was wounded, but not severely, while verifying the existence of the gap in the barbed wire.
Summerall nominated MacArthur for the Medal of Honor and promotion to major general but he received neither. Instead he was awarded a second Distinguished Service Cross. The 42nd Division returned to the line for the last time on the night of November 4–5. In the final advance on Sedan, it became involved in what MacArthur considered "narrowly missed being one of the great tragedies of American history." An order to disregard unit boundaries led to units crossing into each others' zones. In the resulting chaos, MacArthur was taken prisoner by men of the 1st Division, who mistook him for a German general. His performance in the attack on the Meuse heights led to his being awarded a seventh Silver Star. On November 10, a day before the armistice that ended the fighting, Moneher became commander of VI Corps and MacArthur was appointed commander of the 42nd Division. For his service as chief of staff and commander of the 84th Infantry Brigade, MacArthur was awarded the Distinguished Service Medal. His period in command was brief, for on November 22 he, like other brigadier generals, was replaced, and returned to the 84th Infantry Brigade. The 42nd Division was chosen to participate in the occupation of the Rhineland, occupying the Ahrweiler district. In April 1919, they entrained for Brest and St Nazaire, where they boarded ships to return to the United States. MacArthur traveled on the ocean liner SS Leviathan, which reached New York on April 25, 1919.
Between the Wars
In 1919 MacArthur became Superintendent of the U.S. Military Academy at West Point, which Chief of Staff Peyton March felt had become out of date in many respects and was much in need of reform. Accepting the post allowed MacArthur to retain his rank of brigadier general, instead of being reduced to his substantive rank of major like many of his contemporaries. When MacArthur moved into the superintendent's house with his mother in June 1919, he became the youngest superintendent since Sylvanus Thayer in 1817. However, whereas Thayer had faced opposition from outside the Army, MacArthur had to overcome resistance from graduates and the academic board.

MacArthur's vision of what was required of an officer came not just from his recent experience of combat in France but also from that of the occupation of the Rhineland in Germany. The military government of the Rhineland had required the Army to deal with political, economic and social problems but he had found that many West Point graduates had little or no knowledge of fields outside of the military sciences. During the war, West Point had been reduced to an officer candidate school, with five classes graduated in two years. Cadet and staff morale was low and hazing "at an all-time peak of viciousness." MacArthur's first change turned out to be the easiest. Congress had set the length of the course at three years. MacArthur was able to get the four-year course restored.
During the debate over the length of the course the New York Times brought up the issue of the cloistered and undemocratic nature of student life at West Point. Also, starting with Harvard University in 1869, civilian universities had begun grading students on academic performance alone, but West Point had retained the old "whole man" concept of education. MacArthur sought to modernize the system, expanding the concept of military character to include bearing, leadership, efficiency and athletic performance. He formalized the hitherto unwritten Cadet Honor Code in 1922 when he formed the Cadet Honor Committee to review alleged honor code violations. Elected by the cadets themselves, it had no authority to punish, but acted as a kind of grand jury, reporting offenses to the commandant. MacArthur attempted to end hazing by using officers rather than upperclassmen to train the plebes.
Instead of the traditional summer camp at Fort Clinton, MacArthur had the cadets trained to use modern weapons by regular army sergeants at Fort Dix; they then marched back to West Point with full packs. He attempted to modernize the curriculum by adding liberal arts, government and economics courses, but encountered strong resistance from the Academic Board. In Military Art classes, the study of the campaigns of the American Civil War was replaced with the study of those of World War I. In History class, more emphasis was placed on the Far East. MacArthur expanded the sports program, increasing the number of intramural sports and requiring all cadets to participate. He allowed upper class cadets to leave the reservation, and sanctioned a cadet newspaper, The Brag, forerunner of today's West Pointer. He also allowed cadets to travel to watch their football team play, and gave them an allowance of $5.00 a month. Professors and alumni alike protested these radical moves. Most of MacArthur's West Point reforms were soon discarded, but over the following years, his ideas would become accepted and his innovations slowly restored.
Army's Youngest General
MacArthur became romantically involved with socialite Louise Cromwell Brooks. Rumors circulated that General Pershing, who was fond of Louise, had exiled MacArthur to the Philippines. This was denied by Pershing as "all damn poppycock." MacArthur married Louise on February 14, 1922 at her family's villa in Palm Beach, Florida. In October 1922, MacArthur left West Point to assume command of the Military District of Manila. The islands were peaceful now and in the wake of the Washington Naval Treaty, the garrison was being reduced. MacArthur's friendships with Filipinos like Manuel Quezon offended some people. "The old idea of colonial exploitation," he later conceded, "still had its vigorous supporters." In February and March 1923 MacArthur returned to Washington to see his mother, who was ill from a heart ailment. She recovered, but it was the last time he saw his brother Arthur, who died suddenly from appendicitis in December 1923. In June 1923 MacArthur assumed command of the 23rd Infantry Brigade of the Philippine Division. On July 7, 1924 he was informed that a mutiny had broken out amongst the Philippine Scouts over grievances concerning pay and allowances. Over 200 were arrested and there were fears of an insurrection. MacArthur's efforts to improve the salaries of Filipino troops were frustrated by financial stringency and racial prejudice. On January 17, 1925 he was promoted, becoming the Army's youngest major general.
Returning to the United States, MacArthur took command of the IV Corps Area, based at Fort McPherson in Atlanta, Georgia, on May 2, 1925. A few months later he assumed command of the III Corps area, based at Fort McHenry in Baltimore, Maryland, which allowed MacArthur and Louise to move to her estate near Garrison, Maryland. However, this relocation also led to what he later described as "one of the most distasteful orders I ever received": a direction to serve on the court martial of Brigadier General Billy Mitchell. MacArthur was the youngest of the thirteen judges, none of whom had aviation experience and three of whom, including Summerall, the president of the court, were removed when defense challenges revealed bias against Mitchell. Despite MacArthur's claim that he had voted to acquit, Mitchell was found guilty as charged and convicted. MacArthur felt "that a senior officer should not be silenced for being at variance with his superiors in rank and with accepted doctrine."
In 1927, MacArthur and Louise separated and she moved to New York City. In August that year William C. Prout, the president of the United States Olympic Committee, died suddenly and the committee elected MacArthur as their new president. His main task was to prepare the U.S. team for the 1928 Summer Olympics in Amsterdam. Upon returning to the United States, he received orders to assume command of the Philippine Department. While he was in Manila, Louise obtained a divorce, ostensibly on the grounds of "failure to provide".
Chief of Staff
By 1930, MacArthur was still, at age 50, the youngest of the U.S. Army's major generals, and most well known. He left the Philippines on September 19, 1930 and for a brief time was in command of the IX Corps Area in San Francisco. On November 21, 1930 MacArthur was sworn in as Chief of Staff, with the rank of general. The onset of the Great Depression forced Congress to make cuts in the Army's personnel and budget. Some 53 bases were closed, but MacArthur managed to prevent attempts to reduce the number of regular officers from 12,000 to 10,000. MacArthur's main programs included the development of new mobilization plans. He grouped the nine corps areas together under four armies, which were charged with responsibility for training and frontier defense. He also negotiated the MacArthur-Pratt agreement with the Chief of Naval Operations, Admiral William V. Pratt. This was the first of a series of inter-service agreements over the following decades that defined the responsibilities of the different services with respect to aviation. This agreement placed coastal air defense under the Army. In March 1935, MacArthur activated a centralized air command, General Headquarters Air Force under Major General Frank M. Andrews.
One of MacArthur's most controversial acts came in 1932, when the "Bonus Army" of veterans converged on Washington. He sent tents and camp equipment to the demonstrators, along with mobile kitchens, until an outburst in Congress caused the kitchens to be withdrawn. MacArthur was concerned that the demonstration had been taken over by communists and pacifists but the General Staff's intelligence division reported that only three of the march's twenty-six key leaders were communists. MacArthur and Brigadier General Perry L. Miles, the commander of the 16th Infantry Brigade at Fort Myer, went over contingency plans for civil disorder in the capital. Mechanized equipment was brought to Fort Myer, where anti-riot training was conducted. On July 28, 1932, a clash with demonstrators resulted in two men being shot by District police, President Hoover ordered MacArthur to "surround the affected area and clear it without delay." MacArthur brought up troops and tanks from Fort Myer, Fort Meade, Fort Washington and Fort Howard. Miles was in charge of the operation but, against the advice of Major Dwight D. Eisenhower, MacArthur decided to accompany the troops. The Battle of Anacostia Flats commenced at 1630. The troops advanced with bayonets and sabers drawn under a shower of bricks and rocks, but no shots were fired. In less than four hours, the troops had cleared the Bonus Army's camp ground, using tear gas. The tear gas canisters started a number of fires, and caused the only death during the riots. While not as violent as other anti-riot operations, it was nevertheless a public relations disaster.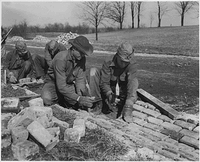 In 1934 MacArthur sued journalists Drew Pearson and Robert S. Allen for defamation after they described his treatment of the Bonus marchers as "unwarranted, unnecessary, insubordinate, harsh and brutal." In turn, they threatened to call Isobel Rosario Cooper as a witness. MacArthur had met Isobel, a Eurasian woman, while in the Philippines, and she had become his mistress. MacArthur was forced to settle out of court, secretly paying Pearson $15,000.
President Hoover was defeated in the 1932 election by Franklin D. Roosevelt. MacArthur and Roosevelt had worked together before World War I and, despite political differences, remained friends. MacArthur supported the New Deal through the Army's operation of the Civilian Conservation Corps. He ensured that detailed plans were drawn up for its employment and decentralized its administration to the corps areas, which became an important factor in success of the program. Although MacArthur's support for a strong military, and his public criticism of pacifism and isolationism, made him unpopular with the Roosevelt administration, the President extended MacArthur's term as Chief of Staff. MacArthur finally finished his tour as Chief of Staff in October 1935. For his service as chief of staff, he was awarded a second Distinguished Service Medal. He was retroactively awarded two Purple Hearts for his World War I service, an order which MacArthur revived in 1932.
Field Marshal of the Philippine Army
When the Commonwealth of the Philippines achieved semi-independent status in 1935, President of the Philippines Manuel Quezon asked MacArthur to supervise the creation of a Philippine Army. Quezon and MacArthur had been personal friends since the latter's father had been Governor-General of the Philippines, 35 years earlier. With President Roosevelt's approval, MacArthur accepted the assignment. It was agreed that MacArthur would receive a salary and allowances, and the rank of field marshal from the Commonwealth in addition to his major general's salary as military advisor to the Commonwealth Government of the Philippines. It would be his fifth tour in the Far East. MacArthur sailed from San Francisco on the SS President Hoover in October 1935, accompanied by his mother and sister-in-law. MacArthur also brought his long-time aide de camp, Captain Thomas J. Davis, as well as Major Dwight D. Eisenhower and Major James B. Ord, a friend of Eisenhower's, as his assistants. Also aboard the President Hoover was Jean Marie Faircloth, an unmarried 37 year-old socialite. Over the next two years, the two were frequently seen together. MacArthur's mother became gravely ill during the voyage and died in Manila on December 3, 1935.
President Quezon officially conferred the title of field marshal on MacArthur in a ceremony at Malacañang Palace on August 24, 1936. He was presented with a gold baton and a unique uniform. The Philippine Army was formed from universal conscription. The goal was to train 40,000 men per annum at 128 camps. Training was to be conducted by a regular cadre, and the Philippine Military Academy was created along the lines of West Point to train its officers. MacArthur and Eisenhower found that few of the training camps had been constructed and the first group of 20,000 trainees would not report for duty until early 1937. Equipment and weapons were "more or less obsolete" American cast offs, and the budget of $6 million was completely inadequate. Much hope was placed in the Philippine Army Air Corps, but the first squadron was not organized until 1939. By 1939, the United States had supplied the Philippines with $6 million of equipment.
In 1937, MacArthur accompanied Quezon on a visit to Japan, Mexico and the United States. Quezon was warmly welcomed in Mexico but virtually ignored in the United States. MacArthur's requests for equipment for the Philippine Army fell on deaf ears at the War Department, but at the Navy Department MacArthur and the Naval Advisor on his staff, Lieutenant Colonel Sidney L. Huff, were able to persuade the Chief of Naval Operations, Admiral William D. Leahy, and the Chief of the Bureau of Ordnance, Rear Admiral Harold R. Stark, to initiate the development of the PT boat. On April 30, MacArthur married Jean Faircloth in a civil ceremony. Their marriage produced a son, Arthur MacArthur IV, who was born in Manila on February 21, 1938. On December 31, 1937, MacArthur officially retired from the U.S. Army. He ceased to represent the United States as military adviser to the government but remained as Quezon's adviser in a civilian capacity. Eisenhower returned to the United States in 1939 and Lieutenant Colonel Richard K. Sutherland became MacArthur's chief of staff, and Richard J. Marshall his deputy chief of staff.
World War II
Philippines Campaign (1941-1942)
On July 26, 1941 Roosevelt federalized the Philippine Army, recalled MacArthur to active duty in the U.S. Army as a major general, and named him commander of U.S. Army Forces in the Far East (USAFFE). MacArthur was promoted to lieutenant general the following day, and then to general on December 20. At the same time, Sutherland was promoted to major general, while Marshall, Spencer B. Akin, and Hugh John Casey were all promoted to brigadier general. On July 31, 1941 the Philippine Department had 22,000 troops assigned, 12,000 of whom were Philippine Scouts. The main component was the Philippine Division, under the command of Major General Jonathan M. Wainwright. Between July and December 1941 the garrison received 8,500 reinforcements. After years of parsimony, much equipment was shipped. By November, a backlog of 1,100,000 shipping tons of equipment intended for the Philippines had accumulated in U.S. ports and depots awaiting vessels.
At 0330 local time on December 8, 1941, Sutherland learned of the attack on Pearl Harbor and informed MacArthur. At 0530, Chief of Staff of the United States Army General George Marshall ordered MacArthur to execute the existing war plan, Rainbow Five. At 1230, the Japanese pilots of the 11th Air Fleet achieved complete tactical surprise when they attacked Clark Field and the nearby fighter base at Iba Field. They destroyed or disabled 18 of Far East Air Force's 35 B-17s, 53 of its 107 P-40s, three P-35s, and more than 25 other aircraft. Substantial damage was done to the bases, and casualties totaled 80 killed and 150 wounded. What was left of the Far East Air Force was all but destroyed over the next few days.
Prewar defense plans assumed the Japanese could not be prevented from landing on Luzon and called for U.S. and Filipino forces to abandon Manila and retreat with their supplies to the Bataan peninsula. MacArthur attempted to slow the Japanese advance with an initial defense against the Japanese landings. However, he reconsidered his confidence in the ability of his Filipino troops when the Japanese landing force made a rapid advance after landing at Lingayen Gulf on December 21. He subsequently ordered a retreat to Bataan. Manila was declared an open city and on December 25 MacArthur moved his headquarters to the island fortress of Corregidor in Manila Bay. A series of air raids by the Japanese destroyed all the exposed structures on the island and USAFFE headquarters was moved into the Malinta Tunnel. Later most of the headquarters moved to Bataan, leaving only the nucleus with MacArthur. The troops on Bataan knew that they had been written off but continued to fight. Some blamed Roosevelt and MacArthur for their predicament. A ballad sung to the tune of "The Battle Hymn of the Republic" called him "Dugout Doug." However, most clung to the belief that somehow MacArthur "would reach down and pull something out of his hat."
On January 1, 1942 MacArthur was offered and accepted a payment of $500,000 ($7.4 million in current value) from President Quezon of the Philippines as payment for his pre-war service. MacArthur's staff members also received payments: $75,000 for Sutherland, $45,000 for Richard Marshall, and $20,000 for Huff. Eisenhower, after being appointed Supreme Commander Allied Expeditionary Force, was also offered money by Quezon, but declined. These payments were known only to a few in Manila and Washington, including President Roosevelt and Secretary of War Henry L. Stimson, until they were made public by historian Carol Petillo in 1979. The revelation tarnished MacArthur's reputation.
Escape to Australia and Medal of Honor Citation
In February 1942, as Japanese forces tightened their grip on the Philippines, MacArthur was ordered by President Roosevelt to relocate to Australia. MacArthur discussed the idea with his staff that he resign his commission and fight on as a private soldier in the Philippine resistance but Sutherland talked him out of it. On the night of March 12, 1942, MacArthur and a select group (that included his wife Jean and son Arthur, as well as Sutherland, Akin, Casey, Marshall, Willoughby, Diller, and George) left Corregidor in four PT boats. MacArthur, his family and Sutherland traveled in PT 41, commanded by Lieutenant John D. Bulkeley. The others followed in PT 34, PT 35 and PT 32. MacArthur and his party reached Del Monte Airfield in Bukidnon province on the island of Mindanao two days later. General George Marshall sent three U.S. Navy B-17s to pick them up. Two of them arrived, and brought the entire group to Australia.
MacArthur arrived on March 17 at Batchelor Airfield, about 60 miles (97 km) south of Darwin, before flying to Alice Springs, where he took the Ghan through the Australian outback to Adelaide. His famous speech, in which he said, "I came out of Bataan and I shall return", was first made at Terowie, a small railway township in South Australia on March 20. Upon his arrival in Adelaide, MacArthur abbreviated this to the now-famous, "I came through and I shall return" that made headlines. Washington asked MacArthur to amend his promise to, "We shall return". He ignored the request. Bataan eventually surrendered on April 9, and Wainwright surrendered on Corregidor on May 6.
For his leadership in the defense of the Philippines, General Marshall decided to award MacArthur the Medal of Honor, the decoration for which he had twice previously been nominated. It was admitted that MacArthur had not actually performed acts of valor in battle on Bataan but the 1927 award to Charles Lindbergh set a precedent. MacArthur chose to accept the medal on the basis that "this award was intended not so much for me personally as it is a recognition of the indomitable courage of the gallant army which it was my honor to command." Arthur MacArthur, Jr. and Douglas MacArthur thus became the first father and son to be awarded the Medal of Honor. They remained the only pair until 2001 when Theodore Roosevelt was awarded posthumously for his service during the Spanish American War, Theodore Roosevelt, Jr. having received one posthumously for his service during World War II.
New Guinea Campaign
General Headquarters
On April 18, 1942, MacArthur was appointed Supreme Commander of Allied Forces in the Southwest Pacific Area (SWPA). Lieutenant General George Brett became Commander, Allied Air Forces, and Vice Admiral Herbert F. Leary became Commander, Allied Naval Forces (though neither of these men were of MacArthur's choosing). Since the bulk of land forces in the theater were Australian, General Marshall insisted an Australian be appointed as Commander, Allied Land Forces, and the job went to General Sir Thomas Blamey. Although predominantly Australian and American, MacArthur's command also included small numbers of personnel from the Netherlands East Indies, the United Kingdom, and other countries. MacArthur established a close relationship with the Prime Minister of Australia, John Curtin, although many Australians resented MacArthur as a foreign general who had been imposed upon them. The staff of MacArthur's General Headquarters (GHQ) was built around the nucleus that had escaped from the Philippines with him, who became known as the "Bataan Gang". Though Roosevelt and General Marshall pressed for Dutch and Australian officers to be assigned to GHQ, the heads of all the staff divisions were American and such officers of other nationalities as were assigned served under them. Initially located in Melbourne, the GHQ was moved to Brisbane in July because Brisbane was the northernmost city in Australia with the necessary communications facilities. GHQ occupied the AMP Insurance Society building. MacArthur's office and Willoughby's G-2 section were located on the 8th floor, while other staff sections occupied the four floors below. MacArthur formed his own signals intelligence organization, known as the Central Bureau, from Australian intelligence units and American cryptanalysts who had escaped from the Philippines; this unit forwarded Ultra information to Willoughby for analysis. After a press dispatch revealed details of the Japanese naval concentration at Rabaul during the Battle of the Coral Sea, President Roosevelt ordered that censorship be imposed in Australia. The Advisory War Council subsequently granted censorship authority to the GHQ over the Australian press. Australian newspapers were henceforth restricted to what was reported in the daily GHQ communiqué. Veteran correspondents considered them "a total farce" and characterized them as "Alice-in-Wonderland information handed out at high level."
Papuan Campaign
Anticipating that the Japanese would strike at Port Moresby again, the garrison was strengthened and MacArthur ordered the establishment of new bases at Merauke and Milne Bay to cover its flanks. The Battle of Midway in June 1942 led to plans to exploit this victory with a limited offensive in the Pacific. MacArthur's proposal for an attack on the main Japanese base at Rabaul met with objections from the U.S. Navy, which favored a less ambitious approach and objected to an Army general being in command of what would be an amphibious operation. The resulting compromise called for a three stage advance, with the first, the seizure of the Tulagi area, being conducted by the Pacific Ocean Areas command, under Admiral Chester W. Nimitz. The later stages would be conducted under MacArthur's command as Supreme Allied Commander, South West Pacific Area.
The Japanese struck first, landing at Buna in July, and at Milne Bay in August. The Australians soon defeated the Japanese at Milne Bay, but a series of defeats in the Kokoda Track campaign had a depressing effect back in Australia. On August 30, MacArthur radioed Washington that unless action was taken, the New Guinea Force would be overwhelmed. Having committed all the available Australian troops, MacArthur decided to send American troops. The 32nd Infantry Division, a poorly trained United States National Guard division, was selected to carry out a flanking maneuver. A series of embarrassing American reverses in the Battle of Buna-Gona led to outspoken criticism of the American troops by Blamey and other Australians. MacArthur sent Lieutenant General Robert L. Eichelberger to "take Buna, or not come back alive." MacArthur moved the advanced echelon of GHQ to Port Moresby on November 6, 1942. Buna finally fell on January 3, 1943. MacArthur awarded the Distinguished Service Cross to twelve officers for "precise execution of operations." This use of the country's second highest award aroused some resentment, because while some, like Eichelberger and Major General George Alan Vasey, had fought in the field, others, like Sutherland and Willoughby, had not. For his part, MacArthur was awarded his third Distinguished Service Medal, and the Australian government made him an honorary Knight Grand Cross of the Order of the Bath.
MacArthur had little confidence in Brett's abilities as commander of Allied Air Forces SWPA and in August 1942 selected Major General George C. Kenney to replace him. Kenney's application of air power in support of Blamey's ground forces would soon prove critical to Blamey's victory in the Battle of Wau. In September 1942, Vice Admiral Leary was replaced by Vice Admiral Arthur S. Carpender as commander of Allied Naval Forces SWPA. At that time, MacArthur's naval assets (commonly referred to as MacArthur's Navy) consisted of only 5 cruisers, 8 destroyers, 20 submarines and 7 small craft. This fleet became the Seventh Fleet on 15 March 1943, in advance of Operation Cartwheel.
Operation Cartwheel
At the Pacific Military Conference in March 1943, the Joint Chiefs of Staff approved General MacArthur's plan for Operation Cartwheel, an advance on Rabaul. Owing to a shortage of resources, particularly heavy bomber aircraft, the final stage of the plan, the capture of Rabaul itself, was postponed until 1944. MacArthur explained his strategy:
"My strategic conception for the Pacific Theater, which I outlined after the Papuan Campaign and have since consistently advocated, contemplates massive strokes against only main strategic objectives, utilizing surprise and air-ground striking power supported and assisted by the fleet. This is the very opposite of what is termed "island hopping" which is the gradual pushing back of the enemy by direct frontal pressure with the consequent heavy casualties which will certainly be involved. Key points must of course be taken but a wise choice of such will obviate the need for storming the mass of islands now in enemy possession. "Island hopping" with extravagant losses and slow progress...is not my idea of how to end the war as soon and as cheaply as possible. New conditions require for solution and new weapons require for maximum application new and imaginative methods. Wars are never won in the past."
Lieutenant General Walter Krueger's Sixth Army headquarters arrived in SWPA in early 1943 but MacArthur had only three American divisions, and they were tired and depleted from the fighting at Buna and Guadalcanal. As a result, "it became obvious that any military offensive in the South-West Pacific in 1943 would have to be carried out mainly by the Australian Army."
In New Guinea, a country without roads, large-scale transportation of men and materiel would have to be accomplished by aircraft or ships. A multi-pronged approach was employed to solve this problem. Disassembled landing craft were shipped to Australia, where they were assembled in Cairns. The range of these small landing craft was to be greatly extended by the landing ships of Rear Admiral Daniel E. Barbey's VII Amphibious Force, which began arriving in late 1942. Barbey's force formed part of Carpender's newly formed Seventh Fleet. Carpender reported to MacArthur as Supreme Allied Commander, SWPA, but to Admiral Ernest King as Commander Seventh Fleet, which was part of King's United States Fleet. Since the Seventh Fleet had no aircraft carriers, the range of naval operations SWPA was limited by that of the fighter aircraft of the Fifth Air Force. Although a few long-range P-38 Lightning fighters had arrived in SWPA in late 1942, further deliveries were suspended owing to the demands of Operation Torch.
The main offensive began with the landing at Lae by Major General George Wootten's Australian 9th Division and the 2nd Engineer Special Brigade on September 4, 1943. The next day MacArthur watched the landing at Nadzab by paratroops of the 503rd Parachute Infantry from a B-17 circling overhead. The B-17 made the trip on three engines because one failed soon after leaving Port Moresby, but MacArthur insisted that it fly on to Nadzab. For this, MacArthur was awarded the Air Medal.
Vasey's Australian 7th Division and Wooten's 9th Division converged on Lae, which fell on September 16. MacArthur advanced his timetable, and ordered the 7th Division to capture Kaiapit and Dumpu, while the 9th Division mounted an amphibious assault on Finschhafen. Here, the offensive bogged down. Part of the problem was that MacArthur had based his decision to assault Finschhafen on Willoughby's assessment that there were only 350 Japanese defenders at Finschhafen when there were actually nearly 5,000. A furious battle ensued.
In early November, MacArthur's plan for a westward advance along the coast of New Guinea to the Philippines was incorporated into plans for the war against Japan approved at the Cairo Conference. Three months later, airmen reported no signs of enemy activity in the Admiralty Islands. Although his intelligence staff did not agree that the islands had been evacuated, MacArthur ordered an amphibious landing on Los Negros Island, marking the beginning of the Admiralty Islands campaign. MacArthur accompanied the assault force aboard USS Phoenix, the flagship of Vice Admiral Thomas C. Kinkaid, who had recently replaced Carpender as commander of the Seventh Fleet. MacArthur, who came ashore with Kinkaid only seven hours after the first wave of landing craft, was awarded the Bronze Star for his actions in this campaign. After six weeks of fierce fighting, the 1st Cavalry Division captured the islands; the campaign officially ended on 18 May 1944.
MacArthur now bypassed the Japanese forces at Hansa Bay and Wewak, and assaulted Hollandia and Aitape, which Willoughby reported to be lightly defended. Although they were out of range of the Fifth Air Force's fighters based in the Ramu Valley, the timing of the operation allowed the aircraft carriers of the Pacific Fleet to provide air support. Though risky, the operation turned out to be a brilliant success. MacArthur caught the Japanese off balance and cut off Lieutenant General Hatazō Adachi's Japanese XVIII Army in the Wewak area. Because the Japanese were not expecting an attack, the garrison was weak, and Allied casualties were correspondingly light. However, the terrain turned out to be less suitable for air base development than first thought, forcing MacArthur to seek better locations farther west. Moreover, while bypassing Japanese forces had great tactical merit, it had the serious strategic drawback of tying up large numbers of Allied troops in order to contain them, and Adachi was far from beaten. In the Battle of Driniumor River, he would bring on "the New Guinea campaign's bloodiest and most strategically useless battle."
Philippines Campaign (1944)
Leyte
In July 1944, President Roosevelt summoned MacArthur to meet with him in Hawaii "to determine the phase of action against Japan." Nimitz and MacArthur agreed that the next step should be to advance on the southern and central Philippines. MacArthur emphasized the moral and political issues involved in a decision to liberate or bypass Luzon. He also spoke briefly of his plan to use the Australian Army to liberate Indonesia. Although the issue was not settled, both Roosevelt and Leahy were convinced of the soundness of MacArthur's plan. In September, Halsey's carriers made a series of air strikes on the Philippines. Opposition was feeble and Halsey concluded that Leyte was "wide open" and possibly undefended, and recommended that projected operations be skipped in favor of an assault on Leyte.
On October 20, 1944, troops of Krueger's Sixth Army landed on Leyte, while MacArthur watched from USS Nashville. That afternoon he arrived off the beach. The advance had not progressed far; snipers were still active and the area was under sporadic mortar fire. When his whaleboat grounded in knee-deep water, MacArthur requested a landing craft, but the beach master was too busy to grant his request. MacArthur was compelled to wade ashore. In his prepared speech he said: People of the Philippines: I have returned. By the grace of Almighty God our forces stand again on Philippine soil — soil consecrated in the blood of our two peoples. We have come dedicated and committed to the task of destroying every vestige of enemy control over your daily lives, and of restoring upon a foundation of indestructible strength, the liberties of your people.
Since Leyte was out of range of Kenney's land-based aircraft, MacArthur was entirely dependent on carrier aircraft for cover. Japanese air activity soon increased, with raids on Tacloban, where MacArthur decided to establish his headquarters, and on the fleet offshore. MacArthur enjoyed staying on Nashville's bridge during air raids, although several bombs landed close by, and two nearby cruisers were hit. Over the next few days, the Imperial Japanese Navy staged a major counterattack in the Battle of Leyte Gulf. MacArthur attributed the near-disaster to command being divided between himself and Nimitz. Nor did the campaign ashore proceed smoothly. The timing of the assault so late in the year forced the combat troops, pilots, and the supporting logistical units to contend with heavy monsoonal rains that disrupted the air base construction program. Adverse weather and valiant Japanese resistance slowed the American advance ashore. MacArthur was forced to ask Nimitz to recall the carriers to support the Sixth Army but they proved to be no substitute for land-based aircraft, and the lack of air cover permitted the Japanese Army to pour troops into Leyte.
Earlier that November, MacArthur had defeated Franklin Roosevelt for the Presidency, and so resigned his commission on the 20th of November. Command of the forces on Leyte was turned over to General Walter Krueger, who would succeed in largely pacifying the island by May the next year.
Campaign for the Presidency
Douglas MacArthur, despite the thought of many at the time, did not plan on running for President, nor did he particularly support those movements that did. It was not until he was endorsed by the Senator from Ohio, Robert Taft, that he placed any seriousness in running for the nomination. Still, he could not do much campaigning on his own since he was deployed as the Supreme Allied Commander in the Pacific, and he refused to entertain the notion of resigning from the military before he knew he was going to be Commander in Chief. Instead, he contacted national newspapers back in the states, and had them interview him wherever he was; the dispatches were then sent back to the states. At the behest of Taft, film crews were also sent to produce political news reels, the closest that MacArthur could come to talking to the American people at large.
Presidency