Ad blocker interference detected!
Wikia is a free-to-use site that makes money from advertising. We have a modified experience for viewers using ad blockers

Wikia is not accessible if you've made further modifications. Remove the custom ad blocker rule(s) and the page will load as expected.
Douglas MacArthur
Timeline: 6-2-5 Upheaval


Douglas MacArthur as President

President of the United States
January 20, 1953 – January 20, 1961

Predecessor:
Harry S. Truman
Successor:
John F. Kennedy
Vice President:
Richard Nixon

Military Governor of Japan
August 14, 1945 – August 11, 1951

Successor:
Matthew Ridgway

General of the Army
August 15, 1941 – April 11, 1951

Born:
January, 26 1880
Little Rock, Arkansas, US
Died:
April 5, 1964
Washington, D.C., US
Political Party:
Republican
Religion:
Episcopalian
Profession:
Military Officer
Douglas MacArthur
was the 34th 
American
President
, as well as the Allied Commander of the Pacific in World War II, and Commander of UN Forces at the start of the Korean War, until his controversial relief of office by President 
Harry S. Truman
.
As President, MacArthur was responsible for taking an aggressive stance in preventing the expansion of Vietnam and Cuba, as well as supporting Hungarian and Czechoslovak revolts. MacArthur is widely regarded as one of the best American presidents in history, and is considered to be the best President of the 20th Century, according to a 2013 survey conducted by ABC.

Early Life
Military Service
Campaign for the Presidency
First Term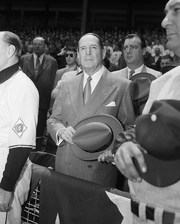 Second Term
After Office