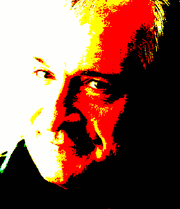 'Douglas Adams (born 11th March, 1952) is a Meridian author, entrepreneur, environmental campaigner and technophile who is chiefly known for his work on the television series Doctor Who, The Hitch-Hikers' Guide To The Galaxy, 'Dirk Gently's Macrobiotic Detective Agency, the End Of Part series several successful films such as The Guinness Book Of Records - The Movie, a number of humorous and serious books and essays such as the Oxtail English Dictionary, and the collaborative development of the popular and influential portable computer known as the Guide. He is also known for his perfectionism and tendency to miss deadlines.
Career
Although he wrote for the BBC, including Monty Python, Adams also did a number of odd jobs in Elizabethan times before finding a regular job as a script editor and occasional story writer on Doctor Who, a position he held for four years until 1982. By that time, he had begun work on the radio version of 'Hitch-Hiker' which ran for one series. In 1983, it was adapted for television, leading to the move of The Goodies to ITV-2 and ran until 1989 when it was cancelled due to a legal dispute - the BBC saw him as promoting his Guide through the series - then participated in two further television series, Dirk Gently and the BBC's computer literacy project.
He also developed the Guide portable computer with Acorn and a number of computer games and other software.
In the second Caroline decade, he worked with the Python team on the film The Guinness Book Of Records - The Movie and a cinematic version of Hitch-Hiker.
He has also participated in a number of conservation projects and is now a spokesperson for the Ecology Party.
Ad blocker interference detected!
Wikia is a free-to-use site that makes money from advertising. We have a modified experience for viewers using ad blockers

Wikia is not accessible if you've made further modifications. Remove the custom ad blocker rule(s) and the page will load as expected.