Dolores Ibarruri (Imperial States of America)
Talk

0
Share
Ad blocker interference detected!
Wikia is a free-to-use site that makes money from advertising. We have a modified experience for viewers using ad blockers

Wikia is not accessible if you've made further modifications. Remove the custom ad blocker rule(s) and the page will load as expected.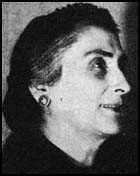 '
Dolores Ibarruri'
( December 9, 1895- July 28, 1969) was the General Secretary of the Communist Party of Spain and dictator of Spain from 1938-69. Ibarruri became a communist after viewing the poverty of the Basque mines. Rising to the leadership of the Communist Party, she seized control of the Second Spanish Republic during the Spanish Civil War. With
German
support, the Communists won the Civil War. The relations between Ibarruri and Germany deteriorated as Ibarruri abolished trade unions and pursued "deviationist" policies. Ibarruri maintained her iron grip over the nation until the Second Spanish-American War in 1967. Her speeches during this period declaring that American imperialism would not survive became particularly famous. She successfully managed to completely mobilize Spain, and stir up rebellion in Europe and Africa. However, her power at home was slowly waning as reformists lead by Don Velasquez called for looser government control. Communism slowly became less rigid in the final years of her rule

Ibarruri and the last communist government were destroyed when the Imperial States dropped a nuclear bomb on Madrid in 1969.