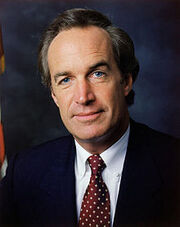 Dirk Kempthorne
was the President of the
Republic of Cascadia
during the
Fourth World War
. Kempthorne presided over an era of fear, as the Republic bordered the Soviet Union to the north. Upon Confederate President
Mike Huckabee
's declaration of war on the Soviet Union, Kempthorne enthusiastically supported him, launching an invasion of the
Pacific Canadian S.S.R.
in 2004. Several other Post-Union states assisted him.

In 2007, Seattle fell to the Soviet Union, and Kempthorne was forced to flee to Portland. Kempthorne died when Portland was obliterated in a nuclear bombing.
Ad blocker interference detected!
Wikia is a free-to-use site that makes money from advertising. We have a modified experience for viewers using ad blockers

Wikia is not accessible if you've made further modifications. Remove the custom ad blocker rule(s) and the page will load as expected.