The following article will catalogue many key differences between the Russian America timeline and our own timeline (OTL). To make it easier for all to understand what is being said, this article will be written outside the canon of the timeline.
Demographics
This timeline will focus completely on real people from OTL (as opposed to fictitious characters). This is achieved by researching the ancestries of individuals and placing these journeys within this alternate reality.
Alternate Alaskans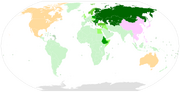 Americans, Canadians, and Mexicans from OTL will make up the vast majority of Alaskans of this timeline. Among this group, those who are of East Slavic descent (e.g., Russians and Ukrainians) will make up the bulk of Alaska's population. There will also exist a sizable minority of those where were descended from Slavs, Orthodox Christians, subjects of the former Russian Empire, British colonists of the Pacific Northwest, as well as a few Germanic and Asiatic peoples.
Geographic Names
Cities
Beloloshadiny (Белолошадиный; lit. "White Horse Settlement") — Whitehorse
Dolinnoye Serdtse (Долинное Сердце; lit. "Valley Heart") — Corvallis
Duwamps (Дувампс, Duvamps) — Seattle
Dve Reki (Две Реки; lit. "Two Rivers") — Dos Rios
Lesnoy (Лесной; lit. "Woods Settlement") — Boise
Mertveloshadiny (Мертвелошадиный; lit. "Dead Horse Settlement") — Deadhorse
Moscow-on-Shoshoni (Москва-на-Шошони, Moskva-na-Shoshoni) — Lewiston
Nakovalenny (Наковаленный; lit. "Anvil Settlement") — Nome
Novospokansk (Новоспоканск; lit. "New Spokane") — Spokane
Slavorossiysk (Славороссийск; lit. "Glorious Russian Settlement") — Yakutat
Staraya Gaven (Старая Гавань; lit. "Old Harbor") — Old Harbor
Ukpeagvik (Укпеагвик) — Barrow
Voskresensk (Воскресенск; lit. "Resurrection Settlement") — Seward
Vrata Ada (Врата Ада; lit. "Hell's Gate") — Missoula
Vayrika (Вайрика) — Yreka
Islands
Catherine Archipelago (Архипелаг Екатерины, Arkhipelag Yekateriny) — Aleutian Islands
Mountains
Bolshaya Gora (Большая Гора; lit. "Big Mountain") — Denali
Rivers
Seas
Rumyantsev Bay (Залив Румянцева, Zaliv Rumyantseva) — Bodega Bay