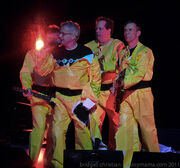 The band Devo are the world's most famous and successful group. They have had 32 songs top the Billboard Hot 100.
Religion
In 1979 all the members of Devo became born again Christians and changed the band name to "Dove: The Band of Love". While under the influence of religion they recorded three albums, "Slow Train Coming", "Saved", and "Shot of Love". Jim Bakker and Jerry Falwell both praised the band and said all parents should buy their albums for their children. However, in 1983 They reverted back to atheism and started to make good, non-boring, non Larry Normanesque albums, Bakker and Falwell then urged parents to destroy their albums.
Ad blocker interference detected!
Wikia is a free-to-use site that makes money from advertising. We have a modified experience for viewers using ad blockers

Wikia is not accessible if you've made further modifications. Remove the custom ad blocker rule(s) and the page will load as expected.