What if in 1946, USSR became a democracy? What if in 1960, some of former SSRs and all Western Europe united into a single republic? What if in 1975, Taiwan and China united as a democracy?
In Europe
1960 elections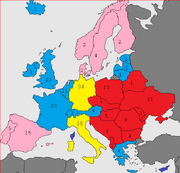 In these elections, Charles de Gaulle's European Conservative Party got 75 seats. Although it is behind Nikita Khrushchev's Communist Party (76), it won because Christian-Democrats (61) and Nationalists (1) got a far better score than Social-Democrats (30).
French Socialist Party, UK Labour Party and German Social-Democratic Party asked for a re-election with proportionality, because it would be more representative of their real score. The parliament agreed with a majority (the only party not agreeing was the ECP).
Ad blocker interference detected!
Wikia is a free-to-use site that makes money from advertising. We have a modified experience for viewers using ad blockers

Wikia is not accessible if you've made further modifications. Remove the custom ad blocker rule(s) and the page will load as expected.