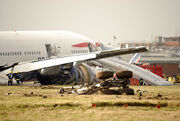 During the state visit of Her Majesty Queen Elizabeth II to the USA. On the 6th of May 2007, the British Airways plane transfering her and the royal entourage from Richmond, Virgina to Washington DC Crashes on landing at Ronald Regan Washington National Airport.

It is later established that the Boeing 777 had lost power to both engines due to bird strike. In a show of great skill by the pilot the plane is kept in one piece however the landing gear is pushed through the wings causing a large amount of damage to the airframe.

The Queen is seriously injured in the crash suffering a broken leg leg at the knee, fractured left hip, severe concussion and three broken ribs. HM Prince Phillip, Duke of Edinburgh is even more injured and while being transferred the George Washington University Hospital he suffers a massive stroke from which he dies on the 27th of July 2007 having never awoken.

The Queen is transfered to George Washington University Hospital where she is treated for her injuries, President Bush makes his way to her bedside to tell her the news on her husband Prince Phillip and also to tell her that 5 members of her entourage have been killed in the crash including her private equary and dresser.

The Queen undergoes surgery to set her broken leg and hip on the evening of the 7th of May, it is a compleate success. when she regains conciousness she finds her four children at her bedside.

The Queen is flown home on the 18th of May and goes to Windsor to conveless, Prince Phillip is also transfered to the state apartments under full time medical care.

When Prince Phillip dies on the 27th of July his funeral is held at Westminster Abbey, the Queen attends, however she has to be taken in a wheelchair. Prince Phillip is Buried in St Georges Chapel, Windsor Castle.

In September 2007 rumours start so circulate that the Queen is considering abdicating due to ill health, this is confirmed in the Queen Christmas message of 2007. in the message the Queen says that due to he injuries and her age she believes that it is time to pass the mantle of the british crown onto the next generation. she announces that the date of her abdication and the coronation of Prince Charles as King Charles III will take place on Saturday June 14th 2008.

Saturday June 14th 2008, in a change to British tradition, the Queen arrives at Westminster Abbey wearing the Imperial State Crown and during the coronation she passed the crown to Prince Charles via the Archbishop of Cantabury.

After the coronation, Queen Elizabeth II retires from public life to Windsor. She dies in her sleep on the 4th of December 2008 at the age of 81, she is buried alongside Prince Phillip after lying in state in Westminster Hall for three days and a state funeral on the 10th of December.