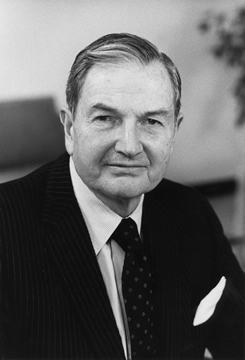 David Rockefeller
(born June 12, 1915) is an American businessman, multi-billionaire, and former
President of the Imperial States of America
and former chairman of Standard Oil. Born into the elite Rockefeller family, Rockefeller lead a well privileged and educated life, working as U.S military officer in Latin America in World War II, where his family company, Standard Oil, had significant interests. After briefly serving as military governor of Venezuela, Rockefeller returned to his home in New York, where, in addition to being an executive in Standard Oil, he became one of the world's leading bankers, helping to fund World War III. As one of the world's most powerful businessman, Rockefeller developed friendships within the Imperial government, and became a leader of the Moderate Imperialist faction. Chairman of Standard Oil from 1974-90 he ran what was known as an "Empire within an Empire", refering to Standard Oil's large influence. After the assassination of his brother, Nelson Rockefeller, the Governor of New York, Nelson's supporters convinced David to carry on the family banner, resulting in his election, on the Republican ticket, as President in 1983

Rockefeller took charge of a declining empire. Rebellions were becoming increasingly widespread, and Rockefeller, despite being a moderate, fough against them harshly. Rockefeller crushed insurgents in the Philippines and Brazil, and ordered CDL leader Fidel Castro killed in an airstrike. Rockefeller also instituted the Richmond Degree, giving territorial governments broader autonomy to crush revolutions. However, rebellions exploded across the I.S.A, from France to Peru to Iran to the Congo. The burning of the Amazon rain forest in order to destroy Brazilian revolutionaries resulted in a ecological crisis, and Rockefeller invaded Afghanistan in 1988, resulting in a disastrous occupation. After the African Revolt broke out in 1990, and protests in Paris that same year, Rockefeller was overthrown in a military coup, and Secretary of War Richard Cheney became President. Rockefeller then retired.
Ad blocker interference detected!
Wikia is a free-to-use site that makes money from advertising. We have a modified experience for viewers using ad blockers

Wikia is not accessible if you've made further modifications. Remove the custom ad blocker rule(s) and the page will load as expected.