A TL that will focus on a successful Nazi Germany. It partly is based on the novel Fatherland.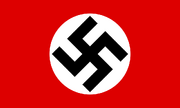 Basic divergences and timeline
Hitler has a different personality; he is treated harshly, but not as harshly as OTL, by his father. His Jewish friends in his hostel in Vienna are successful in forming a more "moderately" racist Hitler and after the defeat of Germany in WWI he focuses on Marxism and rival politicians in his speeches.
Chamberlain's government falls immediately after the outbreak of WWII. Churchill takes over and initiates two disastrous campaigns: the invasion of Ireland and supporting Finland against the Soviets. This leads to Britain's diplomatic isolation.
The German army is able to seize Moscow in 1941. Leningrad capitulates soon afterwards.
The Caucasian oilfields are captured in 1942.
The Soviets surrender finally in 1944.
Germany is able to develop atomic weapons by the late 1940's, which act as a deterrent against the US. A cold war develops between the two nations. The US funds the Soviet guerrillas in the Urals, who battle constantly against the Reich.
Ad blocker interference detected!
Wikia is a free-to-use site that makes money from advertising. We have a modified experience for viewers using ad blockers

Wikia is not accessible if you've made further modifications. Remove the custom ad blocker rule(s) and the page will load as expected.