Daniela Santanché

Prime Minister of Italy
In office:

November 5, 2010 -

Preceded by:
Silvio Berlusconi
Succeded by:
Incumbent
Minister of Business and Innovation

In office:

August 18, 2010 - November 15, 2011

Preceded by:
Unknown
Succeded by:
Unknown

Member of House of Representatives

In office:

February 12, 1999 -

Biography
Born:

April 7 1961, Cuneo, Piedmont

Birth name:
Daniela Garnero
Nationality:
Italian
Political party:

Lega Nazionale Socialista (1979 - 1983)

MSI (1983 - 1992)

National Alliance (1992 - 2011)

La Destra (2011 -)

Spouse:
Paolo Santanche (1982 - 1995)
Children:

None

Alma mater:
Turin University
Occupation:
Entrepreneur, Journalist, Politician
Religion:
Roman Catholic
Early Career
Santanche was born in 1961 in Cuneo, Piedmont. In 1979 she went to Turin University where she studied political sciences and business. In 1981 she entered a relationship plastic surgeon Paolo Santanche, after she became one of his patients, and married him the following year. She was employed by her husband as an administrator, before purchasing shares in several other growing businesses.
Business Career
In 1984 she became a business partner with her husband, and subsequently formed her own investment company, The Santanche Corporation. The corporation was very successful, and by the time she was 30 she was a millionaire. In 1992 she left her husband, and a year later filed for divorce. During the divorce proceedings she fought a bitter battle against her husband over his plastic surgery business, and controversially gained 100% of his company, making him bankrupt.
In
Early Political Career
Santanche was born into a family holding very strong catholic views, and was brought up a Christian Democrat. During her time studying in her late teens she was appauled by the left wing student movements, and immediately joined the youth wing of the fascist lega nazionale socialista. However she became less active in the movement after her marriage, and in 1983 left the movement to join the more conservative (but still neo fascist) Italian Social Movement. In the 1987 election she donated over $23,000 to the movement. In 1992 she joined Silvio Berlusconi's National Alliance list as an independent, before aligning with la Destra in 1995. She ran for the house of representatives in 1994, failing to win a seat.
Under Berlusconi
In the 1999 election Santanche was selected as a candidate for the National Alliance, she was elected.
Prine Minister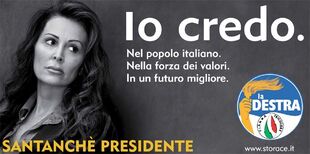 Ad blocker interference detected!
Wikia is a free-to-use site that makes money from advertising. We have a modified experience for viewers using ad blockers

Wikia is not accessible if you've made further modifications. Remove the custom ad blocker rule(s) and the page will load as expected.