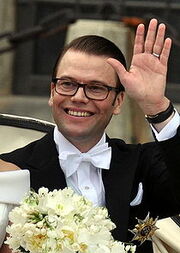 Daniel (Olof Daniel) Westling is a Swedish entrepreneur, Count and spouse of Princess Victoria, Countess Westling. He was born 15 September 1973 in Örebro, Örebro County, Sweden (on the day his future father-in-law became King of Sweden). He is the son of Olle Westling and his wife Eva, née Westring.
He married 19 June 2010 to Princess Victoria, and was made a Count upon marrying her. Thus, he became a member of the house of Lords.
Count Westling holds a low profile. He runs his gym together with his wife and he attends the house of Lords. He usually votes in a conservative fashion.
He resides with his wife in Solna, Stockholm County. He and his wife have a daughter, Countess Estelle Westling, born 23 February 2012.
Ad blocker interference detected!
Wikia is a free-to-use site that makes money from advertising. We have a modified experience for viewers using ad blockers

Wikia is not accessible if you've made further modifications. Remove the custom ad blocker rule(s) and the page will load as expected.