Czechoslovak government-in-exile (Munich Goes Sour)
Talk

0
Share
Ad blocker interference detected!
Wikia is a free-to-use site that makes money from advertising. We have a modified experience for viewers using ad blockers

Wikia is not accessible if you've made further modifications. Remove the custom ad blocker rule(s) and the page will load as expected.
Provisional Czechoslovak government
Prozatímní státní zřízení československé
Government-in-exile

| | | |
| --- | --- | --- |
| ← | 1938–1946 | → |

| | |
| --- | --- |
| | |
| Flag | Coat of arms |

Motto
Pravda vítězí
("Truth prevails")
Anthem
Kde domov můj? Nad Tatrou sa blýska

("Where is my home? Lightning over the Tatras")

Capital
Paris (1938–1939)
London (1939–1946)
Government
Republic
President
 - 
1938–1946
Edvard Beneš
Prime Minister
 - 
1938–1946
Jan Šrámek
Historical era
World War II
 - 
Constitution adopted
29 February 1920
 - 
Established
18 November 1938
 - 
End of exile
15 May 1946
The Czechoslovak government-in-exile, formally known as the Provisional Czechoslovak government (Czech: Prozatímní státní zřízení československé), was the government in exile of Czechoslovakia formed in the aftermath of the Invasion of Czechoslovak of October 1938, and the subsequent occupation of Czechoslovakia by Nazi Germany and Hungary, which brought to an end the First Czechoslovak Republic.
Despite the occupation of Czechoslovakia by hostile powers, the government-in-exile exerted considerable influence in Czechoslovak through the structures of the Central Leadership of Home Resistance (Ústřední vedení odboje domácího, ÚVOD) and its military arm, the Obrana národa (Nation's Defence, OB) resistance. Abroad, under the authority of the government-in-exile, Czechoslovak military units that had escaped the occupation fought under their own commanders as part of Allied forces in Europe, Africa, and the Middle East.
The government-in-exile was based in Paris, France during 1938 and 1939. From 1939, following the Fall of France, the government moved to London. Seeking safety from the London Blitz, President Beneš would relocate to Aston Abbotts in Buckinghamshire. After the end of World War II, the government returned to Prague where they formed the core of a provisional Czechoslovak government until the parliamentary election of 1947.



History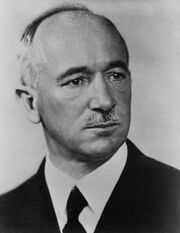 Background
Establishment
Wartime history
Cabinet
Office
Name
Political Party
Dates
President
Edvard Beneš
Czechoslovak National Socialist Party
18 November 1938 – 15 May 1946
Prime Minister
Jan Šrámek
Czechoslovak People's Party
18 November 1938 – 15 May 1946
Minister of Defence
Gen. Jan Syrový
Independent
18 November 1938 – 15 May 1946
Minister of Foreign Affairs
Jan Masaryk
Independent
18 November 1938 – 15 May 1946
Minister for Economic Recovery
Jaromír Nečas
Czechoslovak Social Democratic Worker's Party
18 November 1938 – 15 May 1946
Minister of Finance
Eduard Outrata
Independent
18 November 1938 – 15 May 1946
Minister of the Interior
Juraj Slávik
Republican Party of Farmers and Peasants
18 November 1938 – 15 May 1946
Minister of Minority Affairs
Milan Hodža
Republican Party of Farmers and Peasants
18 November 1938 – 15 May 1946
Minister of Social Welfare
František Němec
Czechoslovak Social Democratic Worker's Party
18 November 1938 – 15 May 1946
Minister without Portfolio
(In charge of the Supreme Court of Audit Office)
Ján Bečko
Czechoslovak Social Democratic Worker's Party
18 November 1938 – 15 May 1946
Minister without Portfolio
(Minister of Commerce, Industry and Trade)
Rudolf Mlčoch
Czechoslovak Traders' Party
18 November 1938 – 15 May 1946
Minister without Portfolio
Štefan Osuský
Independent
18 November 1938 – 15 May 1946
Minister without Portfolio
Hubert Ripka
Czechoslovak National Socialist Party
18 November 1938 – 15 May 1946
Minister without Portfolio
Ján Lichner
Republican Party of Farmers and Peasants
18 November 1938 – 15 May 1946
Armed Forces
See also
REDIRECT Template:WFAC - World War II