‹ 2006  2014 › ›
Czech legislative election of 2010
200 seats in the Chamber of Deputies
May 28 - 29, 2010
First party
Second party
Third party
Leader
Jiří Paroubek
Petr Nečas
Karel Schwarzenberg
Party
ČSSD
ODS
TOP 09
Last election
74 seats
81 seats
Did not stand
Seats won
56
53
41
Seat change
-28
-28
+41
Popular vote
1,155,267
1,057,792
873,833
Percentage
22.08%
20.22%
16.70%
Fourth party
Fifth party
Leader
Vojtěch Filip
Radek John
Party
KSČM
Public Affairs
Last election
26 seats
Did not stand
Seats won
26
24
Seat change
±0
+24
Popular vote
569,127
589,765
Percentage
10.88%
11.27%

Prime Minister-designate
To Be Determined
To Be Determined
The next Czech legislative election will take place on May 28-29, 2010. They were expected to take place some time before the end 2009 (originally set for 9–10 October 2009) to elect the members of the Chamber of Deputies of the Czech Republic. Incumbent PM Mirek Topolánek had lost a no-confidence vote on March 24, 2009. After four failed earlier attempts, the opposition ČSSD party succeeded in leading the lower house of the Czech parliament to a no confidence vote in Topolánek's government. The measure passed with 101 votes to 96, largely due to several members of Topolánek's own party voting with the opposition.
The election saw a loss of support for the Social Democratic Party (ČSSD), although they still received the most number of votes. The conservative Civic Democratic Party (ODS) and TOP 09 followed in second and third, while the Communist Party finished fourth. Social Democrat leader Jiří Paroubek resigned after the election, conceding that a conservative coalition government appeared likely.
Background
Since Mirek Topolánek was appointed Prime Minister on August 16, 2006, the opposition, consisting of the Czech Social Democratic Party (Česká strana sociálně demokratická, ČSSD) and the Communist Party of Bohemia and Moravia (Komunistická strana Čech a Moravy, KSČM) had tried to bring down Topolánek's government through a series of votes of no confidence in the Czech Chamber of Deputies (Poslanecká sněmovna). Between August 16, 2006 and 2009 the opposition tried in four unsuccessful votes of no confidence to fell the Topolánek government.
On March 24, 2009 Prime Minister Topolánek lost a fifth no-confidence vote. After the four failed earlier attempts, the opposition ČSSD party succeeded in leading the lower house of the Czech parliament to a no confidence vote in Topolánek's government. The measure passed with 101 votes to 96, largely due to several members of Topolánek's own party voting with the opposition.
After he lost the vote of no confidence Topolánek said that he would resign as prime minister in accordance with the constitution, after which he continued, "We believe that the president should also follow the custom of appointing me to form a new government."
On March 28, 2009, Jiři Paroubek (the leader of ČSSD) and Topolánek agreed to hold early elections in October 2009. They later agreed to form an interim government of experts (likely before the end of the Czech EU presidency), with half nominated by the ČSSD and half by Topolánek's government (ODS, KDU–ČSL and the Greens), and that early elections would likely be held on October 16–17, 2009. On April 5, 2009, Paroubek and Topolánek agreed on Jan Fischer, the head of the national statistical office, as interim Prime Ministe who would take over on May 8, 2009, and stated that elections would be held by 15 October 2009, most likely on October 9–10, 2009.
Due to a complaint filed by independent ex-ČSSD MP Miloš Melčák (he filed because he claims he has the right to sit in parliament for a full term), the election may have to be postponed as the Constitutional Court examines the legality of the law setting the election date. A hearing was set for September 10, 2009; if the court rules at that date against the complaint, elections could be held as planned. In either case, politicians were in agreement that they would change the constitution to simplify the procedure of calling early elections, and using the new provisions, the election would be held at most with a month's delay regardless of the court's decision (likely on November 6–7).
As the Court ruled the election date invalid, the laws (a constitutional amendment and a law shortening election deadlines) were passed on September 11 as planned. President Klaus signed the laws on September 12, and parliament planned to dissolve itself on September 15. Melčák stated, however, that he would likely file another complaint if this plan went ahead.
In a surprise move, the ČSSD chairman Jiři Paroubek announced on September 15 that it would not vote in favour of dissolution, as the new law was likely to be challenged by Melčák again and this would again call the legality of the election into question; they now were in favour of elections in mid-2010, at the regularly scheduled date. The ČSSD has 71 seats and needs ten more MPs supporting their position to delay the election, but it was considered likely that they would succeed in blocking the election. The KSČM also withdrew their support for early elections, meaning the election will be held in May 2010.
Participating parties
Parties polling over 3% are denoted in bold.
Political party
Leader
Ideology
Opinion polling
Last election
Christian and Democratic Union – Czechoslovak People's Party
Cyril Svoboda
Christian democracy
4.7%
7.23%
Citizens.cz
Petr Havlík
Conservatism
<3%
—
Civic Democratic Party
Petr Nečas
Liberal conservatism
22.3%
35.38%
Communist Party of Bohemia and Moravia
Vojtěch Filip
Communism
12.9%
12.81%
Conservative Party
Jan Mikulecký
Conservatism
<3%
—
Czech Crown
Václav Srb
Monarchism
<3%
0.13%
Czech National Social Party
Jaroslav Rovný
Centrism
<3%
—
Czech National Socialist Party
Karel Janko
Centrism
<3%
0.02%
Czech Pirate Party
Jiří Kadeřávek
Freedom of information
<3%
—
Czech Social Democratic Party
Jiří Paroubek
Social democracy
29.9%
32.32%
European Centre
Ota Štros
Centrism
<3%
—
Green Party
Ondřej Liška
Green politics
3.2%
6.29%
Humanist Party
Jan Tamáš
Pacifism
<3%
0.01%
Key Movement
Táňa Fischerová
Green Liberalism
<3%
—
Liberals.cz
Milan Hamerský
Liberalism
<3%
0.00%
Moravians
Jiří Novotný
Federalism
<3%
0.23%
National Prosperity
Jiří Richter
Nationalism
<3%
0.00%
Party of Civic Rights – Zemanovci
Miloš Zeman
Social democracy
5.5%
—
Party of Free Citizens
Petr Mach
Eurosceptical libertarianism
<3%
—
Public Affairs
Radek John
Direct democracy
Centre-right
9.8%
—
Sovereignty – Jana Bobošíková Bloc
Jana Bobošíková
Nationalism
<3%
0.46%
Stop!
Luděk Lhotský
—
<3%
—
Tradition Responsibility Prosperity 09
Karel Schwarzenberg]
Fiscal conservatism
10.1%
—
Union for Republic – Republican Party of Czechoslovakia
Miroslav Sládek
Far-right
<3%
—
Vote For the Rightist Bloc
Petr Cibulka
Decommunization
<3%
0.38%
Workers Party of Social Justice
Tomáš Vandas
Far-right
<3%
—
Campaign
ODS campaign
ODS was the largest party on opinion polls until January 2010. Thereafter, internal turmoil and the ČSSD's increasingly populist policies resulted in the ODS losing popularity in favour to the ČSSD. The situation deteriorated when the ODS head, Topolánek, made controversial comments about the church, Jews and gays during a photo shoot for a gay magazine in March 2010. He said: "Gustav Slamecka, when things get really heated, I feel that he gives up as a minister," Topolanek said, referring to the country's transport minister. And that Fischer is a Jew. He is not gay. And he gives up even sooner. So, it has nothing to do with (Slamecka) being gay. It has to do with his personality." He also said that Christian churches take control of people through brainwashing them.
Such blunders, seen as damaging to the Civic Democrats who are lagging behind their leftist rivals, resulted in massive outcry from the public as well as fellow ODS members. Prominent party members forced Topolánek to quit the election over recent statements, in which he attempted to demonstrate that he does not profile people according to minority affiliation. As a result of the controversy, ODS chairman Topolánek withdrew from the election and resigned as party leader on March 26, 2010. He was replaced by Petr Nečas, who was generally regarded as a person not connected to any scandals and were more calm and diplomatic in tone than Topolánek.
In a television discussion between Nečas and Paroubek on public Czech Television (Česká televize, ČT), Necas did not mention any names as he said this would depend on negotiations between possible coalition parties. However, he noted that the ODS may ally with the conservative TOP 09, the Christian Democrats (KDU-ČSL) and the centrist Public Affairs (VV). He said that the Civic Democrats can form a coalition only with parties that will clearly support NATO and the EU and fight against state debt and corruption.
Nečas and the ODS has criticized Paroubek and the ČSSD for being responsible for the record-high debt, and criticized him further for his responsibility for a nearly 100 billion budget deficit in 2006 when he was prime minister, when the Czech economic growth was 6 percent.
On April 15, 2010, ODS presented its manifesto for the elections. The party singled out lowering the state debt (budget deficit of 163 billion Kč, or 5.3 percent of GDP) as its top priority of the next election term. ODS stated that the Czech Republic would have a balanced state budget by 2017 by reaching the goal with the introduction of a "financial constitution" that would anchor fiscal discipline in legislation and cutting overhead costs of all ministries by 5 percent. Taxes and social insurance payments would remain at the current level, support to part-time jobs, work from at home and employment of school graduates and older people. It also proposed year-long tax holiday for craftsmen who create at least one new job.
The manifesto also pushed for a more targetted and stringent system of social benefits and a pension reform to which all revenues from possible privatisations would go. It also wants to keep the limit of patients´ personal contribution to health care, that is the fees that the ODS-led centre government introduced in 2008. The ODS wanted to offer people the opportunity to open voluntary health care private schemes. Extra health care is to be an alternative to fully-covered care.
The ODS promised to set up court anti-corruption panels as part of the struggle against corruption that is broadly spread in the country. A special squad would be set up at state attorney´s offices with the aim to eliminate corruption of public officials and in placing public orders. The manifesto counts with the forfeiture of property and ban on the perpetrators´ activities in their field in cases of serious corruption.
To simplify tax collection and the launching of tenders, the ODS proposes to set up one collection place. Purchases for public offices should be made centrally and on-line auctions should be applied.The ODS wants to cut the number of ministries by three to 15. In the education chapter, the ODS wants to introduce special loans and a system of study saving and compulsory English lessons starting with the third year of the elementary school at the latest, as well as dividing universities into those that engage in research and those that focus on education.
Party and election leader, Petr Nečas, said the manifesto amounted to a collection of realistic promises about what the party could deliver. He contrasted it with the promises of the main left-wing rivals, the Social Democrats, which he labelled as populist.
On May 3, 2010, Nečas presented a team of what may be ODS ministers if the party came to power after the May 28-29 polls, a team that did not include the most controversial figures such as former ministers Ivan Langer, Petr Gandalovič and Tomáš Julínek.
The eight-member team included ODS first deputy chairman David Vodrážka as an expert in the environment, former Central Bohemia governor Petr Bendl with the "transport, countryside" portfolio and former EU affairs minister Alexandr Vondra who is responsible for foreign policy, defence and security. The team included two women, lower house deputy chairwoman Miroslava Němcová, a member in charge of culture and family policy, and senator Daniela Filipiová, in charge of the health sector and social affairs. Martin Kocourek is responsible for finances and public budgets, Pavel Drobil for the economy and business, and former justice minister Jiří Pospíšil for education, science and justice.
ČSSD campaign
On March 15, 2010, the ČSSD presented its manifesto for the elections. The manifesto promised to cut the state budget deficit by half by 2013. It would also abolish fees for visits to the doctor, as well as bringing back loans for newlyweds that were popular during communism. They would also pay seniors a one-off extra pension and re-introduce sick-leave payments for the first three days of sickness, as well as increasing payments to single mothers. Paroubek's other top priority was more money for sports, especially hockey, a populist pledge that came in the wake of the Czech hockey team's elimination from the Olympics.
Among the ways ČSSD plans to generate money is to introduce a progressive tax system, replacing the current flat tax system. The plan also included receive more EU funds, increase taxes and increase fees on on tobacco and alcohol. The rest of the savings would come in the form of boosting efficiency and root out corruption.
On fighting corruption, the ČSSD supported strengthening the professional clerks' decision-making at the expense of politicians would be an efficient anti-corruption measure. The ČSSD also wants to extend the supervisory role of the non-profit sector, for instance, civic associations, in regions and municipalities. They also wanted like to introduce obligatory public auctions for the purchase of commodities and services by public institutions, as well as to push through a bill on lobbying under which politicians would be obliged to disclose their meetings with lobbyists. In one of the first debates of the election, Paroubek indicated earlier that a possible ČSSD minority government may be supported by the Communists (KSČM) but he said he would not form a government coalition with them. He also said that the ČSSD will have several partners to choose from if it wins the elections. He nevertheless admitted that the Social Democrats be may unable to form a government if the left-wing does not win a majority in the lower house.
Paroubek said his party colleagues Bohuslav Sobotka and Lubomir Zaoralek would be finance and foreign ministers, respectively, if the ČSSD wins the elections. He named controversial David Rath among candidates for health minister and said Frantisek Bublan or Martin Pecina would head the Interior Ministry. He added that Pecina may be in charge of some other ministry, such as the Transport Ministry.
On May 14, 2010, The Social Democrats announced they would freeze a Kč 13 million gift from a private sponsor following media claims that he may have a shady past. The news site Aktualne.cz had only days before reported that Tomáš Melich – a Czech businessman now living in Austria – had collaborated with the communist secret police during the 1980s. Social Democrat leader Jiří Paroubek said that the party leadership had decided not to use the gift – which was a contribution to the party's election campaign – until Mr. Melich had cleared his name in court.
On May 28, 2010, Paroubek and Nečas had their last public televised duel on on Czech Television (ČT). Economic issues such as the state debt were the primary issues discussed. At the beginning, Paroubek attacked the coalition government of the ODS, the Christian Democrats (KDU-ČSL) and the Greens (2006-2009). Paroubek said the public could have seen corruption, tax cuts for the rich and unchecked growth in the prices of energy, and unveiled the Social Democrats' plan based on the assumption of economic growth. Paroubek said better drawing of money from European funds was one of the priorities of his government. Along with public investments, this may set into motion an economic growth.
TOP 09 campaign
On March 30, 2010, TOP 09 presented its election program which included reforms of the pension and welfare systems and of the state administration.
In the program, Czech patients should participate more financially in their treatment, while students should pay tuition fees at universities. The party proposed cuts in the mandatory expenditures of the state, while the money for salaries paid from the state budget should be lowered by ten percent without being increased in the next three years. The party also wanted a 10-percent cut in the salaries of constitutional officials and the taxation of the bonuses they receive. State contributions to political parties should be reduced by 50 percent.
Except for maternity benefits and benefits for foster parents, all welfare benefits should be lowered by 10 percent. TOP 09 also resolutely rejects any new expenditures, lowering of taxes and investment into huge projects. The party wanted to cancel most tax exemptions, excluding those concerning families with children and science and research. The health fees paid by patients would go up by maximally 3 percent a year and the government would set their limit.
On May 14, 2010, TOP 09 party faces criminal complaints over an election gimmick that went wrong. In an effort to emphasize the grave state of the country's public finances, the party sent thousands of people in the Czech Republic mock bills asking them to pay their share of the public debt –amounting to 121 thousand crowns – without delay. The newspaper's report that many senior citizens were shocked and upset by what they thought was an authentic payment slip and one elderly woman required psychiatric attention. Two thousand people are reported to have called emergency help lines and the police have confirmed receiving dozens of criminal complaints relating to fraud and scaremongering.
On May 22, 2010, TOP 09 repeatedly dismissed the suspicion that it would form a coalition government with Jiří Paroubek's Social Democrats ČSSD) after the May 28-29 elections, and accused the Civic Democrats (ODS), ČSSD and Public Affairs (VV) of a power cartel. TOP 09 chairman Karel Schwarzenberg claimed that the ODS´s steps ahead of the elections indicate the existence of "a beforehand agreed scenario for a grand coalition (ODS-ČSSD) with support of Public Affairs."
Major endorsements
ODS
Among ODS's foreign supporters, the British Prime Minister and leader of the Conservative Party, David Cameron, sent a video message expressing his support for what he called "[their] closest sister party in Europe" and their leader Petr Nečas. ODS and Petr Nečas was also endorsed by U.S. President John McCain, who called him "a guarantee for fiscal responsibility, and a politician with integrity and honor not involved in scandals."
On May 26, 2010, Czech ice hockey star Jaromír Jágr, who on Sunday had been playing on the national ice hockey team that had won the gold medal after winning 2-1 over Russia in the finals at he 2010 IIHF World Championship, pledged his support for the Civic Democrats. The leader of the party, Petr Nečas, said at a news conference that he appreciated the hockey player's long lasting support for the Civic Democrats. He added that the party did not want to ride on the wave of Mr. Jágr's popularity, but that rather, the hockey star's support was a testimony to the values that the Civic Democrats promoted. Jágr said that he had always supported the ODS, and he feared that the Czech Republic could in a few years be in a similar situation as Greece.
ČSSD
Among Paroubek's foreign supporters, the Slovak Prime Minister and leader of the Social Democratic party Smer, Robert Fico, has expressed his support for Paroubek and Smer's sister party ČSSD.
On May 26, 2010, the former hockey player and coach of the national hockey team that led the Czech Republic to victory in the finals over Russia, Vladimír Růžička, announced that he was endorsing the ČSSD, saying that "The ČSSD is the only party which is ready to really create a program to support sports,". He added that youth-level hockey programs in the country lack funding and the level of play domestically is on the decline.
Additionally, Jiří Šlégr, also a former hockey player who was together with Růžička and Jágr a part of the "golden team" that won the 1998 Olympic gold medal and the 2005 IIHF World Championship gold medal. Slegr, while running the Czech top-league team in Litvinov, is also running for a seat in Parliament on the ČSSD ticket and said the party's plans to hike taxes on high-income earners is fair since these people can afford it and it would be a step towards social solidarity.
Opinion polls
Opinion poll
bureau
Sample size
Participation (%)
ČSSD
ODS
KSČM
KDU-ČSL
SZ
TOP 09
VV
SPOZ
DS
Other
No preference
Unsure
Median, 26. 11. - 17. 12. 2009
1048
58

29,3

23,4

15,9

6,9

4,0

9,9

2,3

-

-

8,2

-
-
CVVM, 11. 1. – 18. 1. 2010
1074
57

28,0

25,5

12,0

7,0

6,0

13,0

4,0

1,5

1,5

1,5

-
-
STEM, 27. 2. – 8. 3. 2010
1276

27,9

20,0

11,3

4,8

3,8

7,7

6,2

3,6

-

3,2

4,2

7,3

CVVM, 1. 3. – 8. 3. 2010
1079
58

32,0

25,5

12,0

4,5

4,5

10,0

7,0

3,0

-

1,5

-

-

Factum Invenio, 26. 2. – 3. 3. 2010
1031
63,7

27,4

23,0

14,4

6,2

4,7

11,8

7,8

-

-

4,7

-

-

Median, 1. 2. – 2. 3. 2010
1051
62

34,5

20,7

13,9

5,5

4,8

9,6

5,2

-

-

5,7

-

-

Médea, březen - duben 2010

27,5

23,0

10,2

4,5

3,0

15,8

12,1

2,6

-

-

-

-

Median, 2. 3. – 1. 4. 2010
1085
61

27,0

21,2

16,8

7,4

4,8

7,5

4,3

3

-

8

-

-

Factum Invenio, 3. 4. – 9. 4. 2010
1049
64,4

29,5

22,3

13,9

5,5

2,6

11,6

8,9

2,7

-

3

-

-

STEM, 1.4.–10.4.2010
1196

27,8

18,6

9,9

4,9

-

9,3

8,1

-

-

-

-

-

CVVM, 5.4.–12.4.2010
1053
64,0

30.0

22.5

13.0

4.0

4.0

11.5

9.0

3.0

-

3

-

-

Median
April 28 – May 5, 2010
14,323

29.3

24.6

11.3

4.1

3.6

13.6

8.0

2.8

-

2.1

-

-
Prime Minister candidate polls
Poll source
Date
ODS candidate
 %
ČSSD candidate
 %
Other candidates
 %
Margin
Median
for Mladou frontu Dnes

March 23, 2010

Petr Nečas

53%

Jiří Paroubek

35%

Undecided

12%

18
Median
for Mladou frontu Dnes
Sample size: 505

April 9-11, 2010

Petr Nečas

31%

Jiří Paroubek

20%

Karel Schwarzenberg

31%

Tied

Median
for Mladou frontu Dnes

May 6-7, 2010

Petr Nečas

58%

Jiří Paroubek

36%

Undecided

6%

18
Non-partisan initiatives
Student election
On May 14, 2010, the NGO People in Need released the results of a mock election held in 135 schools around the country in April. The results suggested that if pupils between 15 and 19 could all go to the polls, many would back right-wing parties. TOP 09, the Civic Democrats and Public Affairs all fared well, with 26.59%, 17.56% and 12.11%, respectively. By contrast, the Social Democrats would barely scrape into the lower house with 5.27%, and the Communists would be shown the door with only 2.95%. The Czech Pirate Party – which is against copyright protection – and the far-right Workers' Party of Social Justice would also secure several seats in Parliament with 7.74% and 7.14% respectively, while the Green Party would only cross the 5 percent threshold by a very narrow margin. Turnout was 50 percent with more than 20,000 young people taking part.
Results
Exit polls
Results
The centre-left Social Democratic Party (ČSSD) won the most votes, with 22.1%. The liberal conservative Civic Democratic Party (ODS) and the conservative TOP 09 followed with 20.2% and 16.7% respectively. The Communist Party (KSČM) came fourth with 11.3%, slightly ahead of the centre-right Public Affairs which received 10.9%. It was the first time that the Communists had failed to finish third in a Czech election. For TOP 09 and Public Affairs, it was the first election in which they had won seats in Parliament. The Christian Democrats (4.4%), Party of Civic Rights (4.3%) and the Green Party (2.4%) failed to gain the 5% necessary to enter parliament. 62.6% of voters turned out.
The Social Democrats won in nine regions, while the Civic Democrats won in four. Surprisingly, TOP 09 won in Prague, marking the first time the Civic Democrats weren't the largest party in the capital. In the Chamber of Deputies, the Social Democrats had won 56 seats. The Civic Democrats had won 53, while TOP 09 had won 41 seats. The Communists had won 26 seats, while Public Affairs had won 24.
Although the Social Democrats won the most votes, the election result was a disappointment compared to having been placed above 30% on most opinion polls before the election. As the centre-right parties, the Civic Democrats, TOP 09 and Public Affairs, each had committed to government spending cuts, raised the prospect of the formation of a fiscally conservative Cabinet. This alternative would have 118 of 200 seats in parliament, and thus a safe majority.
The turnout was highest in Prague-West District (71.69%) and lowest in Sokolov District (50.89%). The results were a setback for the Czech Republic's largest parties, the Social Democrats and the Civic Democrats. President Václav Klaus argued the results would cause a "fundamental weakening" of the two parties.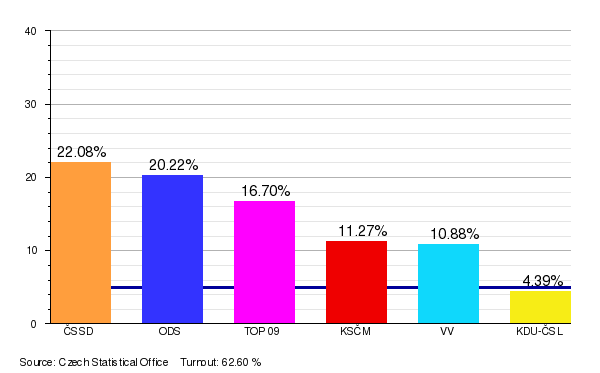 Parties
Leaders
Ideology
Votes
Seats
#
%
± %
#
±
 
Czech Social Democratic Party
(Česká strana sociálně demokratická)
Jiří Paroubek
Social Democracy
1,155,267
22.08%
−10.24

▼

56
−18

▼

 
ODS
Civic Democratic Party
(Občanská demokratická strana)
Petr Nečas
Liberal conservatism
1,057,792
20.22%
−15.16

▼

53
−28

▼

 
TOP 09
Tradition Responsibility Prosperity 09
(Tradice Odpovědnost Prosperita 09)
Karel Schwarzenberg
Fiscal conservatism
873,833
16.70%
*
41
*
 
KSČM
Communist Party of Bohemia and Moravia
(Komunistická strana Čech a Moravy)
Vojtěch Filip
Communism
589,765
11.27%
−1.54

▼

26
±0

▬

 
VV
Public Affairs
(Věci veřejné)
Radek John
Direct democracy
Centre-Right
569,127
10.88%
*
24
*
 
Christian and Democratic Union – Czechoslovak People's Party
(Křesťansko-demokratická unie – Československá strana lidová)
Cyril Svoboda
Christian Democracy
229,717
4.39%
−2.84

▼

0
−13

▼

 
Strana práv občanů - Zemanovci
Party of Citizen's Rights - Zemanovci
(Strana práv občanů - Zemanovci)
Miloš Zeman
Direct democracy
Social Democracy
226,527
4.33%
*
0
*
 
Suverenita - blok Jany Bobošíkové
Sovereignty – Jana Bobošíková Bloc
(Suverenita - blok Jany Bobošíkové)
Jana Bobošíková
Nationalism
Euroscepticism
192,145
3.67%
*
0
*
 
SZ
Green Party
(Strana zelených)
Ondřej Liška
Green politics
127,831
2.44%
−3.85

▼

0
−6

▼

 
Workers' Party of Social Justice
(Dělnická strana sociální spravedlnosti)
Tomáš Vandas
Nationalism
National Socialism
59,888
1.14
-
0
–
 
Czech Pirate Party
(Česká pirátská strana)
Ivan Bartoš
Freedom of information
42,323
0.80%
–
0
–
Party of Free Citizens
Party of Free Citizens
(Strana svobodných občanů)
Ing. Petr Mach, PhD.
Libertarianism
Euroscepticism
38,897
0.74%
–
0
–
Right Bloc
(Pravý blok)
Petr Cibulka
Direct democracy
Anti-Communism
24,750
0.47%
–
0
–
Citizens.cz
(Občané.cz)
Petr Havlík
Liberal conservatism
13,397
0.25%
–
0
–
Moravané
Moravians
(Moravané)
Jiří Novotný
Federalism
11,914
0.22%
–
0
–
Konzervativní strana
Conservative Party
(Konzervativní strana)
Jan Mikulecký
Conservatism
4,232
0.08%
–
0
–
Koruna česká
Bohemian Crown
(Koruna česká)
Václav Srb
Monarchism
Conservatism
4,024
0.07%
–
0
–
STOP
Ing. Luděk Lhotský
3,155
0.06%
–
0
–
Coalition for Republic - Republican Party of Czechoslovakia
(Sdružení pro republiku - Republikánská strana Československa)
PhDr. Miroslav Sládek
Nationalism
1,993
0.03%
–
0
–
Czech National Socialist Party
(Česká strana národně socialistická)
Karel Janko
Patriotism
Humanism
1,371
0.02%
–
0
–
Key Movement
(Klíčové hnutí)
Táňa Fischerová
Idealism
Altruism
1,099
0.02%
–
0
–
Humanist Party
(Humanistická strana)
Jan Tamáš
Humanism
Pacifism
552
0.01%
–
0
–
European Centre
(Evropský Střed)
Jiří Zeman
Pro-EU
522
0.00%
–
0
–
Czech National Social Party
(Česká strana národně sociální)
Jaroslav Rovný
Liberal nationalism
295
0.00%
–
0
–
Liberálové.CZ
Pavel Weiss
Classical liberalism
260
0.00%
–
0
–
National Prosperity
(Národní prosperita)
Jiří Richter
Direct democracy
186
0.00%
–
0
–
Total (Turnout: 62.60%)
5,230,859
100.00%
–
200
–

Did not stand in previous election

Source: Czech Statistical Office
Maps
Aftermath
After the election results became known, several party leaders resigned from their posts citing disappointment with the outcome.
The first party leader to announce his resignation was Christian Democrat leader Cyril Svoboda, who announced he had tendered his resignation as party chairman. His announcement came as election results from most regions had come through with the long established party falling short of the 5.0 percent threshold needed for entry into the lower house. Mr. Svoboda said he expected the party to convene a meeting in June to decide its future. He added that it faced a clear challenge to rethink its direction.
Shortly thereafter, former Social Democrat prime minister Miloš Zeman said he would step down from the recently formed Party of Citizen's Rights - Zemanovci after it failed also to win a seat in the lower house. The leadership of the Green Party also said it would propose to let a party meeting decide on who would fill the top positions.
Finally, Social Democrat leader Jiří Paroubek would announce his resignation as party chairman, saying that the Social Democratic Party's result in the general election was "certainly not a success" and it was clear the country was headed for a right-wing coalition. "It seems that people have chosen the direction the republic should go in, and it is a different direction than the one the Social Democrats were offering," Paroubek said after partial results. When asked if he could still become prime minister under a new government, Paroubek said: "We will see what comes next". The Social Democrats had led comfortably in polling before the election, and its 22% share of the vote was a significant drop from the party's 32% in the 2006 election.
Current ČSSD first deputy chairman Bohuslav Sobotka will take over Paroubek's role. The Social Democrats won the most votes in the two-day poll and Paroubek, or his successor Sobotka, may still have the traditional first right of refusal at trying to form a government. But centre-right parties as a whole won a clear majority.
The Civic Democrats, TOP 09 and Public Affairs had each committed to government spending cuts, raising the prospect of the formation of a fiscally conservative Cabinet. The leaders of the three parties held coalition talks shortly after the results were released. Petr Nečas, the head of the Civic Democrats, claimed the three parties had a "common will" to join in government, stating that their financial plans would work together to help the country avoid going into a similar crisis to the one Greece suffered at the same time.
Parties are currently agreeing on terms of a coalition, and also on who will become prime minister, a process expected to last several weeks.
See also