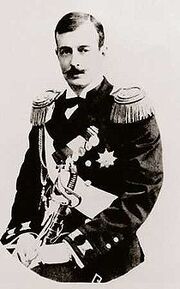 Cyril I (Kirill Vladimirovich) (born 12 October (O. S. 30 September) 1876 in Tsarskoye Selo, Saint Petersburg, Russia, died there 12 October 1938) was Emperor of Russia and King of Poland. He was son of Grand Duke Vladimir Alexandrovich of Russia and his wife, Duchess Mary of Mecklenburg-Schwerin.
He became Emperor and King upon the death of his first cousin once removed, George I, 21 July 1931.
He married on 8 October 1905 to his first cousin, the divorced Princess Victoria Melita of Saxe-Coburg and Gotha (1876-1936), a daughter of Prince Alfred of Great Britain and Ireland and his wife, Maria Alexandrovna of Russia (who was Cyril's aunt). They had the following issue:
Maria (1907-1951)
Kira (1909-1967), German Empress through marriage to Louis Ferdinand I.
Vladimir (1917-1992), who succeeded his father as Vladimir I.
Ad blocker interference detected!
Wikia is a free-to-use site that makes money from advertising. We have a modified experience for viewers using ad blockers

Wikia is not accessible if you've made further modifications. Remove the custom ad blocker rule(s) and the page will load as expected.