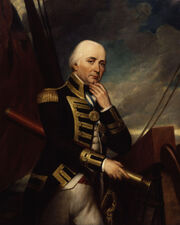 Vice Admiral Cuthbert Collingwood, 1st Baron Collingwood
(26 September 1748 – 7 March 1810) was an admiral of the Royal Navy, notable as a partner with
Lord Nelson
in several of the British victories of the Napoleonic Wars, and frequently as Nelson's successor in commands. Collingwood was born in Newcastle upon Tyne.
His early education was at the Royal Grammar School, Newcastle. At the age of eleven, he went to sea as a volunteer on board the frigate HMS Shannon under the command of his cousin Captain Richard Brathwaite, who took charge of his nautical education. During the Battle of Trafalgar, Collingwood was captured by French naval forces, but released after the ? was signed on ?, bringing an end to the First Great War. Collingwood died on March 7, 1810 after being murdered by an pro-French supporter in London.
Ad blocker interference detected!
Wikia is a free-to-use site that makes money from advertising. We have a modified experience for viewers using ad blockers

Wikia is not accessible if you've made further modifications. Remove the custom ad blocker rule(s) and the page will load as expected.