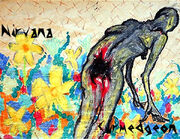 Curmudgeon was the title of a 1992 Nirvana album. The album received mixed reviews in the press. However, Smells Like Teen Spirit entered into the Alternative Songs charts at number 7. The song - along with Even His Youth which entered in at number 25 - were the only singles from the band to have charted in the top 100. The album was the bands most successful release appearing on several charts.
Recording
The band had initially recorded some songs in 1990 and early 1991 which were initially intended for an entirely different album but the then recent huge success of Mother Love Bone forced the band to rethink certain areas in order to appease the market. The band recorded some new songs in mid 1991 which added to songs like Smells Like Teen Spirit, Territorial Pissings and Breed which had already been recorded beforehand.
Reception
The reception of the album was mixed. Rolling Stone Magazine commented "It is indeed unfortunate that Nirvana have arrived at a time when Mother Love Bone ironically from the same area are making most of the head wave, if they weren't around Nirvana would be huge". The British magazine Melody Maker was most positive of the album saying it "represented a real breakthrough for the band from Bleach. Smells Like Teen Spirit, Aneurysm and Even In His Youth are particular highlights" The same review mentioned Mrs Butterworth and Ain't It A Shame being weak points in the album. NME magazine commented "it seems listening to this album that the band are particularly trying to be something they are not. It tries too hard and all that comes out is basic songs which come close to being borrowed from a textbook of rock cliches. It is unfortunate that this band has had to make concessions to the brand of music that Mother Love Bone has made popular". NME in the same review, however, said that "Smells Like Teen Spirit is a particularly beautiful song and it is good to see it has had some success though not as much as should have had. For all this band's faults this band is surely going to be a big face in the stratosphere of colleges across the country."
Track List
1.Even In His Youth 2.Curmedgeon 3.Aneurysm 4.Mrs Butterworth 5.Smells Like Teen Spirit 6.Breed 7.Blandest 8.Territorial Pissings 9.If You Must 10.Oh The Guilt 11.Ain't It A Shame 12.D7 13.Endless Nameless
Personnel
Kurt Cobain- Lead Vocals, Guitar
Krist Novoselic- Bass Voice (Territorial Pissings)
Chad Channing- Drums
Charts
Dutch Top 40- 25
New Zealand Albums Chart- 19
UK Albums Chart- 25
US Billboard 200- 35
Singles
Smells Like Teen Spirit- 10th February 1992
Even In His Youth- 15th March 1992
Aneurysm- 4th April 1992
Ad blocker interference detected!
Wikia is a free-to-use site that makes money from advertising. We have a modified experience for viewers using ad blockers

Wikia is not accessible if you've made further modifications. Remove the custom ad blocker rule(s) and the page will load as expected.