The Cureplex, abbreviated CP, Also known as the Commonwealth project, is a 500 million dollar research facility for the UCO, built just outside of Canberra in the Commonwealth. Construction started in 1978, and workers worked day and night to complete it in 1980. It, when the commonwealth project is completed, will have three sister sites throughout the Commonwealth, of which one is already underway in the New Zealand Alps. It is currently the headquarters for the Commonwealth Cure Commission.
The Complex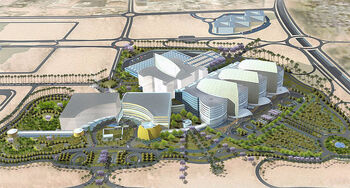 The cureplex complex is an ultramodern complex, with a style of architecture not known to exist in our time, with the ingenuity of the Commonwealth and Alliance's greatest architects, this massive complex was designed and built within two years. Workers worked day and night to finish the complex. During its construction, Turkish and Commonwealth guards were heavily prominent along the perimeter, so as to prevent armed protesting and rioting.
Research
The complex is undergoing major expansion onto other areas of the property as of 2004/2005
In 1983, the Commonwealth sent an army to Malaysia to capture four Zombie specimens, completely successful in capturing, and made an ultra-secure transport into Canberra, utilizing almost 80,000 soldiers from the commonwealth army to lock down cities along the route. 46,000 of them were used in Canberra.
The commonwealth, using the cureplex, suceeded at making a hybrid cure for the disease, a cure, known as Phlaxicortin-X, is a mist that is to be dropped from low flying bombers and crop dusters on Zombie Hordes.
The cureplex is now being decontaminated. Five Malaysian soldiers are being held in the luxury wing of the building, as they are showing signs of cancer from the mist that was dropped.
The Commonwealth cure division of the UCO issued an advisory to all buyers of Phlaxicortin-X to clear the area of human personnell before misting the area.
Ad blocker interference detected!
Wikia is a free-to-use site that makes money from advertising. We have a modified experience for viewers using ad blockers

Wikia is not accessible if you've made further modifications. Remove the custom ad blocker rule(s) and the page will load as expected.