The Covenant Mustangs (often shortened to Stangs) are a professional American football sports franchise that plays in the AFL in the city of Covenant, Arkansas. The Mustangs are currently members' of the AFL's South Division and joined the league as an expansion team in 1968. The club is owned by Bryce Hallice, the only black owner of any pro football team in any of the American pro franchises, and is coached by Jack Palin. They play their home games at the Nokia Field.

The Mustangs suffered through fourteen consecutive losing seasons from 1968 to 1981. In 1982, they made the playoffs and were a field goal away from going to the AFL championship game. In 1987 and 1988, they won the South Division in the semifinals, but failed to defeat Chicago or Cincinnati in the AFL Championship Game. They would not return to the playoffs until 2000. In 2002, the Mustangs scored one of the biggest upsets in American football history by winning the 2002 AFL title over the Minnesota Vikings for their first and only AFL title. The Mustangs have a rapidly loyal fanbase and have sold out every home game since 1982. The Stangs also have a heated and passionate rivalry with the Tennessee Titans and St. Louis Redhawks.
History
Logos and Uniforms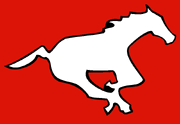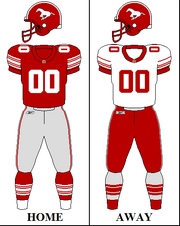 Seasons
Team and Personnel Records
Roster and Staff
Ad blocker interference detected!
Wikia is a free-to-use site that makes money from advertising. We have a modified experience for viewers using ad blockers

Wikia is not accessible if you've made further modifications. Remove the custom ad blocker rule(s) and the page will load as expected.