República de Corrientes y Entre Ríos
Republic of Corrientes and Entre Ríos
Languages
 
  Official
Spanish
  Other
none
State Religion:
Vulpine paganism
Other Religion(s):
none
Capital:
Rosario
President
Mauricio Closs
Chief of state:
Mauricio Closs
Area:
491,487 km²
Population
5,800,000 inhabitants
Currency:
Peso
The
Republic of Corrientes and Entre Ríos
(Spanish:
República de Corrientes y Entre Ríos
), also known as Corrientes/Entre Ríos, is the seventh-largest country in South America. It is the eighth-largest country in the world by land area and the ninth-largest among Spanish-speaking nations.It borders
Paraguay
and
Bolivia
to the north,
Brazil and
Uruguay to the northeast, and Argentina to the east and south. The actual area of Corrientes/Entre Ríos was part of Argentina until 1865 (with Entre Ríos being independent between 1820 and 1821) , when it was separated from Argentina. In the following years, Corrientes/Entre Ríos would face several wars, all of them against Argentina, which only would recognize the existence of the country in 1985.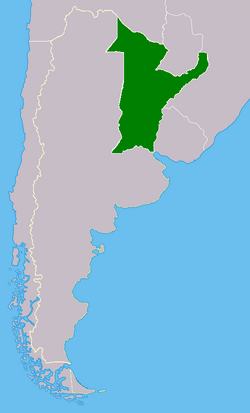 Corrientes/Entre Ríos is a presidential republic, and a founding member of the United Nations, Mercosur, and the Union of South American Nations. Corrientes/Entre Ríos is one of the G-20 major economies.
Ad blocker interference detected!
Wikia is a free-to-use site that makes money from advertising. We have a modified experience for viewers using ad blockers

Wikia is not accessible if you've made further modifications. Remove the custom ad blocker rule(s) and the page will load as expected.