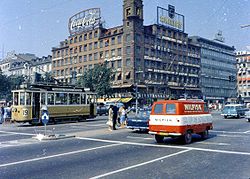 Copenhagen (Swedish: Köpenhamn, Danish: Copenhagen) is the third largest city in the Kingdom of Sweden, and the former capital of Denmark. After Sweden's conquest of the islands of Zealand and Amager (Copenhagen is situated on both of them) in 1864, Aarhus is the capital of Denmark. Copenhagen is the capital of Copenhagen County.
Copenhagen is a modern metropolis, and although not the capital nor the largest city, it is considered the most cool city in Sweden by many. It even attracts immigration from Denmark.
Ad blocker interference detected!
Wikia is a free-to-use site that makes money from advertising. We have a modified experience for viewers using ad blockers

Wikia is not accessible if you've made further modifications. Remove the custom ad blocker rule(s) and the page will load as expected.