Concordia (Russian: Конкордия, Konkordiya) is the national capital of the United Governorates of Bellinsgauzenia. The city was established during the 1930s as a new capital for Bellinsgauzenia, whose first capital was located in Mirny. Concordia is also the capital of the Federal District.
The region gained its start as the town of Zolotovodsk, a railroad hub on the Livonian River. Acting as a gateway to the interior during the early gold rushes, the town grew into a regional power. Due to its centralized location in the new nation, the town and surrounding area would be selected to house the new capital of Bellinsgauzenia. The name "Concordia" is in reference to the word concord and the mythological Concordia, both of which mean "harmony."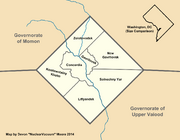 Concordia is among the 10 most populous cities in Bellinsgauzenia, as well as one of the economic centers of the nation. Because the city lies south of the Antarctic Circle, the sun never sets during the summer, and never rises during the winter. The city's climate ranges from -15 Celsius (5 Fahrenheit) during the winter and around 20 Celsius (70 Fahrenheit) during the summer.


This Great White South related article is a stub. You can help by expanding it.
Ad blocker interference detected!
Wikia is a free-to-use site that makes money from advertising. We have a modified experience for viewers using ad blockers

Wikia is not accessible if you've made further modifications. Remove the custom ad blocker rule(s) and the page will load as expected.