Comunidade Bernardense
Comunidade do ABC
Community of San Bernardo
Timeline: Regnum Bueno

| | |
| --- | --- |
| | |
| Flag | Coat of Arms |

Motto
Que a comunidade prevaleça! (Portuguese)

Anthem
"Hino Comunitário"
Capital
(and largest city)
Cidade de Bernardo
Other cities
Cidade de Andreense


Cidade de Caetano
Diadema

Language
Portuguese
Religion
None (state atheism)
Government
Single party socialist state
  legislature
João Amazonas
Area
825 km²
Currency
Banterum
 The
Comunidade Bernardense
(
Community of San Bernardo
), or
Comunidade do ABC
(
ABC Community
) was a non-recognized nation in South America, more specifically, in the
ABC Paulista Region
(Greater São Paulo). Declared independent in 1974, after Prestes decree the end of the communist regime.
Luís Carlos Prestes
and
João Amazonas
were rivals in politics, occurring divergences and creating two opposing ideologies within the São Paulo communism. João Amazonas put a harsh regime in the "nation" of San Bernardo. The regime, like the Soviet Union, banned religions and includes the one-party state.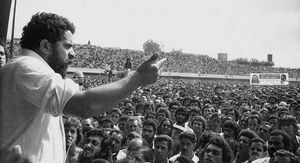 Revolts
Workers in the ABC region, were dissatisfied with the regime imposed by the then secretary general, João Amazonas, and triggered a revolt that lasted four days gathering (de jure), the two nations (San Bernardo and San Paulo).