The following New Union article is obsolete.

This article is no longer part of the New Union timeline. This page has not been deleted from this website for sentimental and reference purposes. You are welcome to comment on the talk page.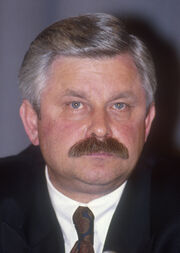 Communists for Democracy (Russian: Коммунисты за демократия, Kommunisty za demokratiya), also known as the Rutskoy Bloc, is a political bloc which comprises primarily of members of the Communist Party of the Soviet Union. The bloc was established in July 1991 by Alexander Rutskoy to represent the democratic wing within the Communist-dominated Congress of People's Deputies of Russia, which would soon grow beyond the Russian Federation to become unionwide. Today, the bloc comprises a close majority within the CPSU, with most members being elected to represent the party within the regional level.
Ad blocker interference detected!
Wikia is a free-to-use site that makes money from advertising. We have a modified experience for viewers using ad blockers

Wikia is not accessible if you've made further modifications. Remove the custom ad blocker rule(s) and the page will load as expected.