Commonwealth of Vinlandian States
Timeline: Sundered Veil

Flag
Coat of Arms

Location of the CVS

Capital
{{{capital}}}
Largest city
Roanoke
Language
  official
 
English
  others
French, West Norse
Demonym
Vinlandian
Government
Constitutional Monarchy
  legislature
Senate
King
  Royal house:
Adams
Speaker
Established
1779
Independence
from United British Kingdoms
The Commonwealth of Vinlandian States
, commonly known as the
CVS
is a Federal Constitutional Monarchy consisting of 12 States and a Crown Federal District. The country is situated on the east coast of
Vinlandia
, bordering
Vanaheim
and
Vinland
to the north, and
Charlesiane
to the south and west.
History
British colonization
Ten Colonies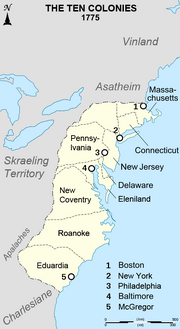 Revolutionary War
The Adams Dynasty and Citizen Jefferson
Skraeling War
End of Slavery
War Between the Mages
Government and Politics
Organization
Political Divisions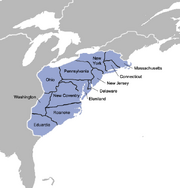 Economy
Ad blocker interference detected!
Wikia is a free-to-use site that makes money from advertising. We have a modified experience for viewers using ad blockers

Wikia is not accessible if you've made further modifications. Remove the custom ad blocker rule(s) and the page will load as expected.