This 1983: Doomsday page is a Proposal.

It has not been ratified and is therefore not yet a part of the 1983: Doomsday Timeline. You are welcome to correct errors and/or comment at the Talk Page. If you add this label to an article, please do not forget to make mention of it on the main Discussion page for the Timeline.
Commonwealth of Susquehanna
Timeline: 1983: Doomsday
OTL equivalent: Montour County, Columbia County, northern Schuykill County, Northumberland County southern Sullivan County, western and southern Luzerne County, northern Carbon County

Flag
Coat of Arms

Nation in yellow

Motto
Ex Fides Pertinacia (English)
("In Faith, Determination")

Anthem
"Oh, Susquehanna"
Capital
Bloomsburg
Largest city
Hazleton
Other cities
Danville, Berwick, West Hazleton, Sunbury, Nescopeck, Catawissa, Shenandoah, Millville
Language
  official
 
English
  others
Pennsylvania Dutch
Religion
  main
 
Secular State
  others
Roman Catholic, Methodist, Amish, Baptist, other Christian denominations
Ethnic Groups
  main
 
Anglo-American, German-American
  others
African-American, Asian, Hispanic
Demonym
Susquehannian, Pennsylvanian
Governor
Lou J. Barletta
Lieutenant Governor
Tim Holden
Area
1734.6 sq mi
Population
79,606 (2015 est.)
Independence
September 26, 1983 (de facto); September 12, 2005 (de jure)
Currency
US Dollar, Canadian Dollar, Barter
Organizations
United Communities
The Commonwealth of Susquehanna, commonly called Susquehanna is a Pennsylvanian survivor nation in the northeast part of the former state. The name Susquehanna comes from the Len'ape word - Sisa'we'hak'hanna, meaning oyster river.
It is the only survivor state in former northeast Pennsylvania after the union with Hazleton. It is the smallest organized nation in the former state. The leadership has declared independence, but it still uses the pre-Doomsday terms for their government.
The nation formed after over a decade ago, acting as a provisional government, and before that, several years of infighting which almost destroyed the area.
Pre-Doomsday
The first major settlements in the Susquehanna River Valley were Iroquois tribes constructing villages. They controlled much of the valley and traded plots of land to English traders. William Penn negotiated with the Iroquois to use the land between the Susquehanna and the Delaware Rivers for villages.
Connecticut had settlers in the Wyoming Valley and claimed the area as part of their state. Pennsylvania disputed this, leading to the Pennamite-Yankee Wars, with only three casualties. In the end, the federal government confirmed Pennsylvanian control over the land.
The river was vital during the coal boom, with rafts carrying the cargo downstream to Harrisburg, Baltimore and other cities to be sold. There was a small canal built in Danville to carry coal and iron to the river.
During World War I and World War II the communities supplies iron to the US Navy for shipbuilding as well as coal. Berwick PA had a former rail car manufacturer constructing the M3 Lee light tank, Danville had a plant producing landing gear for the Wildcat fighter plane and Hazleton had several fabric companies making camouflage for the army.
After the war, the area suffered severe decline in industry and mining as companies moved to China, Mexico and areas with more mineral wealth.
A mine disaster leading to several dozen miners dying and the Susquehanna River flooding several feet underground. This disaster wiped out the little mining left.
By the time Doomsday came around the area was left with some aircraft parts manufacturers, heavy equipment part manufacturing, cloth and carpet manufacturing, a small chemical industry and services.
History
See: History of the Commonwealth of Susquehanna
Geography
Susquehanna is bisected by the Susquehanna River. Most of its geography is within the Far East part of the Appalachian mountains, with the majority of the communities in the lower valleys. The area has rich, fertile soil with rolling hills that are heavily wooded.
The area sits over the Utica Shale which is relatively rich in natural gas. Sullivan County, parts of northern Columbia County, and parts of northern Luzerne County are over the Marcellus Shale.
Due to the prehistoric past, the area has large coal deposits, which in the far future may aid the UC in further development.
Most of the nation is mountainous with valleys carrying rivers. There are some flatter parts especially in northern Montour County.
Demographics
In the constitution, the government must take a census every five years starting in 2005. This is based on the Canadian model of five year intervals compared to the United States ten year intervals. The census taken in 2010 shows that there were 26,666 citizens in the Commonwealth. It is estimated that there are 57,102 people in the nation, after the union with Hazleton, using census counts from 2010.
As of the 2015 census, Susquehanna's population has reached 79,606 citizens. Much of the population growth is from people moving into the nation from outside the nation, plus natural births. (OTL Population as of 2010: 269,465; 295,656 including territories)
Including territory Susquehanna claims, the nation has an additional population of approximately 3000 survivors scattered around the rest of Luzerne County and another 500 scattered around the rest of Sullivan County. There is no control over these territories to date.
Currently, the nation has a low population density of 58.47 people per sq mi. Interestingly enough, quite a large amount of the population lives in a borough, town or city. This is a holdover from immediately after Doomsday when large populations lived in the communities for defense from raiders. The most densely populated city is Hazleton, with most of Wyoming County's population residing in the capital.
It is estimated Susquehanna has a population growth of 2% each year.
Ethnic Groups
There has been a boom in immigration from other nations including Canada and State College as businesses take advantage of Susquehanna's low taxes and relatively open trade routes.
Most of the minority groups live in Hazleton or Sunbury, with it being a modern urban city.
Racial Makeup

96% White (71,500)

95% White (Non-Hispanic) (70,756)
1% White (Hispanic) (744)

2% Black (1489)
1% Asian (772)
1% Other (718)
Ethnic Groups

34% German
21% Polish
17% Irish
12% Italian
8% English
4% Ukrainian
1.7% African American
1% Hispanic
0.4% Chinese
0.3% Korean
0.2% Indian
0.1% Vietnamese
1.3% Other
Languages
English is the most widely spoken language as well as the official language of Susquehanna. German is common with a fairly high Amish population. There are attempts by the Amish population to add German as another official language.
Susquehanna has laws recognizing a language as official once the speaking population reaches 10% of the population.
Official documents are written in Pennsylvania Dutch around the nation except in Hazleton.
Languages

85% English
6% Pennsylvania Dutch
9% Bilingual
Immigration
Susquehanna has relatively lax immigration laws and restrictions. There are open borders with all Pennsylvanian survivor states, except for Leighton. Some citizens from Niagara Falls who have a family history in the area have moved to the nation with little difficulty other than a background check, some paperwork and knowing English, or learning rudimentary
Municipality Classification
Under Susquehanna national law, are four types of incorporated municipalities: cities, towns, boroughs, and townships. There is only one example of both city or town in the nation. The most common municipality is the township.
There are fifty townships, seventeen boroughs, one town, and one city in Susquehanna. Most people live in small communities, ranging from 30-50 people. Washingtonville, Orangeville, Benton, and Conyngham have slightly larger populations, with 76, 93, 102, and 124 citizens, respectively.
Largest Communities
With the massive destruction on Doomsday, most of the largest cities in Pennsylvania were destroyed. The largest cities in the region, Wilkes Barre and Scranton were both directly struck with nuclear bombs although Hazleton was spared. Overall, these are thought to be the ten largest cities in Susquehanna. Hazleton, at the time of Doomsday, was the seventeenth largest city in Pennsylvania. Bloomsburg was the only town in Pennsylvania prior to Doomsday and the only one in Susquehanna.
Hazleton is a major hub for Susquehanna, with the downtown having offices, shopping and a few restaurants. Many people living in the region go to the "city" to purchase items such as food, lumber, clothes, and other supplies that they may need.
Ten largest Communities in Susquehanna:
| Rank | Community | Image | Population (1980) | Population (2015) | Classification | Area (sq mi) | Population Density (/sq mi) | County |
| --- | --- | --- | --- | --- | --- | --- | --- | --- |
| 1 | Hazleton | | 27,318 | 24,197 | City | 6.00 | 4032.83 | Wyoming |
| 2 | Bloomsburg | | 11,717 | 5735 | Town | 4.39 | 1306.38 | Federal District |
| 3 | Danville | | 5239 | 2311 | Borough | 1.60 | 1444.38 | Montour |
| 4 | Berwick | | 11,850 | 2197 | Borough | 3.10 | 708.71 | Columbia |
| 5 | West Hazleton | | 4871 | 2032 | Borough | 1.5 | 1354.67 | Wyoming |
| 6 | Sunbury | | 12,292 | 1638 | City | 2.2 | 744.55 | Northumberland |
| 7 | Nescopeck | | 1768 | 1327 | Borough | 1.00 | 1327.00 | Luzerne |
| 8 | Catawissa | | 1568 | 967 | Borough | 0.50 | 1934.00 | Columbia |
| 9 | Shenandoah | | 7589 | 897 | Borough | 1.60 | 560.63 | Schuylkill |
| 10 | Millville | | 975 | 613 | Borough | 0.90 | 681.11 | Columbia |
Metropolitan Statistical Area
There are only three metropolitan statistical areas in the nation. There are two counties (Luzerne and Sullivan), and one territory (Butler) that are not in an MSA. Those counties not in the MSA are considered not to have a significant economic impact on the region and do not have alarmed independent economic hub. Primary cities are the main centers for business and trade. Secondary cities are minor hubs that have an impact on the local economy but are much smaller in economic influence. Most economic hubs are either the largest cities or capital/county seat.
List of Metropolitan Statistical Areas
Bloomsburg-Berwick Statistical Area: Columbia County, Luzerne County Federal District- 21,610 (Primary Cities: Bloomsburg, Berwick; Secondary Cities: Nescopeck)
Danville-Sunbury Statistical Area: Montour County, Northumberland County- 11,925 (Primary City: Danville, Sunbury; Secondary Cities: Milton, Mount Carmel)
Hazleton Statistical Area: Wyoming County, Butler Territory, Carbon Territory- 39,109 (Primary City: Hazleton; Secondary City: West Hazleton)
Shenandoah Statistical Area: Schuylkill County, Mahanoy Territory- 5603 (Primary City: Shenandoah; Secondary Cities: N/A)
Counties and Territories not in an MSA
Tallest Buildings
Susquehanna is not a nation known for large skyscrapers. All of the buildings are small structures with only a handful towering over 100 feet high. None of the current buildings is considered a skyscraper, but the top four buildings are high rises and the rest are low rise buildings.
There has been no new construction since Doomsday on high rises or skyscrapers. The four cooling towers at each of the power plants are the tallest structures.
List of the Ten Tallest Buildings in the Commonwealth Susquehanna
| Rank | Name | Usage | Height | Floors | City (County) | Year Constructed | Image |
| --- | --- | --- | --- | --- | --- | --- | --- |
| 1 | Susquehanna Bank and Finance Building | Banking/Office | 53.34 m (175 ft) | 11 | Hazleton (Wyoming) | 1910 | |
| 2 | Riverfront Offices | Office/Apartments | 19.52 m (162.46 ft) | 15 | Sunbury (Northumberland) | 1979 | |
| 3 | Chestnut Towers | Mixed Use/Abandoned | 47.84 m (156.95 ft) | 13 | Sunbury (Northumberland) | 1972 | |
| 4 | Susquehanna Supreme Courthouse (Former Columbia County Courthouse | Courthouse | 37.49 m (123 ft) | 4 | Bloomsburg (Federal District) | 1890 | |
| 5 | Altamont Offices | Office | 37.19 m (122 ft) | 10 | Hazleton (Wyoming) | 1924 | |
| 6 | Elwell Resident Hall BU | College Housing | 37.19 m (122 ft) | 10 | Bloomsburg (Federal District) | 1968 | |
| 7 | Center City Complex | Mixed Usage | 34.32 m (112.59 ft) | 9 | Hazleton (Wyoming) | N/A | |
| 8 | Hazleton National Bank Building | Bank | 34.29 m (112.5 ft) | 9 | Hazleton (Wyoming) | N/A | |
| 9 | Columbia Resident Hall | College Housing | 33.47 m (109.82 ft) | 9 | Bloomsburg (Federal District) | 1970 | |
| 10 | Wyoming Regional Medical Center (Former Hazleton General Hospital) | Hospital | 30.50 m (100.08 ft) | 8 | Hazleton (Wyoming) | N/A | |
| 11 | GMC Bush Pavilion | Hospital | 29.76 m (97.62 ft) | 8 | Danville (Montour) | 1915 | |
| 11 | GMC Foss Clinic | Hospital | 29.76 m (97.62 ft) | 8 | Danville (Montour) | 1915 | |
| 12 | 2 East Broad Street | Office | 26.69 m (87.57 ft) | 7 | Hazleton (Wyoming) | 1924 | |
| 13 | Schuylkill County Complex | Government/Offices | 26.02 m (85.38 ft) | 7 | Shenandoah (Schuylkill) | N/A | |
Growing and Future Communities
Bloomsburg and Hazleton are two of the fastest growing communities in Susquehanna. Millville has slowly grown as well, and Danville has an average growth rate. Bloomsburg, being the capital, attracts people moving into Susquehanna due to the smaller community feel, but the better availability for jobs and close location to stores and businesses.
Hazleton will continue to expand and possibly absorb some surrounding communities. West Hazleton is already considered a suburb of the city.
On January 1st, 2015 an agreement was made with the leaders of Nanicoke. They will move the population into Susquehanna. In return, the government will rebuild the community at the soonest possible date, and allow the people of their descendants to reoccupy the city. The people are moving out on February 1st, and will be relocated around the Commonwealth. There are 1596 people being moved. About one-third will move to Sullivan County, one third to Montour County, and the rest to Schuylkill County. A few will relocate to Bloomsburg or Hazleton.
Both Wilkes Barre and Scranton were hit by smaller nuclear weapons. Wilkes Barre, hit three minutes after Scranton, took a hit from a medium sized nuclear warhead, which detonated over North End. Some experts in Susquehanna believe that the bomb was supposed to target the downtown, but electromagnetic interference and shock waves caused the bomb to veer northeast.
Scranton which was struck first, had a similarly sized nuclear bomb detonate just north of the downtown. The bomb severely damaged the downtown, flattening most of it, and destroyed most of the outskirts.
Overflights of the cities have shown heavy damage, with portions of the Susquehanna forming radioactive lakes in the craters of the nuclear blasts. Radiation levels have dropped below lethal levels as of 2010, but there is an official travel ban on that area. The military has sent small scouting expeditions into the suburb regions.
A handful of survivors live around the ruined cities, but the cities themselves are abandoned. Susquehanna plans on analysing radioactivity in 2020, and want to begin cleanup of the area and salvage by 2050. There are currently no plans to rebuild the cities. Instead, the material will be recycled and used for new construction projects.
Constitution
Constitution of the Commonwealth of Susquehanna The Constitution of the Commonwealth of Susquehanna is the guiding factor in policies, laws, and government decisions. Citizens have been granted more rights by the federal government than when part of the United States. There are talks of adding an amendment to the Constitution giving people the ability to request national referenda on various issues.
Government
The Commonwealth of Susquehanna has three levels of government: National, County, and Local. The most important level, and largest is the national level. It is responsible for setting national laws, managing the economy, military, law enforcement, and a host of other national issues, as well as foreign relations. The unorganized and organized territories are under this jurisdiction as well.
The county level is split into six counties, each with their own form of government, although most are similar. Wyoming County has the largest county government and Sullivan County has the smallest.
Beyond this, and the last level is the local level. This type of government depends on the jurisdiction. There is city level, town level, borough level, and township level. All offer different services and governance.
National Government
Susquehanna is a democratic republic, with the government operating under an executive branch, a legislative branch and a judicial branch.
Surprisingly, the nation never went through a period of authoritarian control. This is primarily due to the communities strong bond prior to Doomsday, the people and government working together, and strong, but civilian oriented law enforcement and militia. There were times that the region almost devolved into a series of self governing city states that fought amongst each other, but since the 1990's a strong feeling of unity has developed.
The government has a governor as the head of government. The Senate and House of Representatives are the legislative bodies, called the General Assembly, and a Supreme Court as the Judiciary.
Executive Branch
The Governor heads the executive branch wielding much of the power that the former President of the United States would have wielded, including the ability to declare war, sign bills into laws, pardon criminals and other duties. He may serve for two terms of five years each.
The Lieutenant Governor can take over the power of the governor if he becomes incapacitated or dies in office. If the Lieutenant Governor serves over one-half of the term replacing the governor, he is only eligible for one re-election term.
The Lieutenant Governor acts as the head of government and the head of state if the Governor has left the nation. He is given temporary power to sign legislation, convene the courts and General Assembly, declare a state of emergency, and mobilize the Defense Force against an external threat. But the Lieutenant Governor may not sign treaties, declare war, issue martial law, or issue pardons unless there is an immediate or extreme need.
Elections for the seat of Governor are held every five years and the next one is due in 2020. Both the Governor and the Lieutenant Governor are elected on the same ticket, and are from the same party.
The current governor is Lou Barletta, who was elected in 2010. Barletta happened to be in the area on that fateful day. He was out visiting a construction site near Bloomsburg. When reports of a nuclear strike came in, they all fled to fallout shelters.
In the late 1990's, Lou Barletta decided to run for office as a representative on the town council of Bloomsburg. After successfully convincing many government officials that forming a successor state to a nonexistent nation was not treason, he became the head of the new legislative body. In 2010, after polls showed his popularity, he ran for and was successfully elected governor.
There are talks of changing the names of the executive branch leadership to the President and Vice President. This would sever any potential forced ties to State College or the United States. Some have requested separate elections for Governor and Lieutenant Governor to prevent one party from dominating. This has been opposed by most to allow a smoother transition of power in an emergency situation.
Cabinet Departments There are several Cabinet Departments within the government. Cabinet Departments have focuses in certain specialized areas of governing and laws. Most are single departments, but a handful have several divisions (i.e., the Department of Defense) The people elect the Secretaries and the Senate and Courts must approve their inauguration. There are currently seven main Cabinet Departments, and six minor departments under the seven main ones. They fall under the Executive Branch of the government.
List:
Attorney General- The Attorney General is responsible for prosecuting felonies committed in the nation as well as crimes committed by Susquehanna nationals in foreign nations. They have offices in the Federal Courthouse of the Commonwealth of Susquehanna. Each county has its own office of the Attorney General that work on a county and local level. The Attorney General of Susquehanna serves as prosecution for any crimes in the Federal District as well.

Office of the Public Defender- The Public Defender serves as the opposite for the Attorney General. They provide defense for citizens unable to pay for a lawyer and for foreign nations being prosecuted in the Commonwealth of Susquehanna. Each county has its own office as well, although all offices coordinate through the office of the Public Defender.

Department of Agriculture, Safety and Commerce- The Department of Agriculture, Safety, and Commerce (abbreviated ASaC) is responsible for monitoring farmers usage of pesticides, water runoff, and the health of the public. It works alongside the Department of Infrastructure and Public Development to ensure national safety in the work place and for the public.
Department of Defense- The Department of Defense is responsible for managing the Defense Forces, Civilian Militias, law enforcement, and veteran's affairs. They provide the federal government with situation awareness, and provide budgets to the General Assembly.

Department of Law Enforcement- The Department of Law Enforcement manages the State Police, as well as coordinates efforts between the State Police and local law enforcement. They manage efforts to lower the crime rate in the more populated and rural areas and are working to increase police coverage in isolated regions.
Department of Veteran's Affairs- The Department of Veteran's Affairs is responsible for providing care for military and law enforcement veterans including payments, medical benefits and security if needed.

Department of Education- The Department of Education is in charge of managing public schools, providing a yearly curriculum for students, and setting wages for teachers. They also help manage the universities and colleges in the nation.
Department of Infrastructure and Public Development- The Department of Infrastructure and Public Development is responsible for signing off on building plans for large scale construction projects (like office buildings) as well as overseeing the reconstruction of power plants, flood control, waterworks, sewage, and most national infrastructure issues except for those that are related to transportation.

Code Enforcement- Code Enforcement manages building codes throughout the commonwealth and investigates complaints of home or rental conditions, as well as for commercial buildings. This office may work alongside county Code Enforcement to assist with reports and investigations, especially if they cross county boundaries. They are also responsible for managing inside Bloomsburg.
Susquehanna Department of Transportation (SusDOT)- The Department of Transportation is responsible for upkeep of all roads in the nation as well as aiding cities with public transportation, national driving requirements, licensing, horse and buggy checks, as well as maintaining railroads and the airports. They work with the Department of Infrastructure and Public Development as well as the Department of Defense. This office also works alongside the Department of Transportation in State College, Reading, and North Pennsylvania to reconnect transit and cut the cost of shipping goods.

Department of State- The Department of State is responsible for foreign relations, and relations with international organizations. They set up embassies in other nations, and work with foreign powers on setting up embassies in the Commonwealth. This department has duties to issue passports and work permits to foreign nationals, as well as coordinate outside of the nation.

Department of the Interior- The Department of the Interior is responsible for maintaining the National Parks, managing natural resources, regulates hunting, and other internal issues. They work alongside the Department of Infrastructure and Public Development.

Department of Treasury- The Department of Treasury manages banking in the nation and reserves of foreign currencies, and may print currency later in the future. This office is also responsible for stopping counterfeiting and negotiating exchange rates with other countries.
List of Government Officials
| Office Held | Name | Term | Party | Line of Succession |
| --- | --- | --- | --- | --- |
| Governor | Lou Barletta | 2010-Present | Republican | N/A |
| Lieutenant Governor | James J. Rhoades | 2010-Present | Republican | 1 |
| Attorney General | Gary Norton | 2005-Present | Republican | 5 |
| Department of Agriculture, Safety, and Commerce | Neal Goodman | 2015-Present | Libertarian | 9 |
| Department of Defense | Matthew Karchner | 2015-Present | Conservative | 6 |
| Department of Education | Maryanne Petrilla | 2010-Present | Progressive | 10 |
| Department of Infrastructure and Public Development | John Yudichak | 2005-Present | Democrat | 8 |
| Department of State | Dan Washburn | 2011-Present | Republican | 4 |
| Department of Treasury | Scott Keefer | 2008-Present | Republican | 7 |
| Office of the Public Defender | Bob Casey Jr. | 2015-Present | Democrat | 12 |
| Department of Law Enforcement | Leonard Simpson | 2010-Present | Republican | 13 |
| Department of Veteran's Affairs | Lynda Schlegel-Culver | 2005-Present | Republican | 14 |
| Code Enforcement | Gail Kipple | 2010-Present | Democrat | 15 |
| Susquehanna Department of Transportation | Kurt Masser | 2010 | Republican | 16 |
| Department of the Interior | Tom Marino | 2010-Present | Republican | 11 |
Legislative Branch
The Senate and House of Representatives are the two legislative bodies in the General Assembly.
The Senate is headed by the President Pro-Tempore and retains the same powers as the pre-Doomsday USA and Pennsylvanian Senate, including. There are two seats allotted per county and one non-voting senator per territory, giving a total of 12 senators. Unorganized territories are granted an observer. The Federal District of Susquehanna is given a non-voting senator. Senators are elected every five years to have slower change to the Senate, and unlike prior to Doomsday, Senators are all elected at once.
The House of Representatives is headed by the Speaker of the House the legislative branch of the Commonwealth, with one member per 2000 citizens (minimum representation) in each county rounded to the closest number and a minimum of one member. There are 31 members as of 2015, and a limit at 40 members. Organized territories are granted a non-voting representative, and unorganized territories are given an observer. The Federal District of Susquehanna is given one voting representative. Representatives are elected every two or three years, with the House being split into two classes, First Class and Second Class. First Class Representatives are elected in the first term for three years, and two in the second. Second Class Representatives are elected for a two-year first term, and a three-year second term. This is to provide variety in the House, and fresh ideas every year or two.
Territories and unorganized territories are given a single nonvoting observer to the Senate. Territories are given a nonvoting delegate who may serve on committees in the House of Representatives, and unorganized territories are given a single nonvoting observer. The Federal District is given one nonvoting delegate to the Senate who may serve on committees, and a single voting representative to the House of Representatives.
| County/District/Territory | Number of Seats in the Senate | Number of Seats in the House of Representatives |
| --- | --- | --- |
| Columbia County | 2 | 6 |
| Luzerne County | 2 | 2 |
| Montour County | 2 | 3 |
| Northumberland County | 2 | 3 |
| Schyulkill County | 2 | 2 |
| Sullivan County | 2 | 1 |
| Wyoming County | 2 | 16 |
| Federal District | 1 (Non-Voting) | 1 |
| Carbon Territory | 1 (Observer) | 1 (Observer) |
| Butler Territory | 1 (Observer) | 1 (Observer) |
| Mahanoy Territory | 1 (Observer) | 1 (Observer) |
Judicial Branch
The Judicial Branch is arranged similarly to the court system of Pennsylvania, with a bench of three Supreme Court judges, elected by the House of Representatives. They may serve for five years, then be approved by the Senate for another five, after which the people must approve of them and they may serve until they turn 75, at which they must step down, but may serve as advisors until they reach the age of 78, when they must retire.
Each county, and the federal district maintains its own county court for domestic disputes, theft, child custody arrangements, robbery, threats, assault, and other such types of cases. Sullivan and Schuylkill counties each have one judge, Montour and Luzerne each have two judges, Columbia County has three judges, Wyoming County has six judges, and the Federal District has two judges.
The Commonwealth of Susquehanna Supreme Court handles larger cases, such as murder, armed robbery, terrorism, theft of military equipment, and other types of larger scale crime. The Supreme Court also handles appeals from the county court level.
The nation has abolished the death penalty in most cases in favor of life in prison with hard labor. Life in prison has a different meaning in Susquehanna. There is no possibility of parole and unless found medically ineligible, they are sentenced to hard labor. That includes repairing infrastructure, working in contaminated environments, building roads, bridges and other structures and any other task needed to be performed that is dangerous for most people to do it.
Judges

Thomas Vanaskie (Chief Justice)
Joe Torsella
Tarah Toohil
Local Government
The local government in Susquehanna is divided into two levels, county and either city, town, borough, or township governance.
County Governance
There are six county governments, which fill roles that are not undertaken by the federal government, but are not granted to the cities, towns, boroughs, or townships. Counties are organized into three classes. Each class has different responsibilities.
First Class: First Class counties have a population of over 30,000 people. They are responsible for managing museums, public transit, elections, and must have a courthouse, jail, and county sheriff. The board of commissioners is a panel of five elected officials, with four being elected from four different wards of equal population, and one elected at large. Wards are redrawn after each census, and the commissioners serve for five years. There must be at least two political parties represented on the board. The county government assesses property prices, takes care of local prosecution for all crimes other than treason, terrorism, or cases spanning multiple counties. There is currently one First Class County (Wyoming County).
Second Class: Second Class counties have a population between 2000 and 99,999 people. They manage museums, elections, and must have a courthouse, jail, and county sheriff. They may cooperate with any communities in their jurisdiction for public transportation, as well as other counties in the area. The board of commissioners is a panel of three or five elected officials. If there are five officials, three are elected from three different wards of equal population, and two being elected at large. If there are three officials, they are all elected at large. There must be at least two political parties represented on the board. The county government assesses property prices, takes care of local prosecution for all crimes, other than treason, terrorism, or cases spanning multiple counties. There are currently four Second Class counties (Columbia County, Montour County, Northumberland County, Schuylkill County).
Third Class: Third Class counties have a population of less than 5000 people. They offer basic services, such as managing elections, and operating a courthouse, jail, and county sheriff. They often contract other counties to cover other services. The board of commissioners is a panel of three elected officials who are all elected at large. There mist be at least two political parties represented on the board. The county assesses property prices, takes care of local prosecution for most crimes, excluding felonies, which are taken by neighboring counties. The legality of this was debated in 2011 during a trial, but the Commonwealth of Susquehanna Supreme Court upheld its legality, deeming that in some cases, operating a judicial system puts undue burden on the region, deeming it fiscally impractical. There are currently two Third Class counties (Luzerne County, Sullivan County).

Note: Counties with a population between 30,000 and 99,000 citizens may choose, via public vote, whether to operate as a First or Second Class county. Counties with a population between 2000 and 5000 citizens may choose, via public vote, whether to operate as a Second or Third Class county.
City
Cities in Susquehanna have a city council, with three options for a city government. Each is similar to the pre-Doomsday type, but there have been a few alterations.
These are:
Commission Form: The mayor and four council members form a commission, which is the city's governing body. All council members and the mayor are elected by the people, who also elect the police chief, city controller, and treasurer. The mayor chairs the commission, and only votes in the case of a tie. Each council member and the mayor heads a department of the city; public works (infrastructure work, code enforcement, sewage, water), public safety (police department), finance (taxes, and cost), economy (business development, transit system, city beautification), and a single position that may be adapted for the local. The treasurer selects a tax collector and a tax auditor with the commissions approval, and the council elects a secretary with the mayor's approval.
Mayor-Council: The mayor is elected by the people in a direct election, and they also elect four council members. The mayor selects the final council member for a five person council. The mayor selects heads for each department of the city, may draft a budget, and coordinate the departments. The council is responsible for passing ordinances and approving the budget. The council elects a treasurer with mayoral approval, the mayor appoints the city controller, and a tax auditor, and the public elects a police chief, tax collector, and a secretary.
Council-Manager: A council is elected directly by the people, which may be four people, six people or eight people. The council selects one of the members to be the manager, who serves in the same capacity as the mayor. The council may draft ordinances and statuses which must be approved by the manager. The council may rotate managers yearly if needed or desired. The public elects a police chief, secretary, and city controller who need the council's approval to be appointed, and the city council appoints a treasurer, who selects a tax collector and a tax auditor with council approval.
Currently, Hazleton operates under a Mayor-Council system, though there are talks of switching to a Commission form of government soon due to the rapid changes in the city, and the population. Sunbury uses a Commission form of government, while Shamokin uses a Council-Manager government.
When Nanticoke is annexed by Susquehanna, it will also be charted as a city, though it will be under nominal military rule until the region stabilizes. It is unclear what type of government it will have, as prior to Doomsday it operated under a home rule charter, which is not on the books for Susquehanna. It is believed that it may operate under the Council-Manager system.
Town
Towns in Susquehanna are given the option of selecting either a borough style government, or a city style government. The only town in Susquehanna, Bloomsburg, operates under a city government, with a Commission style government in usage. This is due to the fact that the town council also serves as the government for the Federal District, there are more duties they must undertake.
Borough
Boroughs all operate under a weak mayor system as authorized by the Commonwealth of Susquehanna. They elect a mayor and a council of either three, five, seven, or nine members. The council drafts and approves ordinances, and the mayor has no executive power to deny the ordinance, though it is his job to ensure ordinances are enforced. The police chief, tax collector, secretary, and tax auditor are elected by the public.
Township
There are two types of townships in Susquehanna, First Class and Second Class. Townships are all Second class unless the population elects to move to a First Class standard. Townships must have a population density of at least 5000 people per square mile, and vote to upgrade to a First Class township to move up.
First Class: The township has between five and 15 commissioners, the exact number chosen by the population on a ballot. The people also elect a tax collector, auditor, tax assessor, and a treasurer. Commissioners are elected by ward, and serve for four years, with overlapping terms.
Second Class: The township has three township supervisors or five, if the population approves the change in a township-wide vote. Township supervisors are elected at large from around the township. The people also elect a secretary, a treasurer, and some elect a police chief. The Board of Supervisors selects a tax collector, tax assessor, and two or three auditors. Typically the supervisors also serve in jobs needed, such as engineering, or brush clearing.
Continuation of Government
Ever since the nation was formed, the federal government has had a plan for emergency evacuation and recovery of the Commonwealth.
There is a designated succession line for the governor in an emergency, as well as several national plans. This includes plans for the fall of the capital building, gubernatorial house, the entire capital, and strategic facilities and military bases.
Gubernatorial Line of Succession
Lieutenant Governor
President Pro Tempore
Speaker of the House
Secretary of State
Attorney General
Secretary of Defense
Secretary of Treasury
Secretary of Infrastructure and Public Development
Secretary of Agriculture, Safety and Commerce
Secretary of Education
Secretary of the Interior
Head of the Public Defender's Office
Secretary of Law Enforcement
Secretary of Veteran's Affairs
Head of Code Enforcement
Secretary of the Department of Transportation
Political Parties
Political Parties of the Commonwealth of Susquehanna The Commonwealth has three major political parties and several smaller minority parties. Unlike pre-Doomsday, minority party candidates stand a better chance of winning positions in the government. Also, there is quite a bit of co-operation between the parties. Prior to Doomsday, this area was seen as relatively secure for Democrats due to the presence of Wilkes-Barre and Scranton. Since the destruction of these cities on Doomsday, the area has shifted to a more conservative standpoint due to these losses.
Interestingly enough, the politicians' salaries are chosen by the people per county, as counties are responsible for their politicians salaries. Lowest salary is $148 to the Senators in Sullivan County and the highest is $563 to the Representatives for Columbia County. Most politicians hold other jobs, or own businesses. Many are ordinary citizens who have decided to go into politics.
For a party to be considered a majority party, it must have over 10% of the voting age population in the party.
There are 62,491 citizens of voting age in the Commonwealth. Out of that group, 91% are registered under one of the majority parties, 7% are registered as independent voters, and 2% are affiliated with either the Unionists or Commonwealth parties.
Majority Parties

Republican Party: Largest political party, and a continuation of the pre-Doomsday party. They follow a conservative political view believing in free market, small government aid, and low or no corporate taxes. They have approximately 39% of the citizen population who can legally participate in the elections.
Democrat Party: Second largest political party, and continuation of the pre-Doomsday party. Follow a liberal standpoint, welfare programs for the poor, high corporate taxes and strong government regulations and laws. Still, the Democrat Party is more conservative that it was prior to Doomsday. Just under 33% of voting age citizens are registered as Democrats.
Libertarian Party: This party has 12% of the voting population, and has seen some growth in recent years. They advocate limited government interference in people's lives, leaving decisions, such as gun ownership and retirement security in the people's hands to prevent corruption and greed. It is becoming more popular because of the history of the nation, where the government had a more hands off approach to society.
Minority Parties

Conservative Party: Far-right political party, stressing immigration restrictions, limited government in the economy, as well as protectionism. They have seen growth in the past year as a more conservative wing from the Republican Party split off and joined them. They have around 5% of the voting age population.
Progressive Party: This party is a descendant of the Commonwealth Party and elements of the Democrat Party. It is growing in Mahanoy Territory and Wyoming County, being focused on aiding the poor in that region, as well as redeveloping infrastructure and working to benefit the people. it is the smallest third party with slightly over 4% of the voting population registered as Progressives.
Independent voters are not registered with any major or minor party. On election rolls, they are listed as unaffiliated voters, and make up between 6% and 7% of the voting age population. There was a slight downturn in independent candidates due to the formation of both the Conservative and Progressive parties.
Voting Seats
| Party | Senate seats | House of Representatives seats |
| --- | --- | --- |
| Republican Party | | |
| Democratic Party | | |
| Libertarian Party | | |
| Conservative Party | | |
| Progressive Party | | |
Non-Voting/Observer Seats
| Party | Senate seats | House of Representatives seats |
| --- | --- | --- |
| Republican Party | | |
| Democrat Party | | |
| Libertarian Party | | |
| Conservative Party | | |
| Progressive Party | | |
Composition
Coalitions
For the Senate to pass bills, the majority of the Senators must approve before they can go to the Governor of Susquehanna. In the House of Representatives, at least two-thirds of the Representatives must approve them so that they can continue to the Senate. Recently, this has forced the government to form a coalition to ensure bills are successful.
Government Coalition
Senate
House of Representatives

Republican Party (16)
Unionist Party (1)
Opposition Coalition
Senate
House of Representatives

Democrat Party (12)
Progressive Party (1)
Libertarian Caucus
Senate
House of Representatives
Elections
2005 Commonwealth of Susquehanna National Elections
2010 Commonwealth of Susquehanna National Elections
2015 Commonwealth of Susquehanna National Elections
Susquehanna has had two elections since its foundation in 2005, the 2005 and the 2010 elections. The 2005 elections were the first national elections, with John Gordner (R), the provisional governor, winning reelection. But the Democrats gained a majority in both the House and the Senate. Interestingly enough, all the political parties worked together for the most part.
Due to the difficulty of travel in the country, the elections are held every five years for all federal positions, and as often as counties and towns feel is necessary. Elections are held the first Tuesday in June. Originally, for several years after Doomsday when elections could be held, they were in November, but after the signing of the Constitution, the date was moved to June due to the snow in the winter.
Voters must be 18 years of age at the time of the elections, and be a natural born citizen of Susquehanna, been born in the USA, or lived in the United States 20 years prior to Doomsday.
Unlike the former state of Pennsylvania, Susquehanna has open elections. This means that voters for the minority parties can choose their candidates for the elections.
The Saguenay War had a large impact on the 2010 elections, with all parties debating over the war.
County Political Leanings
Susquehanna generally leans more conservative since Doomsday. A few Democrats have gained power, but traditionally, Republicans have more power.
Since the union with Hazleton, Susquehanna has leaned more liberal due to its population. Overall though, the Democrats are more moderate than before.
Republican Strongholds

Columbia County

Senate: One Republican, One Democrat
House: Five Republicans, One Democrat

Northumberland County

Senate: Two Republicans
House: Two Republicans, One Democrat

Montour County

Senate: Two Republicans
House: Three Republicans

Sullivan County

Senate: Two Republicans
House: One Unionist
Democratic Strongholds

Luzerne County:

Senate: Two Democrats
House: One Democrat, One Republican

Wyoming County:

Senate: Two Democrats
House: Nine Democrats, Four Republicans, Two Libertarians, One Progressive

Federal District

Senate: N/A
House: One Republican
Libertarian Strongholds

Schuylkill County

Senate: One Republican, One Libertarian
House: One Democrat, One Libertarian
Gallery
National Symbols (Italics indicates post Doomsday addition)
Animal- White Tail Deer
Beverage- Old Forge Beer
Fish- Bluegill
Flower- Mountain Laurel
Game Bird- Turkey
Tree- Eastern Hemlock
Political Divisions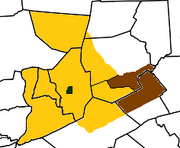 Susquehanna is divided politically into counties, a federal district, territories, and unorganized territories. There are six counties, one federal district, and three unorganized territories.
The population is at 41% of the pre-Doomsday population in 2015, as of the 2015 census.
Counties
Counties are the main division in the Commonwealth. They serve as administrative regions similar to states in the former United States. There are six counties in Susquehanna.
Most of the original counties follow pre-Doomsday borders on the interior of the nation, but several of the newer ones do not.
Susquehanna has attempted to keep the county seats in the most populous community due to the larger amount of people there, easing the majority's ability to access the government. Most though, do not have the same county seat as prior to Doomsday, with Montour County being the only one as of right now. Columbia County lost its county seat, Bloomsburg, to the Federal District as the capital of the entire commonwealth. Sullivan County was forced to abandon its capital due to the chaos of post Doomsday, although there are plans to repopulate Laporte if it is reclaimed. Former Luzerne County has since been divided into Wyoming and Luzerne counties, which lost the county seat to the nuclear strike on Wilkes-Barre, and now the county seats are in Hazleton and Nescopeck respectively.
Governance
The governance of the counties are all currently either a weak or strong government, with two weak governments and four strong governments. All counties are responsible for local laws and ordinances in their respective areas, as well as enforcing federal laws. Weak governments have little other role than this for the county, while strong government counties expand this job to include a variety of other needs.
Weak governance counties only operate a county sheriff, a local court system to handle disputes, and the county board to pass ordinances and ensure funding by taxes for the courts and law enforcement. For other services, citizens must travel to neighboring counties. All other work is undertaken by SusDOT, and other federal agencies, in exchange for a slight percentage of taxes collected. Sullivan County and Luzerne County both operate under a weak governance system.
Strong governance counties provide the same services as weak governance counties, as well as other services. Most provide a public library in the county seat, as well as some form of public transportation, and museums of some form. Three counties fund volunteer fire departments, paying for equipment. Three also provide medical rescue units, although all may cross jurisdiction in an emergency, or when asked. Columbia, Montour, and Schuylkill counties are all strong governance.
List of Counties
| County | Capital (*denotes largest city) | Population | Entrance into the Union | Jurisdiction | Notes | Abbreviation | Flag |
| --- | --- | --- | --- | --- | --- | --- | --- |
| Columbia | Berwick* | 11,749 | September 12, 2005 | All of Columbia County except Bloomsburg | Founding Member | CO | |
| Luzerne | Nescopeck* | 4,126 | June 1, 2015 | Northwestern portion of the former County | Quaternary Member | LZ | |
| Montour | Danville* | 6,788 | September 12, 2005 | All of Montour County | Founding Member | MO | |
| Northumberland | Sunbury* | 5,137 | June 1, 2015 | All of Northumberland County | Quaternary Member | NL | |
| Schuylkill | Shenandoah* | 3,749 | September 12, 2005 | Northern Tip of Schuylkill County | Founding Member | SL | |
| Sullivan | Sonestown* | 1,369 | April 17, 2014 | All of Sullivan County | Tertiary Member | SN | |
| Wyoming | Hazleton* | 31,948 | June 23rd, 2010 | Southwestern Luzerne County | Secondary Member | WY | |
Federal District
The Federal District is a separated political entity from the counties. It is to prevent government officials from favoring one county over another. The district only covers the jurisdiction of the town of Bloomsburg. It is currently an enclave surrounded by Columbia County. Formerly the town was the county seat of Columbia County which has since been relocated to Berwick.
The federal district contains the second largest city in the Commonwealth, and has a medium sized population. The seat of government is in Bloomsburg as is the legislative branch and judicial. The governor's house is located in Danville, which was a compromise. There are talks of relocating the house to Bloomsburg to ease transportation issues, as well as security purposes.
Government
The town council of Bloomsburg is the government of the Federal District, with the mayor as the head. Similar to the District of Columbia and Washington, D.C. prior to Doomsday, the town council is in charge of the district, but certain legislation in regard to taxes, law enforcement, business, and construction must be approved by the House of Representatives in the General Assembly.
Due to the town also being coterminous with the Federal District, they provide public transit, fire units, medical units, and the Bloomsburg Police Department. The Commonwealth of Susquehanna Capital Police act in a similar capacity as the sheriff in each county, although they are under the jurisdiction of the federal government. A local court is run by the town council to handle cases like the county courts do so there are not as many cases in the Supreme Court over frivolous matters.
| Title | Largest City | Population | Entrance into the Union | Notes | Abbreviation | Flag |
| --- | --- | --- | --- | --- | --- | --- |
| Federal District | Bloomsburg | 5,735 | October 15th, 2014 | Federal District | BL | |
Territories
There are currently, as of June 1, 2015, no territories in Susquehanna. Territories receive representation in the General Assembly, and are put into the draft, but do not pay taxes, and do not get to vote in the national elections. The citizens living in the territory may elect their own commissioner, but the federal government appoints two of the members on the council.
| Territory | Territorial Capital | Population | Year of Formation | Estimated Year For Entrance As A County | Abbreviation | Flag |
| --- | --- | --- | --- | --- | --- | --- |
| None | N/A | N/A | N/A | N/A | N/A | N/A |
Unorganized Territories
Unorganized territories are the final divisions of Susquehanna. The major difference between an organized and unorganized territory is government. An unorganized territory does not receive any representation in the General Assembly, and lacks the ability to choose its own County Commissioner, and is not granted any of the freedoms that counties are given. The House chooses a Commissioner. The people living in the unorganized territories are exempt from the draft, but may not vote. They do not have to pay any taxes either. Instead, they pay a local tax to cover governing and securing the region.
The federal government sets the laws in each unorganized territory as well as using the military to enforce the laws. There is a controversy over using the military to govern civilians. Proponents say that it provides security to dangerous regions, and provides for a streamline administration until a stable government can be organized. Opponents point out that it is a dangerous precedent to give military control over a civil region.
Martial law is enforced in the regions, but they follow the Hague Convention of 1907 and the Geneva Convention for civilians. Raiders are tried as mercenaries in military court. They are given protection from the death penalty, due to the federal government of Susquehanna abolishing it in 2009. Commonly raiders are sentenced to hard labor with long prison sentences in isolation due to an attempt by a few
Currently Carbon Territory is under direct military rule until the raiders are mopped up, but it is still considered an unorganized territory for government purposes. Although Mahoney has only been around for a year, it has stabilized enough that it will be upgraded to Territory status in June of 2017. Most likely Butler will be upgraded in June of 2020 because it has been reforming and rebuilding.
The unorganized territories have only recently been formed, and are expected to either be incorporated into neighboring counties, or become territories of their own.
There are no official capitals for the unorganized territories. Unofficially, the capital of each unorganized territory is Bloomsburg.
| Territory | Largest City | Population | Area (sq mi) | Formation Date | Admission Date | Abbreviation |
| --- | --- | --- | --- | --- | --- | --- |
| Butler | Drums | 5026 | 33.6 | 2014 | 2020 | BR |
| Mahanoy | Tresckow | 1854 | 11.4 | 2013 | 2017 | MY |
| Carbon | White Haven | 2135 | 122.8 | 2014 | 2024 | CN |
Potential Future Territories
Susquehanna is currently in negotiations with Reading to divide the territory around and between their respective nations. There are plans to divide any acquired territories into unorganized territories if they have no local governments, or a territory if they have local governments. Currently there are plans to divide the land among currently existing counties and forming new ones as well.
The military is deploying to secure the rest of Sullivan County by mid 2016, and Wyoming County to secure it by late 2016.
List of planned counties encompassing all former territory
| Number | Name (Planned Name) | Largest Community | Planned Formation Date | Planned Integration Date | Population (1980) | Population (2015) | Area (sq mi) | Population Density (/sq mi) | Jurisdiction |
| --- | --- | --- | --- | --- | --- | --- | --- | --- | --- |
| 1. | Bradford County (N/A) | Sayre | 2020 | 2030 | 62,919 | ~4000 | 1161 | 3.45 | All of Bradford County |
| 2. | Susquehanna County (N/A) | Montrose | 2035 | Unknown | 37,876 | ~2500 | 832 | 3.01 | All of Susquehanna County |
| 3. | Wayne County (N/A) | Unknown | Unknown | Unknown | 35,237 | ~100 | 751 | 0.13 | All of Wayne County |
| 5. | Lackawanna County (N/A) | Unknown | Unknown | Unknown | 227,908 | ~1000 | 465 | 2.15 | All of Lackawanna County |
| 6. | Pike County (N/A) | Unknown | 2050 | 2100 | 18,271 | ~500 | 587 | 0.85 | All of Pike County |
List of planned counties encompassing partial territory
| Number | Name Pre-DD (Planned Name) | Largest Community in future territory | Planned Formation Date | Planned Integration Date | Population (1980) | Population (2015 Within Jurisdiction) | Area (sq mi) | Population Density (/sq mi) | Jurisdiction |
| --- | --- | --- | --- | --- | --- | --- | --- | --- | --- |
| 4. | Wyoming County (Mehoopany County) | Tunkhannock | 2016 | 2020 | 26,433 | ~2200 | 402 | 5.47 | All of Wyoming County except the southwestern tip |
| 7. | Monroe County (N/A) | Mount Pocono | 2050 | 2100 | 69,409 | ~800 | 617 | 1.30 | Northern Monroe County |
| 8. | Schuylkill County | Tamaqua | 2016 | 2030 | 160,630 | ~6900 | | | North Central Schuylkill County |
| 9. | Carbon County (Pocono County) | Jim Thorpe | 2016 | 2030 | 53,285 | ~2000 | | | North Central Carbon County |
Territorial Disputes
External
Currently Susquehanna has a minor territory dispute with Reading over control in Carbon and Schuylkill County. The two nations have recently signed a treaty, giving demarcation for the split of control.
Internal
There is currently a minor dispute in the General Assembly over separating modern Wyoming County from the rest of Luzerne County, cutting back on their representation. There are some politicians from Luzerne County who have filed a lawsuit in the Supreme Court over this dispute and are demanding the two counties unify. The main point for the Luzerne County lawsuit is that the General Assembly had no say in the future of the territory and they did not seek permission from Luzerne County. Wyoming County has countered pointing out that they were an independent nation prior to voluntarily joining Susquehanna.
The Supreme Court and the General Assembly plan on holding a hearing in mid-2016 to arbitrate the disagreement. Some officials from Wyoming County have threatened to secede from Susquehanna if Luzerne County wins. It is believed, though, that the situation will remain the same for the foreseeable future, and Wyoming County was legally divided.
Potential Territorial Splits
Northern Columbia County has discussed seceding from the rest of the county to form Susquehannock County. The county seat will be located in Millville, and is planned to encompass the boroughs of Millville, Stillwater, Benton, and the townships of Benton, Fishing Creek, Greenwood, Jackson, Madison, and Pine. The largest community would be Millville, and the population would be 2027 citizens, and Columbia County's population would drop to 9722 people.
There is a planned referendum for May 30th, 2016 with results released on July 4th, 2016. The plan, if passed, is to split by September 5th, 2016 and have an operational government by January 1st, 2017. There would be special elections in the new county, and some current officials and employees working for Columbia County would be moved to Susquehannock County.
The main reason for the secession movement is the more liberal, Democratic trend of the southern portion of the county, which is dominating the northern portion, which tends to vote for the Republican Party.
It is believed that the referendum will pass, and there are plans to add an additional star to the flag for the new county. Individuals supporting the movement are designing a flag and a seal for the new county.
Economy
Companies in the Commonwealth of Susquehanna Immediately after Doomsday the entire economy in the region more or less evaporated. Luckily a large portion of the economy was based on agriculture, allowing them to feed the reduced population. There was some light manufacturing left, primarily Textron (producing jet engine parts and engines for the Cessna 172 and Piper aircraft), TRW (producing automobile parts including carburetors, valves, pistons, and piston rings), Smith's Machine Works (producing ball bearings), a very small steel works, Cabinet Works (producing wood furniture), Rieter's (producing carpet), Merck (producing medication), and a rail car manufacturer.
With the loss of electricity and electronic components from the EMP, these companies collapsed. Although with the lack of a market and the fleeing population, it made little difference.
Today Susquehanna has a small locally based economy, primarily based around agriculture, services to those living in the nation, construction, steel and iron rolling, and healthcare for the population.
Susquehanna's primary economic standard is a subsistence level economy, with most production remaining in the nation to rebuild the damaged area from Doomsday. There is some foreign trade simply for cash to pay for materials not found within the nation, parts, or equipment.
Agriculture
Much of the Commonwealth of Susquehanna's economy is based around agriculture, there being several thousand workers employed. Most workers have jobs dealing with agriculture in some form or another. Many of the products stay within the nation, although there is an increasing amount of exports.
It is by far the most important sector of the economy of Susquehanna. Almost half of those employed work in this area.
Agricultural Products
Apples
Barley
Blackberries
Cherries
Corn
Cotton
Grapes
Peaches
Potatoes
Raspberries
Soybeans
Strawberries
Wheat
Manufacturing
There is a small but growing manufacturing industry. Unlike most nations, factories and industrial centers are scattered around the country, mainly located around rail lines and roadways. One construction company operates, mainly doing work on national infrastructure.
Most of the industry left is light manufacturing, or metal production. There is talks of reopening the former TRW plant and Smith's Machine Works in Danville.
Due to high start up cost this will most likely not occur until the 2030's to 2040's. They would manufacture parts for Canada, Toledo and Niagara Falls. Most would be used in the auto industry or military industry.
The rail car manufacturer has sat abandoned since Doomsday, but was not used since the late 1960's. All the equipment was left behind in storage, and the facility was torn down. Additional machinery was salvaged from the Milton rail manufacturing yard when the borough was abandoned by Susquehanna in the late 1980's.
Susquehanna is also considering reopening Merck. All they need is chemical suppliers and a buyer. The equipment stored there is all mechanical with few electronics. After Doomsday, Susquehanna stripped any useful equipment from the facility.
Blacksmiths are more common, using scrap steel and iron from pre-Doomsday cars and destroyed buildings to make tools. They supply the vast majority of farm tools, equipment for carpenters, horseshoes, nails, and other basic necessities.
Carpentry is another smaller business that has bounced back. With the collapse of manufacturing in general, people needed a way to obtain furniture. Carpentry became that source. There are dozens of shops around the nation. Most, if not all of the post-Doomsday furniture in the Commonwealth comes from local carpenters.
Industrial and Manufactured Products
Carpet
Concrete
Fertilizer
Furniture
Iron
Small Iron products
Railroad T-Rails
Steel
The Commonwealth is a steel producer in the region with the Danville Steel Mills producing railroad tracks and other products. Much of the coal is mined in Montour County, Columbia County and Wyoming County. Limestone is quarried in Montour County and Luzerne County. Although the facility is operational, it produces a small amount of steel per year, with much of it going to repairing crippled infrastructure from Doomsday. Analysts believe that the Commonwealth will not be up to levels enough to export for several more years.
The mills opened in 2010 after a collaboration came between some engineers from the Commonwealth with the knowledge of the mills' operation, money from State College investors, and equipment purchased from North Pennsylvania. The plans to reopen the steel mills had been made in 2001 and much of the time had been waiting for North Pennsylvania to be able to produce the needed machinery.
Currently the facility produces around one metric ton of processed steel. Often it is in the T-rail shape for tracks, bars for later usage or several other miscellaneous shapes.
Cabinet Industries, based in Danville produces wooden furniture for the nation, and has recently looked to potentially export their products. They opened as a collaboration between several local carpenters banding together.
There are several future plans for the Commonwealth of Susquehanna. There are talks of constructing a natural gas processing plant near Bloomsburg or Hazleton. This would ease the ability for the nation to drill for natural gas in Sullivan, Columbia, and Luzerne Counties.
To provide power to the government, military, industry, and radio, the government refurbished by hand 50 gas generators that were converted to natural gas. On the former Merck property, there were two generators. They both individually provided 500 MW of power to the factory. The Commonwealth has managed, by stripping apart the other unit, to bring one back on line and placing it in the Danville Steel Mills.
The nation has a low tax rate due to a small government and the lack of major imports and exports. Most businesses employ between ten and sixty employees, although some larger farms employ several hundred seasonally.
Services
Most of Susquehanna's services are focused for inside the nation. There is a bank, hospital system and several beverage and snack manufacturers in Susquehanna.
Services
Banking
Healthcare
Snack Foods
Beverages
Geisinger Health System which owns a hospital in Danville, and several outpatient clinics in Berwick, Bloomsburg and other communities employs a large majority of the population not in farming.
Another large section is snacks. The Wise Foods Incorporated survived Doomsday, and was repaired in 2011 by several entrepreneurs who also restarted Catawissa Bottling Company in late 2009.
There are dozens of minor services, providing basic needs for the population. Due to the relative isolation of the region for the first thirty years of its existence, many small operations provide local services, with countless operating throughout the Commonwealth.
Employment
Major Employers
American Mining Incorporated
Bloomsburg Textile Mills
Commonwealth of Susquehanna
Danville Steelworks
Geisinger Health System
Hazleton Textile Mills
Krum's Orchard
Mariano Construction Inc
Montour Concrete Manufacturers
Red Deer Farm
Susquehanna Bank and Finance
Weis Markets
Wise Foods Incorporated
Exports and Imports
The nation has only recently begun trade with foreign nations, mainly focusing on internal needs and affairs. But with recent private enterprises springing up, exports have become more common.
Importing has been done since contact was made with outside nations. It has picked up in recent years.
Still, distance and lack of fuel have severely hamper the young nation's ability to trade. It does less that two million dollars in imports and one million dollars in exports. 90% of imports and exports are to Pennsylvania survivor states. The other 10% is to the rest of the UC including Canada.
Exports
Susquehanna primarily exports food and corn to other nations, as well as some cloth, minerals and other commodities. The exports are small, since contact has only been in the past decade, but it is slowly increasing.
1. Foodstuff
2. Corn
3. Lumber
4. Textiles
5. Coal Husk
6. Maple Syrup
7. Snack Foods
8. Limestone
9. Beverages (Wine, Soda, Beer)
10. Natural Gas
Imports
Susquehanna imports quite a bit as well, especially from heavily industrialized states such as Toledo and Niagara Falls. A majority of imports are for government needs, or for heavy industry.
1. Gasoline
2. Refined Natural Gas
3. Military Hardware
4. Heavy Machinery
5. Electricity
6. Raw Materials (i.e: Copper, Steel, Cobalt)
7. Gravel
8. Mining Equipment
9. Farming Equipment
10. Diesel
Gross Domestic Product and Per Capita GDP
Susquehanna has a small economy, with a Gross Domestic Product of approximately 50 million dollars per year. That is at the same level as some pre-Doomsday Pacific island nations. The Per Capita GDP is approximately $680.49 per year in each household. This is similar to pre-Doomsday sub-Saharan African nations and a few Middle Eastern nations.
Overall, Susquehanna is a poor nation due to its recent formation, and lack of electricity and operational manufacturing equipment. It is expected to slowly improve over the next century with aid from surrounding communities and Canada.
Due to the low labor cost it is possible that, once the power is reactivated, the nation could begin manufacturing low cost goods.
Largest Employers in Susquehanna
By Company
| Rank | Name | Industry | Employees |
| --- | --- | --- | --- |
| 1 | Commonwealth of Susquehanna | Government | 4934 |
| 2 | American Mining Incorporated | Mining | 1691 |
| 3 | Weis Markets | Supermarket/Grocery Store | 1004 |
| 4 | Susquehanna Bank and Finance | Banking | 956 |
| 5 | Geisinger Health System | Healthcare | 672 |
| 6 | Danville Steel Mills | Steel and Iron Rolling | 536 |
| 7 | Hazleton Textile Mills | Textiles and Cloth | 500 |
| 8 | Wise Foods Incorporated | Snack Foods | 490 |
| 9 | Mariano Construction Inc. | Construction | 246 |
| 10 | Bloomsburg Silk Mill | Cloth | 237 |
By Industry
| Rank | Industry | Employees |
| --- | --- | --- |
| 1 | Agriculture | ~13,000 |
| 2 | Government | ~6000 |
| 3 | Industry | ~5500 |
| 4 | Mining | ~3000 |
| 5 | Services | ~2700 |
Tariffs
Susquehanna has relatively low import and export taxes to encourage trade. Only maple syrup is a protected industry. The government encourages foreign businesses to relocate manufacturing and offices to the nation by offering tax breaks.
Currency
The Commonwealth of Susquehanna Department of Treasury has announced on January 11th that the Treasury department would begin printing currency on June 1st, 2016. It will be a paper currency that will milled at the Danville Paper Mills with a cotton mix that will be embedded into the paper using stitching. They will be split into $0.01, $0.05, $0.10, $0.25, $0.50, $1, $2, $5, $10, $20, and $50 denominations. It will be called the Susquehanna Dollar and will replace the usage of the Canadian dollar, the US Dollar and an assortment of other currencies that are currently used.
Natural Resources
The Commonwealth of Susquehanna is lucky enough to have a large deposit of natural resources at its disposal. The major issue in the nation is removing them from the ground. Coal is mined in Schuykill County, Montour County, and Columbia County. Iron is mined in Montour and Columbia County. Limestone is quarried in parts of Montour and Columbia County, as well as portions of Luzerne County.
Several experts estimate that Susquehanna has access to as much as 3.1 billion metric tons of coal are accessible to Susquehanna, and if the nation can gain the rest of Luzerne County, there could be as much as 5.6 billion metric ton.
Most of the iron left in the area is hard iron ore that is difficult to mine, and only has about 30% recovery rate. The other type is soft iron, which is easier to mine, but much more difficult to find, as most had been removed in the 1870's-1890's during the previous iron boom. It is estimated by the government that there is 20 million metric tons of soft iron and upward of 450 million metric tons of hard iron, although only about a quarter of the hard iron is able to be extracted with the current technology.
There is only limited mining due to the lack of major mining technology. In recent years there has been purchases and imports of equipment from Joy Mining Company. Susquehanna will need to mine approximately 5900 metric tons of coal per day in the summer and 7000, metric tons of coal in the winter to keep up with demand. At that rate, the coal will last over 400,000 years.
There is a shortage of oil in the country, with all supplies being imported from North Pennsylvania. There is an abundance of natural gas. The government operates a crude drill in northern Columbia County and southern Sullivan County, but there is little extracted due to the lack of depth for the drill.
Iron is processed into steel at the Danville Steel Mills, and is shipped out by rail to Bloomsburg to a storage facility.
There are an assortment of other minerals left, including quartz, salt, clay, gravel, and small quantities of granite.
Agriculture and Food
Immediately following Doomsday, food and drink became of vital importance to the survivors of Doomsday. The police and various other groups defended stores and warehouses to prevent raids by desperate people.
Susquehanna was one of the few nations in the northeast, after Doomsday that did not suffer long term issues with feeding their nation. At first there were some issues due to change in climate, lack of powered equipment, and manpower. By the late 1990's the country had enough food and some surplus, which was traded by the early 2000's with neighboring nations.
Today, agriculture is the most vital industry for the Commonwealth. It produces all of the food needed in the nation, plus a surplus to trade and sell. In recent years it has begun trade with Virginia and other southern nations for more variety in the available food crops due to ease of contact.
Currently the nation grows enough food to feed eight times the current population. Much of it is traded for raw materials and other manufactured equipment.
Malnutrition was an issue for several years after Doomsday, mainly due to the lack of a proper distribution system. In poorer and more isolated counties and communities, malnutrition continues to take its toll. The government has attempted to alleviate this by subsidizing food prices in these regions and reducing taxes.
Overall, most of the nation has adequate access to a variety of healthy and nutritious foods.
Grains
As in many newly formed nations, people were concerned about the radiation content of soil in eastern Columbia County, so for years following Doomsday, most of the cereal crops grown came from Montour County and western Columbia County. In recent years though, corn crops have been grown in eastern Columbia.
Corn is the most common grain in the Commonwealth. It is sold and consumed in many different forms. The most common following Doomsday was as a porridge or a dish similar to cream of wheat. Today, most of the corn is consumed as bread, muffins, and porridge.
Barley and wheat are the two other cereal crops grown in the nation. Although, unlike corn, it has not rise to pre-Doomsday consumption rates. Wheat bread is too expensive for many people to afford, so it is mainly consumed by the wealthy. Barley is used in rolls and for liquor primarily.
Potatoes
Potatoes was the crop that nearly saved the nation from collapse. As the end of winter came in 1983, food supplies got dangerously low. A man suggested planting potato eyes in decontaminated soil, then after placing them in underground caves, using wood fires to keep them warm. Each bed was pushed out for a bit each day to receive sunlight.
Today, it is widely consumed, mainly baked or mashed. The potato is a relatively cheap food, and many can afford to grow them, and store them in dry cellars. Overall, the nation produces over 300 tons of potatoes a year, with around 250 tons going to private consumption.
Wise Foods Incorporated purchases most unconsumed potatoes to use in their potato based products. They primarily make potato chips by frying sliced potatoes in corn oil.
Sweet potatoes, also known as yams are grown on several farms, and privately at home by individuals. They are popular as well, and are commonly eaten boiled or baked. They are less common though, than the potato, with around 50 tons produced domestically.
Fruits
Immediately following Doomsday, many fruits were consumed within days to prevent them from spoiling. Unfortunately, since Doomsday, the only fruits grown in Susquehanna on a large scale are apples, peaches, grapes, tomatoes, blackberries, strawberries, cherries, and raspberries. Pears and blueberries have become scarce, with few of them grown in the nation due to easier crops being grown. Meanwhile, bananas, and other tropical fruits have become unheard of, simply because it is too expensive to purchase them.
Krums Orchard, based in Catawissa, Columbia County is the primary fruit grower, with 500 acres of property. They grow three-fourths of the nation's fruit per year.
Vegetables
As with staple fruits, many vegetables that were easily grown became commonplace at the dinner table. They are a cheap source of nutrients, and easy to store and transport. They are given, by the government as a supplement to those who rely on government aid to make ends meet.
Today, vegetables such as lettuce, green peppers, hot peppers, dandelions, cabbage, broccoli, carrots, onions, spinach, and cauliflower are only a small portion of the cornucopia of vegetables produced and eaten in the nation. They are commonly eaten raw, or cooked in a variety of dishes.
Most families have a small vegetable patch and a storage cellar to keep them over the winter. They are one of the cheapest foods, and many large farms in the nation grow them, being the second largest crop behind corn.
Farmers in the nation use natural ways to prevent insects, and animals from eating their crops. Many are transported by wagon to the towns for market, although many are sold to Weis Markets, which sells them commercially in their supermarkets around the country.
Meats
Meat was a vital staple after Doomsday, proving to be a moral booster as well as an excellent source of protein. Much of the meat immediately after Doomsday was chicken, beef (from slaughtered dairy cows), venison, and house pets.
Today, chicken and venison are the primary meats served at a meal. Beef cattle are also raised, but in smaller quantities than prior to Doomsday. Many hunt with bows, and crossbows, so there is a variety of wild game at markets and in the store. Turkey is also eaten often, although it is tamed birds that have been captured from the wild. This is tougher and more gamey than the pre-Doomsday variety.
Red deer from the Rolling Hills Red Deer Farm are a vital source of meat to the nation. They keep between 200 and 300 deer at all times. Deer are bred to keep a large population. They graze the grass as well as receive plant scraps from local homes and rotten fruits and vegetables from local farmers.
Due to the loss of refrigeration, the meat is commonly salted for preservation. Sometimes families, in the winter will purchase fresh meat and put it in a cold storage for a few days using the snow and ice to keep it fresh.
Fish
Fish consumption in the Commonwealth has increased in recent years, compared to the early 2000's. Trout, bluegill, catfish, small and large mouth bass, and other fish have been caught by fishermen in the Susquehanna River. There was a ban on catching fish for consumption from the Susquehanna River until 2009, when scientists from Canada confirmed that the water was safe to consume animals living in it.
Prior to the lift on the moratorium, all fish for consumption were caught from the creeks in the region.
Milk and Eggs
Milk mainly comes from family owned goats, although there is a small goat milk industry, bottling about 100 bottles per day. There is no more cow's milk since all milk cows were slaughtered for food after Doomsday. Most milk farmers have transitioned the cheaper, more efficient goats.
Eggs are common in Susquehanna, being a cheap proteins source for poorer families. Many own one or two egg laying chickens. The Amish are the primary egg producers in Susquehanna.
Honey and Sugar
There are several farms that raise bees in Susquehanna, and collect both honey and bees wax. The honey is packaged either by hand at the farm, stored in wood barrels and sold to companies or exported.
It is common in households due to it being a low cost item.
Sugar is not sold to the public. Catawissa Bottling Company grows sugar beets to use in its soda, as it can be grown year round in a greenhouse, and it is cheaper than importing sugarcane.
Maple Syrup
Maple Syrup is a commodity in Susquehanna, being labor and time intensive to produce. There are small bottlers around the nation, and produce around 1000 to 1500 gallons per year. Many are sold outside the country, being a major export. There is an import tariff on foreign maple syrup to protect the industry.
Beverages
There are different beverage choices in Susquehanna. Many drink goat milk, which has replaced cow milk. Soda, although popular, is expensive to purchase. The most common drink is a low alcohol content beer produced by Old Forge Brewing Company, as the water is still unsafe in many parts of the nation.
Drinking water is pulled from wells and creeks, but the river is still off limits to both water and fish, due to lingering radioactivity as well as poisonous chemicals release by collapsing industry.
Alcohol
In 2008, Susquehanna lowered the drinking age to 20. The military does allow troops under the legal age to drink small amounts as part of their service as long as they remain on base. There is talk of lowering the drinking age to 18, but it is unsure if the bill will pass through the General Assembly.
There is one brewery and one wine company. They produce almost all of the alcohol the nation consumes, although some wine is imported from North Pennsylvania. The brewery is based in Danville, and the winery is in Nescopeck. The brewery also manufactures small amounts of hard liquor for both public consumption, and for medical usage.
Hops are grown throughout the nation, typically by potato farmers, due to similar growing conditions needed for both plants. Their sale also helps supplement the farmers income. Susquehanna produces around 20 ton of hops a year, with virtually the whole supply going into domestic beer making.
Infrastructure
The infrastructure of the Commonwealth of Susquehanna needs some major repairs in the outer regions of the nation. Currently, the government is undergoing massive revitalization of the national transportation system and quality.
A Canadian analysis of the area compared the current infrastructure comparable to most African nations prior to Doomsday. There are few paved roads, automobiles are rare, and most transportation is by horseback or train.
Roadways
Before Doomsday, the counties that make up the nation were based around Interstate 80, Interstate 81, State Route 11, State Route 642, and State Route 54. Unfortunately the asphalt has been deteriorating and there has been work to replace these surfaces with stone.
Immediately after Doomsday, these roads became clogged with abandoned cars, a handful of crashed aircraft, and people's abandoned belongings. There were many animal carcasses that were hit by out of control vehicles that were damaged by the EMP.
Today, Route 11 is the cleanest, most intact roadway, traveling from Danville through Bloomsburg, and past Berwick. The road remains the same as it was before September 25th, although new overpasses have been installed, as well as repairs to retaining walls, and a larger bridge over an expanded Roaring Creek. The military uses the road to send exploration units into Wilkes Barre and Nanticoke.
Interstate 80 has been cleaned up an repaired to an extent, but still is not open for public use outside of the nation. Plans are to finish repairing connections to State College and North Pennsylvania to ease transportation issues. The interstate has been switched from running east to New Jersey, to turn onto former State Route 93 and runs down past Hazleton to Reading.
State Route 642 west was completely abandoned after Doomsday, from the Montour County line out. Today, where the road meets the Susquehanna-State College border, the border patrol has a small checkpoint set up, with a concrete barrier and old metal gate. It is mainly used by the military, and businesses today, who are in contact with other nations.
Route 54 connects Danville to Washingtonville. Today, the road is down to one side, one lane traffic, due to Interstate 80's overpass collapsing into one of the lanes. There are plans to clear out the damaged area and patch it, opening it to two lanes once again.
There are few automobiles operated in the nation, with the costs being too high. Most are operated by the government with a handful owned by the wealthy population. Many of these vehicles are old models refurbished from pre-Doomsday parts and cars. Some are new, purchased from Toledo, Niagara Falls, or Virginia.
Most vehicles run on either biodiesel or alcohol, due to the ease of conversion and large agricultural stock. A few also run on wood gas. All military vehicles run on a combination of gasoline and alcohol, with a goal of becoming independent of gas by 2030. A majority of the operational cars, trucks, buses, and SUV's are operated by the military, government, emergency services, or mass transit.
Most people use horse and buggy or wagons now due to ease of maintenance. There are several horse breeders throughout the nation. In place of gas stations, there are small stations to get horse feed and water as well as horseshoes. Many have sprung up on main roads between Bloomsburg and Hazleton.
Bicycles are also a common method of transportation. Originally most of the bikes were built out of scrap metal, but by 2011 the government had allotted a small portion of salvaged scrap metal for bike production. Now, there are several hundred bikes manufactured by the Commonwealth. Most civilians have access to a bike, and they are a popular long range transportation for those living in town. Some other bikes are built as trikes for light cargo transportation.
Rail
Rail may be the transportation future for Susquehanna. This is due to the availability of T-rails, and trade with London, Ontario. Railroad tracks are planned for connection with Washingtonville, Millville and several other communities.
Cargo Rail
There are two railroads that run through the Commonwealth. One runs from Danville to Berwick. It was named the North Shore Railroad before Doomsday, but today is named Montour-Luzerne Rail Line.
The second rail line was finished only months before Doomsday, and was not even in operation on September 25th. It was unnamed at the time of Doomsday, and has been expanded to connect with Ringtown, Mainville, then runs to Hazleton, and turns to go to Reading. It has been named Mainville-Schuykill Rail Line.
There are only a pair of trains operational, being former display trains in Knobel's. They were salvaged in the early 2000's and brough to operations in late 2013. The government has four new trains on order from London as well as refurbishing the current trains in use. All trains will be coal fired due to an abundance of the fuel.
Most trade with Reading is done by rail. There are normally a few heavily armed soldiers or security guards on each shipment for defense.
The Susquehanna Department of Transportation has begun laying additional rail lines to connect the Montour-Luzerne line with the Mainville-Schuylkill line.
Passenger Rail
The Susquehanna Department of Transportation has a plan to build a comprehensive passenger
rail system through Susquehanna connecting Danville, Bloomsburg, West Hazleton, Nescopeck, Shenandoah, Sunbury, and Millville. This is due to the lack of automobiles and lengthy travel time between communities, especially for the more rural citizens.
It is planned to eventually connect with rail lines in Reading and State College to ease transit. The trains are planned to be coal-fired as well, but long term plans hold a goal to eventually electrify them to reduce smog around the major communities. The plan is to build the system in five stages. There are many proposed stations for the rail line.
Some officials see this as overly ambitious, but with a timeframe of sixty years, some see it as a feasible goal, especially if there is aid from Canada, Reading, and State College. The estimated cost is around 15 million USD. It would use current lines operated by the Susquehanna Department of Transportation to move goods and materials between Danville, Bloomsburg, Berwick, and Hazleton, expand them, and add more rail lines to be used for both passenger and commercial uses.
Green Line
| Station | City | Previous Station | Next Station |
| --- | --- | --- | --- |
| Northumberland Station | Northumberland | Terminus | Danville Station |
| Danville Station | Danville | Northumberland Station | Bloomsburg Station |
| Bloomsburg Station | Bloomsburg | Danville Station | Briar Creek Station |
| Briar Creek Station | Briar Creek | Bloomsburg Station | Berwick Station |
| Berwick Station | Berwick | Briar Creek Station | Nescopeck Station |
| Nescopeck Station | Nescopeck | Berwick Station | Conyngham Station |
| Conyngham Station | Conyngham | Nescopeck | West Hazle Station |
| West Hazle Station | West Hazleton | Conyngham Station | Hazle Station |
| Hazle Station | Hazleton | West Hazle Station | Terminus |
Red Line
| Station | City | Previous Station | Next Station |
| --- | --- | --- | --- |
| Danville Station | Danville | Terminus | Washingtonville Station |
| Washingtonville Station | Washingtonville | Danville Station | Jerseytown Station |
| Jerseytown Station | Jerseytown | Washingtonville Station | Millville Station |
| Millville Station | Millville | Jerseytown Station | Bloomsburg Station |
| Bloomsburg Station | Bloomsburg | Millville | Terminus |
Blue Line
| Station | City | Previous Station | Next Station |
| --- | --- | --- | --- |
| Bloomsburg Station | Bloomsburg | Terminus | Catawissa Station |
| Catawissa Station | Catawissa | Bloomsburg Station | Numidia Station |
| Numidia Station | Numidia | Catawissa Station | Centralia Station |
| Centralia Station | Centralia | Numidia Station | Ringtown Station |
| Ringtown Station | Ringtown | Centralia Station | Shenandoah Station |
| Shenandoah Station | Shenandoah | Ringtown Station | Terminus |
Maroon Line
| Station | City | Previous Station | Next Station |
| --- | --- | --- | --- |
| Bloomsburg Station | Blooomsburg | Terminus | Orangeville Station |
| Orangeville Station | Orangeville | Bloomsburg Station | Stillwater Station |
| Stillwater Station | Stillwater | Orangeville Station | Benton Station |
| Benton Station | Benton | Stillwater Station | Davidson Station |
| Davidson Station | Davidson Township | Benton Station | Terminus |
Yellow Line
| Station | City | Previous Station | Next Station |
| --- | --- | --- | --- |
| Shenandoah Station | Shenandoah | Terminus | Conyngham Station |
| Conyngham Station | Conyngham | Shenandoah Station | Terminus |
Light Blue Line
| Station | City | Previous Station | Next Station |
| --- | --- | --- | --- |
| Berwick Station | Berwick | Terminus | New Columbus Station |
| New Columbus Station | New Columbus | Berwick Station | Shickshinny Station |
| Shickshinny Station | Shickshinny | New Columbus Station | Terminus |
Trolley System
The city of Hazleton is the only community that operates a trolley system. It is a horse-drawn system using cars that were assembled by local factories in the late 1990's, and the city has since purchased several trolley cars from the Danville Steel Mills. They have been fashioned to look similar to the cars operated in Philadelphia prior to Doomsday. Recently the city council has looked into installing natural gas generators onboard to power them, or possibly electrifying them.
Waterways
The Susquehanna River is the only navigable river in the nation, and is quite important. Trade done with Gettysburg by boat. Roads between the nations are in disrepair and raider attacks are still threatening.
There is a small group of freight boats that operate from Bloomsburg and travel up and down the Susquehanna. Reconnaissance teams from Susquehanna have used the river as a safer way to travel, since the roads north of Susquehanna are overgrown and some are rubble.
Flat bottom boats and small hulled boats are the only waterway vehicles capable of navigating the waters. Since Doomsday, the average water height has risen to eight feet from five feet pre-Doomsday. The Army National Guard operates two small hulled patrol boats in the river for security purposes.
All the boats on the river (except the two Army National Guard vessels) are either rowboats or sailboats. There are no motorboats available as most were destroyed by the EMP, and were stripped for parts to make the two military patrol craft.
Communication
As Doomsday occurred, the Commonwealth lost all forms of communication as the EMP rendered the delicate electronics useless. The government began to immediately work on repairing as many radios as possible. Old radios were pulled from storage and put into use. A handful of modern radios have been acquired from Canada or Superior.
In 2007, the nation completed the installation of telegraph lines throughout the nation. They continued to upgrade and update them. In 2010, the nation began to look into installing telephone lines for connection between the Bloomsburg government and other surviving governments.
By late 2013, telegraph lines were connected with those from Reading and State College, linking Susquehanna to the rest of the world. There are few personal telegraph sets in the nation. Most communities have a public operator which can send messages. If a person receives one, the mail carrier will drop off the message.
There are three phone lines leaving Susquehanna. One connects the capital with Reading, one, headed west to State College and Franklin, and one goes south to Gettysburg. They are purely for government usage only. Plans are to expand the connections to Canada, Vermont, Niagara Falls, Binghamton and Ithaca in coming years.
HAM radios are used in the cities and by news and radio stations to keep in touch with foreign news agencies, and the government uses a few to contact nations that are out of shortwave range or not connected to the phone lines.
Energy
Immediately after Doomsday, the police and National Guard secured all of the gas, coal, natural gas, and propane supplies to ensure energy for emergency, agriculture and critical services.
Fuel distribution was very limited. Using storage facilities outside of Danville, the government was able to ration fuel until the late 1980's. After that, most of the vehicles were put into storage and other methods of transportation were used. A handful were converted to burn wood gas.
Obtaining energy is a crucial issue for the small nation. Although there are depots of natural gas and coal, there is limited storage and processing facilities for coal, and none for natural gas. The government exports to North Pennsylvania for refinement of the natural gas.
Oil reserves are nonexistent in the nation. The government imports small amounts of gasoline and avgas from North Pennsylvania to operate aircraft and non-converted vehicles. Susquehanna is looking to eventually remove the gas powered cars from the nation. There will be a need to continue purchasing of avgas for the Air National Guard and Air Susquehanna to operate.
Currently the nation mines coal only for use within the nation, but has also been considering shipping it out as new deposits are found. All the natural gas is sold to North Pennsylvania for processing, with the return being 50% purified gas, 50% cash and other materials for the government.
Gasoline, diesel and avgas are purchased from North Pennsylvania as well as Kentucky. Still, fuel is scarce and expensive, so few privately owned vehicles are used.
There is still heavy rationing, with most fuel supplies going to the military, government, industry or mass transit.
Electricity
Prior to Doomsday, there were two power plants in the region that now makes up the Commonwealth of Susquehanna. One was a nuclear power plant which had just gone online completely, and the other was a coal-fired facility.
The lone nuclear power plant, named the Susquehanna Steam Electric Station, operational in the region before Doomsday. When the EMP struck, the plant went dark and technicians scrambled for an emergency shut down. The diesel generators were repaired enough to keep the uranium in the cooling pools from overheating. Unit One had opened in 1977, and Unit Two had just opened only weeks before Doomsday.
Both were successfully and safely shut down, although large amounts of money and manpower went into keeping them stable, and the uranium safe. Each reactor had the capability to produce 2700 MW per year. With aid from several larger states there are considerations to reopen the plant and export electricity. So far no work has begun, but the government has allotted funds and diesel to keep the two generators operational that cool the fuel rods.
The other power plant was the Montour Power Plant. It was coal fired, and operations ceased after Doomsday. The facility sustained damage from the EMP blast, and is still inoperable today, although repair work is underway. There plans to purchase turbines and other parts needed for repairs. Susquehanna will supply most of the workers, but Canada will provide parts, and technicians.
Projections show it will generate 1536 MW of electricity, although initial operations will generate half the power for about six months to ensure everything is operating as it should be. Engineers and some certified staff from North Pennsylvania and Canada will be assigned to stay in Susquehanna until 2027 to ensure proper staffing and training.
Other nations have pledged aid to Susquehanna when they are able to begin work on the nuclear power plant. There is still an uncertainty over whether the government will decommission the facility, or reactivate it. So far the government is mum on the situation.
Adding that with the 200 MW of the generators at the steel production facilities in Danville, the nation will have 1736 MW of electricity. That will be enough to power the radio stations, industry and the approximately 12,000 households in the nation. The one generator will be hooked up to the industry and government facilities to ensure they have power first.
Today, although there are no power plants active, the Susquehanna Power and Utilities Company maintains the facility. The nuclear power plant is under direct control of the government which secure the perimeter with a contingent of security officers.
Several government agencies, hospitals, and sanitation plants utilize refurbished portable gas generators. They supply enough power to operate basic medical equipment, machines in the sanitation facilities, and government lighting.
Geisinger in Danville uses the former backup generators at the facility to power lights, water, medical equipment, and some basic electronics. Other facilities use gas generators on the roof.
The government has a focus on repairing these power plants as soon as possible, cutting the military budget due to the end of the raider war, and funneling it to repair the Montour Power Plant by the middle to end of 2015. New turbine units have been imported from Niagara Falls, and two transformers are due to arrive from Canada in July of 2016. The power plant is due to begin operations at the beginning of 2017, and start full operations in mid 2019.
Airports
Hazleton International Airport is the primary airport servicing the Commonwealth. It has a single runway that is 4898 feet long (1493 meters) and is made of asphalt. It is currently only used by the Air National Guard as the primary base due to the length of the runway. Susquehanna is in negotiations with Air Canada to possibly begin flights from the airport to Saint John's, but it is uncertain if there will be a deal. Bloomsburg Airport is used as a secondary airbase for the military, and is used as a staging point for the Army National Guard, with the facility named Camp Rittenhouse.
Sanitation
Susquehanna is slowly beginning to improve sanitation especially in the cities and larger towns. Danville, Bloomsburg and Hazleton all have operational waste treatment plants that were salvaged from parts stripped from destroyed facilities.
They are operated with hand generators and manual labor. The government plans to hook up the facilities to the power plant as soon as possible.
Hazleton and Bloomsburg also have garbage disposal and Danville has a burn pile outside the community.
Most outlying communities rely on wells and outhouses for sanitation. They burn rubbish and reuse food scraps in gardens.
Education
The nation has a mandatory education from grades 1-12, with kindergarten and college optional. The national education system is divided into school district. Military service can be postponed if the student is pursuing higher education.
Although the nation attempts to enforce education to help improve the nation's self-sufficiency, only about 57% of the current citizens under the age of 18 actually attended school at some point. There is a 62% graduation rate, and 5% going on to college. The literacy rate, being at 71% is similar to many second-world nations.
Susquehanna maintains all the schools under the Susquehanna Public School System and divides the area up into smaller school districts. To keep a balance between those wanting to re-institute religion into the school system, and those opposed to it, the government made a compromise.
Schools had the ability to choose to allow prayer or not participate. Individual students would not be prevented or forced to participate if choosing to do so.
There are also a handful of private schools, mostly religious. The government regulates them to a certain extent but allows the relative freedom to encourage competition and increase the education strength.
School Districts (Jurisdiction)
Berwick School District (Berwick, surrounding townships, Luzerne County, Butler Territory): Berwick
Bloomsburg Area School District (Bloomsburg and surrounding townships): Bloomsburg
Southern Columbia School District (Central/Southern Columbia County, western Schuylkill County): Catawissa, Ringtown
Danville Area School District (Montour County): Danville, Washingtonville
Hazleton Area School District (Wyoming County, eastern Schuylkill County, Carbon Territory, Mahanoy Territory): Hazleton
Millville School District (Northern Columbia County): Millville
Sullivan County School District (Sullivan County): Colley Township
Technical Schools (Jurisdiction)
Montour-Columbia Vocational Technical School (Montour County, Columbia County, Sullivan County): Bloomsburg
Wyoming-Schuylkill Vocational Technical School (Wyoming County, Schuylkill County): West Hazleton
Private Schools
Holy Family Academy (K-12) (Hazleton, Wyoming County)
Saint Columba School (K-9) (Bloomsburg, Columbia County)
Saint Cyril's Preschool and Kindergarden (Pre K-K) (Danville, Montour County)
Saint Joseph's Elementary School (1-8) (Danville, Montour County)
Colleges
College in Susquehanna is important because it gives individuals a better chance in career fields and higher pay. The government provides small grants of several hundred dollars to encourage students to continue higher education. There are currently two universities and one college in the Commonwealth. All three colleges are operated by the federal government.
Bloomsburg University is located in Bloomsburg, Columbia County. It was founded in 1839 as a teacher's college, and expanded over the years. On Doomsday there were 7428 students on campus. About 5000 fled to look for their families. Today there are 647 students on campus and 84 who walk to college.
Columbia County Community College is a small two year institution located in Berwick, Columbia County as well as a small satellite campus in Wyoming County. It was founded in 1967 as Luzerne County Community College. There are 293 students who attend the college.
Hazleton University is composed of the former Penn State Hazleton campus. It was founded in the 1930's during the Great Depression. There are 584 students on campus.
Medical Care
There is one hospital in the nation. It is based in Danville, Montour County and is responsible for major operations and severe emergency care. It operates two large clinics in Bloomsburg and Hazleton which can provide emergency care. They also run small clinics with two or three nurses in several far out towns.
Medical care is basic with few medications or treatment options for doctors. Many terminally ill patients are sent home to prevent them being a drain on the few supplies left. Susquehanna has a small team at Geisinger hoping to manufacture penicillin in small quantities, and import others from Delmarva and Canada.
Surprisingly, radiation was not as much of an issues as some people and officials were worried about. Most of the effect from it has been some survivors from Wilkes-Barre and Scranton showing signs of cancer. Other than that, there is no sign of major incidents with cancer. There was a fear that the water would have high levels of radiation for decades or centuries. Luckily this was not the case, and the government has allowed some to pull water from the river now, and will continue to increase the nations allowed.
The flu has been a thorn in the side of medical personnel in Susquehanna since the winter of 1983. A majority of the deaths from the flu are some small children, and the elderly. There are only a few deaths nowadays.
Slowly Susquehanna is acquiring new equipment, and getting old equipment repaired. They have also pulled old pre-1960's equipment from storage and refurbished it. Engineers have been working on restoring as many different pieces of medical equipment as possible.
The hospital is non-profit, and has an economic impact of three million dollars on Susquehanna. There is a nine man board who manage the hospital.
Geisinger Medical Center (Danville, Montour County)- 600 beds, 20 critical care beds, four operating rooms, two isolation rooms
Wyoming Cinic (Hazleton, Wyoming County)- ten beds, four critical care beds
Geisinger Bloomsburg Clinic (Bloomsburg, Columbia County)- 50 beds, three critical care beds
Medical Supplies and Treatment
Many of the traditional medications and supplies ran out a few months to a few years after Doomsday, causing many to die. Today, Susquehanna operates a small pharmaceutical company, called Greater Susquehanna Pharmaceutical Industries. They operate a single facility in Danville. It produces and extracts medicinal abilities from plants and various molds and fungi. They grow Penicillin, Aloe, Barberry, Black Cohosh, Opium, and an assortment of other plants purchased from other nations.
Armed Forces
Main Page: Commonwealth of Susquehanna Defense Force
History
Immediately after Doomsday, local police and small National Guard units in various communities formed small military groups for defense. Some towns organized small civilian militias to back up defense against gangs and raiders who were prowling around the area. After the area unified, the military commanders integrated all the ragtag groups into a more organized militia. They lacked artillery or explosives and only had a handful of scavenged M2 Browning machine guns and M1919 machine guns.
Most infantry were armed with a hodgepodge of weapons, from M16's to M14's to hunting rifles. They were organized into several platoons and operated independently of one another.
The main issue the nation faced was the lack of any major military instillation in or near Susquehanna's territory that had not been leveled by a nuke. There was a small logistical and cargo Army Reserve unit in Bloomsburg as well as an Army National Guard clerical unit in Berwick. Neither was officially infantry, but both had training in the field and began to patrol regularly. The men operated along side local college security and police units.
After several months, the area needed additional manpower and the civilian militias were formed. The soldiers and police began to train them alongside ROTC and JROTC units from Bloomsburg University and local high schools.
Once the training was complete, the area had a manpower of 200 militia members, 250 National Guard members, 180 ROTC members, 75 JROTC members and 60 police, SWAT, and security members. Overall there were 765 available personnel.
Once they were trained, the commander of the Provisional Pennsylvania Militia requisitioned 20 local trucks and converted them into technicals armed with an M2 Browning.
Between 1983 and 2005 the militia operated a small air arm and waterway arm. They were equipped with scavenged aircraft (which rarely flew), and rowboats armed with rifles.
After the official formation of the Commonwealth of Susquehanna, the militia disbanded and reformed as the Commonwealth of Susquehanna National Guard. They formed a separate air arm and turned some of the best soldiers into a special forces unit called the Susquehanna Guard.
When raiders became a problem, the government launched Operation Retribution to destroy them. The military was weak and struggled to do more than keep them out. To add support, the government purchased twenty Jeep Raiders (eight have been destroyed), four artillery pieces, and a variety of other equipment. There was also standardization to the M14 in 2006 after recovering a large stockpile.
To portray a more neutral tone, in mid 2012 the National Guard was renamed the Defense Force, although individual service branches suffered no name changes.
Emergency Personnel
Emergency personnel are some of the most important careers in Susquehanna. They were some of the first organizations to receive horses after Doomsday, and then later on automobiles.
Law Enforcement
The nation has two levels of law enforcement, a national level, and community level. The federal government operates the State Police, and communities have either a sheriff or police force.
The State Police and local police have access to a multitude of vehicles. They can also utilize certain equipment used by the the Air National Guard.
Police
Law enforcement is mainly taken care of by each individual town. Hazleton has the largest police force with 97 officers. Most larger towns such as Bloomsburg, Danville, and Berwick have a police force of about eight to ten officers. Many smaller communities only have one or two policemen.
Police officers standard sidearm are Glock handguns, or the Browning Hi Power. Each officer is also equipped with a night stick and handcuffs. Each police vehicle is equipped with a Remington Model 870. Nationally there are 90 police officers sworn in, plus five campus security officers at Bloomsburg University, four at Hazleton University, and one at Columbia County Community College.
They are led by the town or borough council as well as the mayor. Officers may not cross jurisdiction of the town, or patrol area, unless given permission. The only exception to this rule is when searching for a fugitive. In this case, they must radio that area's police force, but may continue to give chase.
Capital Police
The federal government also operates the Commonwealth of Susquehanna Capital Police. It only has jurisdiction in Bloomsburg, but most operate within the capital buildings acting as security and law enforcement. They may be assigned to protect General Assembly members if there is a credible threat.
There are 20 sworn officers, and an additional ten security guards. They provide defense and security to VIP's and government buildings. In times of emergency, the State Police, Bloomsburg Police, and County Sheriff all are trained to aid the Capital Police in securing the facilities.
Local Police Forces

Danville Borough Police Department
Berwick Police Department
Bloomsburg Police Department
Hazleton City Police Department

College Police Forces

Bloomsburg University Police
Columbia County Community College Security
Hazleton University Police

Capital Police

Commonwealth of Susquehanna Capital Police
Sheriff's Department
Each county, and territory has a small sheriff's department to assist local law enforcement, as well as to provide police coverage to communities without their own force.
Each department has one sheriff, but the number of deputies fluctuates. The number ranges from two in Sullivan County up to 16 in Wyoming County. They have law enforcement powers to arrest and detain people. They also manage the county jail and may assist local police in prosecuting criminals.
Sheriff's and sheriff deputies are usually armed with revolvers as their weapons. They typically do not have any other weapons, relying on the State Police for additional support.
Deputies use horses to get around, although a few sheriffs have access to four-wheelers or off-road vehicles.
Another role of the sheriff department is to aid the State Police, as well as the Military Police in any criminal investigation within a particular county.
State Police
The State Police are the federal law enforcement of the government. They are not to be confused with the Capital Police who operate on federal properties as law enforcement and security. The State Police were the first organization formed by the government, combining various law enforcement organizations under the provisional state government, and the county jurisdiction, with the exception of the sheriff. Officially, the foundation date is November 7th, 2005.
The federal government operates two barracks in the nation and employs 25 troopers and 49 civilian employees. The East Barrack has fifteen officers, and the West Barrack has ten officers. It serves a similar purpose as the former United States FBI force. They prosecute national and large scale local crimes. The force also provide support for community law enforcement agencies.
These officers may cross county lines investigating crimes and arresting criminals. They also act in the same role as SWAT if needed.
A recent plan has been made to enlarge the size of the State Police. This would give them better coverage of the nation and speed up investigations of crimes. The federal government plans to hire an additional fifteen officers, moving ten to the East Barracks and five to the West Barracks.
Several State Troopers who had been stationed in White Haven prior to Doomsday went into hiding after the gangs took over. Most destroyed their credentials when the raiders and gangs took over. Some fled and hid at abandoned homes and properties in the surrounding area. A few joined the raiders and have been detained to face trial for crimes against humanity and terrorism, or extradited to Reading to face trial.
Since Susquehanna took over the region, they have come out of hiding and are involved in training a new police force as well as acting law enforcement until the new troopers and officers are trained.
The State Police operate four patrol vehicles, three four-wheelers, ten motorcycles, and ten bicycles. The motorcycles are typically used for long range patrol or urban patrol to save fuel, while the four-wheelers are used for off-road patrol and search and rescue. The four patrol vehicles are two sedans and two SUV's, the two sedans are typically used for transportation within the nation on paved roads, and the SUV's are used in the rural areas. The bicycles are used for urban patrol and usage in local events.
Barracks:

East Barrack: Luzerne Territory, Schuylkill County, Wyoming County (Headquarters: Hazleton)
West Barrack: Columbia County, Montour County, Sullivan County (Headquarters: Bloomsburg)
At the foundation of the Commonwealth of Susquehanna remaining local police stations and some State Police members made up the police force.
State Police forces can be federalized in time of war to act as an auxiliary for the Army National Guard and Military Police..
State Police members are each armed with a M-16A1 rifle, a Glock handgun and handcuffs, as well as body armor acquired from Canada, and a scope.
There are talks of renaming the the National Investigation Bureau, a slight change from the former United States Federal Bureau of Investigation.
Crime
There is a low crime rate throughout Susquehanna overall, excluding Hazleton. Average misdemeanor crime rate is 1.3 per every 10,000 people, and the rate of federal crimes and felonies is 0.8 per every 10,000 people.
Most citizens believe working together and using courts to settle disputes works better than violence.
Hazleton has a higher crime rate, being a city. The average minor crime rate is 5.6 per every 10,000 people, and major crime rate is 2.9 per every 10,000 people.
Susquehanna operates one federal prison and three county prisons. Columbia County, Montour County and Wyoming County all operate prisons, while Sullivan County, Schuylkill County, and Luzerne County rely on prisons in Columbia and Wyoming County.
The federal prison utilizes a portion of the former Danville State Hospital that was a block separate from the rest of the facility. Those imprisoned for federal and military offenses are placed here. There are 20 corrections officers between the four prisons. Currently there are a few dozen prisoners in the custody of both the county and federal governments.
Susquehanna does not have the death penalty, and, although having the ability, has not handed down a life sentence in the civilian courts since the formation of the nation. Raiders arrested are tried by the Defense Forces, and two have been sentenced to life.
According to Susquehanna law, a life sentence is between ten years and life. Depending on the nature of the crime varies when parole is available, as does health condition, mental state, and age.
Minors are not allowed to be given life sentences, and instead are sent to a corrections camp in Millville. There are seven minors below the age of 18 in the camp. As long as they successfully complete the course, they will be released at the end, provided they do not have any major run-ins with the law. They must check with a parole officer every week for five years after.
Gallery
Fire Personnel
Fire is mainly provided by a handful of refurbished 1950's fire engines, and one 1930's fire engine salvaged from Knobel's Amusement Park. There are several fire stations in the country. All fire units are volunteer personnel who are unpaid. Unfortunately, many of the vehicles are beginning to develop issues and will need to be replaced.
Hazleton Fire Department -

Three: 1960's fire engines
One: 1950's water tanker
Five: Brush Trucks
Bloomsburg Fire Department -

One: 1950's fire engine
One: 1930's fire engine
One: 1960's water tanker
Two: Modified brush trucks
One: Water Rescue fireboat
Danville Fire Department -

One: 1950's fire engine
Two: Modified brush trucks
Berwick Fire Department -

One: 1950's fire engine
One: Pickup truck for firefighting
Benton Fire Squadron -

Three: Pickup trucks for firefighting
Rescue Personnel
There are four ambulance units in Susquehanna. One is based in Bloomsburg, one in Hazleton, one in Millville, and one in Shenandoah. They utilize a mixture of pre-Doomsday ambulances and modified vehicles.
Rescue Units
Bloomsburg Rescue
Hazleton Emergency Medical Services
Millville Emergency Rescue
Shenandoah First Responders
Weather
Due to changing environmental and increased rain, weather in Susquehanna can be unpredictable at times. The nation does experience all four seasons. Typically the spring and fall gets heavy rainfall, winter can have vicious snowstorms, while summer can have intense heat.
State police, local police and the defense Forces as well as emergency personnel are trained to handle such situations. The military has several water pumps and a few stored emergency generators to operate them. They can be deployed to prevent or slow flooding.
The Army National Guard has snow plows for their Jeeps. The State Police also have the capability to utilize the plows on several of their vehicles.
Recreation
Much of the Commonwealth of Susquehanna's history has been reconstruction or repelling raider attacks. But recently there has been some reconstruction of facilities for the people's enjoyment.
The town of Danville hosts the Iron Heritage Festival once a year in the middle of the summer. Organizers restarted the festival in 2012.
Bloomsburg holds the Bloomsburg Fair during the end of September, and several other shows (mainly military shows) throughout the year. The fair has reopened in 2011. Between Doomsday and 2011, much of the land was used as a temporary military outpost.
There are also several museums still in operation throughout the nation, relying on donations and fees from visitors to stay in operation. Susquehanna also maintains Ricketts Glen National Park (Formerly Ricketts Glen State Park) located in northeastern Columbia County, southeastern Sullivan County, and northwestern Luzerne Territory.
List of Attractions in Susquehanna

Fairs/Festivals

Bloomsburg Fair (Last Full Week in September)
Iron Heritage Festival (Third Week in July, Monday-Saturday)
Montour Delong Fair (Last Full Week in August)

Museums

Bloomsburg Children's Museum (Bloomsburg, Columbia County)
Eckley Miners Village (Hazleton, Wyoming County)
General William Montgomery House (Danville, Montour County)

National Parks

Montour Preserve National Park (Montour County)
Nescopeck National Park (Luzerne County)
Ricketts Glen National Park (Columbia and Sullivan County, Luzerne Territory)

Theater

Bloomsburg Theatre Ensemble
Culture
Susquehanna has a diverse culture with a mixture of urban and rural culture. Bloomsburg and Hazleton are seen as the cultural heart of Susquehanna. There is still a small African American culture present in Hazleton, with a handful of celebrations and events held each year.
Danville has a strong history with the iron industry and continues to celebrate the Iron Heritage Festival each summer. This delves into the historical mining and the town as well as modern day industry.
Bloomsburg hosts the Bloomsburg Theatre Ensemble, a regional acting group that was formed prior to Doomsday. They tour the Commonwealth putting on plays in the various communities in the nation. The organization is a nonprofit, but charge small fees to cover travel expenses and new props and costumes.
Music
Susquehanna has a strong music basis with many different singers, bands and orchestras throughout the Commonwealth. Most are based in either Danville, Bloomsburg and Hazleton.
The capital hosts the Bloomsburg Orchestra, the last and only group in Susquehanna. It was originally operated by Bloomsburg University, but after it closed soon after Doomsday, people in Bloomsburg restarted it after acquiring the instruments from the university.
This organization is also nonprofit, but charges small admission fees to cover new equipment and travel expenses. They tour the nation and travel to the larger communities, generally playing in community centers, gymnasiums or other such areas.
Much of Susquehanna's music is classical or rock, with traditional instruments being utilized. Some popular groups include; the Bloomaburg Orchastra, Hybrid Ice, Nine Inch Nails, and other local and international groups.
Food
Susquehanna has a strong German and Polish heritage. Foods such as perogies, sausages, haluski, and an assortment of other dishes are popular. Some small private companies have begun growing spices used in these dishes that were lost on Doomsday.
Due to the relative scarcity of beef, hamburger is rare. Ground up goat meat (knicknamed goatburger) has somewhat replaced it. A small burger chain using this substitute has opened three fast food joints. One operates in Bloomsburg and two are in Hazleton. They are carry out, eat in or drive through. The drive through was added for those who have horse and buggy.
Performing Arts
Bloomsburg Theatre Ensemble operates out of the capital city, but tours the nation several times a year. All members are volunteers and props are purchased from admission tickets, concessions and donations.
Hazleton University supports a small acting club who puts on shows angled at the young adult category. Most shows are free, but some charge a low cost admission price to help pay for materials.
Sullivan County
Due to the relative isolation of Sullivan County, many of the inhabitants have developed a unique culture compared to the rest of the nation. They are much more rugged and rely on each other more that the government. Crime rates are slightly lower due to more of a kinship feeling between the local population.
Many avoid traveling to Bloomsburg, Danville or Hazleton as they are too urban for them, so they will obtain needed goods from the northern boroughs of Columbia County. Some are seen as eccentric by the rest of the population, but are accepted.
Holidays
Susquehanna has several recognized holidays throughout the year. On holidays, all federal and county employees are given off from work. For workers in the private sector, New Years, Memorial Day, American Independence Day, Labor Day, Doomsday Memorial Day, Thanksgiving and Christmas are mandatory days off although it is up to the employer if they want to pay the workers or not.
| Holiday | Date |
| --- | --- |
| New Years | January 1st |
| Birthday of Martin Luther King, Junior | 3rd Monday in January |
| Presidents Day | 3rd Monday in February |
| Memorial Day | Last Monday in May |
| American Independence Day | July 4th |
| Labor Day | 1st Monday in September |
| Independence Day | September 12th |
| Doomsday Memorial Day | September 25th |
| Veterans Day | November 11th |
| Thanksgiving Day | 4th Thursday in November |
| Christmas Day | December 25th |
Sports
Sports have attracted a small group of followers with football and baseball both being popular.
Susquehanna Interscholastic Athletic Association
SIAA replaced the PIAA for schools in the Commonwealth in 2009, when the Provisional PIAA dissolved into the SIAC. The Provisional PIAA had formed in 2000 to allow schools which had only recently reformed to compete with each other. They existed alongside the Susquehanna Interscholastic Athletic Conference. At the time of the merger in 2009, the PPIAA had Bloomsburg Area School District, Millville School District, and Montour-Columbia Vo-Tech participating, and the SIAC had Danville Area School District, Southern Columbia School District, and Berwick School District as well as Schuylkill Vo-Tech. All private schools at the time were in the PPIAA.
Currently there are eight school districts, two technical schools, and three private schools participating in the SIAA. They are headquartered in Bloomsburg, with an office in Hazleton. It is considered a nonprofit, and is associated, but not operated by the government. It is also associated with the SNAC.
Susquehanna National Athletic Conference
The SNAC is the national athletic association for the commonwealth and the three colleges and universities. Due to the small size, the team compete with each other two or three times per year for each sport. There are talks with Reading and State College to begin a conference between the three nations to increase variety in gameplay.
Currently there are two universities and one college participating in the conference. It is headquartered in Bloomsburg with offices in Hazleton. It is a nonprofit, and is associated, but not operated by the government. It also is associated with the SIAA.
Pennsylvania Football League
In 2007, several local members of high school and college football teams discussed forming an organization similar to the defunct NFL for regional games. After talking with a senator from Montour County, they managed to get support from the General Assembly for such an endeavor.
It took several years for the organizers to acquire the neccessary equipment and recruit players. So in 2011, the first season of the Susquehanna Football League was played. There were three teams that year, the Bloomsburg Eagles, the Danville Steelers, the Berwick Giants. That year there were six regular season games, four playoff games, and the SFL Super Bowl. Each team played the others one time.
In 2012, Shenandoah formed the Shenandoah Browns and began playing. That year, there were eight games, four playoff games, and then the Super Bowl. Like before, each team only played the others once.
After a one year lull, the SFL signed agreements with Hazleton and Nescopeck to form a team in each community. Hazleton took the former name of the New York Jets, and Nescopeck, the name of the New England Patriots. The Army National Guard has also decided to field a team for that season, though the team dissolved in 2016.
All of the teams are semiprofessional only. They are given a small stipend, and each team is normally sponsored by a business or individual to cover these costs.
Each team utilizes local high school or college football stadiums to play their games in. The Bloomsburg Eagles utilize Bloomsburg University's football field.
The final game is between the two teams with the most wins. That is the SFL Super Bowl Championship. This game is always played at the Robert B. Redman Stadium. There are talks with State College about hosting it at the Penn State stadium.
Games are played either Saturday afternoon or Sunday night. Typically regular season lasts from September until early December, and the playoffs from early January until mid February. The Super Bowl is played the last weekend in February, giving players about a week to recover.
The primary stadium is the Robert B. Redman Stadium at Bloomsburg University. It has a seating capacity of up to 5000 people, and hosts supporting infrastructure.
| Team | Host City | Number of Super Bowls | Last Super Bowl | Starting Season | Stadium |
| --- | --- | --- | --- | --- | --- |
| Steelhawks | Allentown | None | N/A | 2017 | |
| Giants | Berwick | One | 2013 | 2011 | Crispin Field |
| Eagles | Bloomsburg | Two | 2012 | 2011 | |
| Steelers | Danville | One | 2014 | 2011 | Ironman Stadium |
| Jets | Hazleton | None | N/A | 2014 | Hartman-Geist Memorial Field |
| Yellowjackets | Lebanon | None | N/A | 2017 | |
| Patriots | Nescopeck | None | N/A | 2014 | |
| Maroons | Pottsville | One | 1925 | 2017 (1920) | |
| Keystones | Reading | None | N/A | 2017 | |
| Browns | Shenandoah | None | N/A | 2012 | |
| Super Bowl | Team One | Team Two | Final Score |
| --- | --- | --- | --- |
| I | Bloomsburg Eagles | Berwick Giants | 35-24 |
| II | Berwick Giants | Shenandoah Browns | 28-7 |
| III | Bloomsburg Eagles | Danville Steelers | 39-36 |
| IV | Danville Steelers | Hazleton Jets | 48 |
Susquehanna Baseball League
After the successful foundation of the Susquehanna Football League, some baseball enthusiasts proposed forming a similar organization for the American pastime.
Many were enthusiastic about such an organization, and began to plan to form one. Although the General Assembly never got onboard, they received plenty of funding from other sources. It was named the Susquehanna Baseball League, and enjoys a strong fan base.
After two years of planning, the first season of baseball was played from May to October of 2014. There were 20 games total, one each weekend, and a six game postseason with the top three teams. Finally, the World Series is played between the two winning teams. They play four games over two weekends in October.
Typically during regular season and post season one game is played for travel constraints. Most games are Saturday evenings, or Sunday afternoons. This timing was to avoid conflict with the well established Susquehanna Football League.
Susquehanna Baseball League:
Berwick Yankees
Bloomsburg Nationals
Danville Pirates
Hazleton Mountaineers (Current Champions)
Shenandoah Mets
Olympics
Susquehanna is sending two cross country skiers to the 2018 Winter Olympics in Saint John's Canada. This will be the first Olympics that the nation will participate in as an independent country.
Foreign Relations
Susquehanna had a relatively short diplomatic history. It has only begun getting contact with foreign nations, and primarily was within the Northeastern portion of the former United States as well as the Great Lakes region. The federal government
Regional Relations
The Commonwealth of Susquehanna maintains diplomatic contact with most of the Pennsylvanian survival states. It has embassies in State College and Reading and has a diplomat in North Pennsylvania and Gettysburg.
Through several of the surrounding nations, the nation has contact with the United States of America, Vermont, Outer Banks, Canada Remainder Provinces, Gettysburg, Virginia, Delmarva, International Falls, Saguenay, Toledo Confederation, Niagara Falls, and Kentucky.
The nation has strong ties with the other five Pennsylvania survivor states. The government recognizes State College as the legal political successor to Pennsylvania, but has chosen to remain independent for the time being. It believes in some form of cooperation between the Pennsylvania survivor states, but is uncertain about reunification.
Susquehanna has come in contact with Lehighton, but has refused to recognize it. This is due to its policies of raiding the Commonwealth and Reading, as well as disrupting trade, practice of slavery and abuse of the civilian population.
Relations are relatively strong with Canada, the latter providing monetary donations for work on the power plant, stabilizing the nuclear material at the nuclear power plant, arms and other materials that the Commonwealth cannot supply on its own. Susquehanna also keeps trading ties with Superior and Virginia, trading food and lumber for weapons, fuel and raw materials. They have tried to maintain friendly political relations with Superior despite Susquehanna slightly leaning slightly towards Canadian affiliations.
In recent years, Commonwealth began indirect contact with the Toledo Confederation, the Republic of New York, London and to an extent, the Republic of Superior.
On April 25, 2014, an application for membership in the United Communities was submitted through State College. The members accepted their request in late 2014, and Susquehanna joined at midnight on January 1st, of 2015. Most government officials hope that this will lead them to join the international forum of nations.
Susquehanna has recently signed a treaty with Reading, dividing territory between the two nations. The Treaty of Pottsville was signed in the city of Pottsville, Schuylkill County, Reading. It split the rest of Schuylkill, Carbon, and Monroe counties.
Relations with Virginia have soured in recent years, with some politicians in the Commonwealth, criticizing the government censorship, three strike law, and the seemed militarization of the civilian population as 'unacceptable'. Business owners, and citizens of the Commonwealth with family in Virginia have pushed to improve ties. Recent Virginian steps at demilitarizing the culture have been welcomed by Susquehanna.
Susquehanna's relations with North Pennsylvania's legal government have taken a step back with the advancement of the Amish Party into national politics. With the destruction of the Kinzua Dam, manufacturing in the Commonwealth has taken a hit due to less power available for purchase. Businesses and the government have begun improving power connections to Reading, as well as speeding up repair work on the coal power plant in Montour County. After hearing about possible corruption and racism, the government put a travel advisory on the nation and pulled all non essential personnel from the embassy in case of possible conflict.
International Relations
Recently in a poll taken, it was found that 63% of citizens want to join the League of Nations, feeling the stability and contact with other nations will be useful for the Commonwealth. There is still opposition by the Commonwealth Party and some factions in the Republican Party. Most of the disagreement stems from the "old" League of Nations failure at preventing the Second World War, and the former United Nations inability to enforce nuclear disarmament and this failure led to a Third World War.
The government has planned for any future contact. It has been made known that they will recognize any legitimate nation that has claims, as the successor state of that territory. Officially though, the government will not recognize any legitimate government that oppresses its people. Some officials have refused to recognize any survivor state of the former Soviet Union due to their role in the Third World War, although this is inconsequential at the moment.
Susquehanna has informed Canada that it recognizes the Commonwealth of Australia and New Zealand as a military replacement for the United States, but the United States out west as the official successor state to the former USA.
List of Embassies and Consulates by Nation/Organization from Susquehanna
List of Embassies and Consulates by Nation/Organization to Susquehanna
The embassies are all located on Lightstreet Road, and the street is now nicknamed Embassy Row. They are converted fraternity and sorority houses that were taken over by the government.
CRUSA
CRUSA has no presence within Susquehanna, although it has some supporters from those who hve visited other chapters.
The government remains neutral on their position with CRUSA.
Saguenay War
Diplomatically, the Saguenay War was a rough patch in the Commonwealth's ties. The nation had strong ties to both Canada and Superior.
The nation remained neutral, publicly calling for both sides to come to peace, supporting Vermont and a peaceful solution. The government recognized the right for self determination of the people of Quebec, but also stated a unified Canada would lead to a more stable North America. They refused to recognize the Republic of Saint Lawrence, citing the background to its formation, and the lack of support. Bloomsburg left the situation of Saguenay ambiguous, waiting for the outcome of the war to decide on recognition.
When news of the ceasefire and the eventual peace treaty reached the ears of the nation, the governor-elect, Lou Barletta stated - "I pray for a continued peace for our children, grandchildren and future generations, for their sake."
At the elections in June, the Republicans, calling for peace, kept control of the governorship, and won a majority in the Senate over the Democrats, who were more ambivalent to the situation. The Democrats managed to keep majority in the House by slim numbers.
After the war, with the revelation about Superior supporting raiders, and the Canada First Party's role in the assassination, the government strongly condemned them both. The President of the Senate and the Speaker of the House released a joint statement condemning the two parties for worsening the situation.
After the end of the war, Susquehanna built up its own munitions facility as well as ammo production and camouflage.
American Spring
The nation has currently seen very little in the way of protests other than a handful by some members of the Unionist Party, wanting the rejoin the USA as soon as possible.
The distance is unfeasible to attempt to rejoin the United States at the time. Susquhanna has no plans to reunite with the United States. Much of the younger population no longer identify as Americans or but as Susquehannians.
Reunification
The General Assembly of the Commonwealth of Susquehanna on the status of reunification with the United States or Pennsylvania. Labeled Resolution 29, it outlined conditions that Susquehanna would rejoin either successor state. But this resolution also left open continued independence for the future.
Many citizens today are reluctant to rejoin the United States feeling that they have been abandoned, and the younger population no longer associating with it anymore. A poll taken by the newspaper the Press-Enterprise showed that 29% of people support joining the United States of America, 53% support joining the North American Union, and 18% oppose joining either organization.
Slowly, over time as the older population dies off, more of the citizens are opposed to Susquehanna rejoining Pennsylvania or the United States in a political union. Most do support some form of economic or military alliance. There have been talks with Reading over future territory lines, and a possible economic and political alliance. Susquehanna also has good relations with State College and North Pennsylvania, which are discussing reunification.
Supporters
Many of the supporters are business owners who want access to the much larger market available to them. Re-unification would increase profit, and trade would rapidly pick up.
Others point to the weak state of the Commonwealth. They lack a large military, and have a small economy. Most supporters though want Susquehanna to form an independent state in the United States rather than rejoin Pennsylvania.
Most of the support comes from older generations who grew up with the United States around. They are not opposed to Susquehanna's independence, but want to rejoin America if possible and as soon as possible. Most of this is due to patriotism to the former nation.
Critics
Many citizens and more each year oppose re-unification, pointing to the APA formation in Canberra rather than any number of surviving states in the United States.
Others point to the nation waiting over two decades before officially seceding. They believe that the wait was more than sufficient for contact to have been made.
Some are opposed due to a fear that the democratic reforms made, such as wider democratic freedom and an emphasis on citizens rights, will be annulled by the federal government if they were to reunite.
Overall, most of the opposition is from the younger generation who never grew up under the United States. They consider themselves to be Susquehannians, not Americans.
Current Status
As of late 2014, there has been no change in Susquehanna's political status. The government does recognize State College and the United States in the west as official successor states.
There is no recognition of State College or the United States authority over Susquehanna or its claimed territory. Neither state has pressed the issue.
Officially the government takes no stand on re-unification, preferring civilian choice. Unofficially, the population has leaned, since 2007, toward continued independence. Many though favor a political and economical alliance of some sort.
With further contact with other PA survivor states and families reconnecting, there has been a movement to possibly found an organization for greater cooperation without giving up rights enshrined in the Constitution, or any measure of independence.
Modern Reaction to Doomsday
A poll taken in 2011 showed that 89% of citizens believe that the USSR was responsible for the Third World War, 2% believe the USA/American Provisional Administration was responsible for Doomsday, and 9% believe that it was just a terrible mistake and neither side was solely responsible for the aftermath of Armageddon.
In the Bloomsburg Town Square there is a piece of steel from the Susquehanna Steam Electric Station with a plaque on it saying - In memory of the innocent people who died in the unintentional nuclear exchange between the United States of America and the Union of Soviet Socialist Republics on September 26, 1983. This is another day that shall live in infamy.
Religion
The Commonwealth of Susquehanna is a secular state, allowing the freedom of religion to its people. The nation has a high percentage of people who are actively participating in a religious group. The predominant groups remaining are Christian and Amish.
The Protestant Church is the most predominant religion in the region with 41% of the population claiming to be Methodist. It is under the jurisdiction of the Diocese of Bloomsburg.
Another large Christian denomination is Catholicism, with 35% of the population. Due to long separation from the Roman Catholic Church, it has developed separately after Doomsday and is a unique faith, though without a doubt, Catholic.
4% of the population is a mix of Christian faiths.
The Amish Community holds 6% of the population, although many are New Order Amish. They tend to avoid associating with the government. The concentration of their population is in Northern Montour County.
1% of the population claims to be Byzantine Catholic, Jewish or Mennonite - as well as other faiths.
The remaining 8% of the population is atheist or agnostic.
Susquehannean Catholic Church
Immediately following Doomsday, the remaining parishes and local church leaders set to aid those in need following the nuclear war. Most set up soup kitchens, utilizing fresh foods that would spoil in days without proper refrigeration, donated by church members. They also began Perpetual Adoration of the Blessed Sacrament around the clock at Saint Joseph's Parish, and Saint Columba. The priest and various members of different religious orders went out into the communities to help people with who were still stunned by the events of Doomsday.
After stabilizing the region and the union of the towns and communities as the Provisional Commonwealth of Pennsylvania in Susquehanna, the various religious people realized that there would be no foreseeable contact with the Vatican, and reports from survivors showed that both the Diocese of Harrisburg and the Diocese of Scranton had ceased to exist. In July, 1989 the Emegency Conclave was held.
Since the Conclave there has been little changed within the Church. One primary change that was made had to do with Holy Day's of Obligation. It was decided to add September 25th as an additional hold day due to the events in 1983.
The Catholic Church has evolved in Susquehanna into its own distinct religious format. Unlike other evolutions of the church (the Celtic Church, and Niagarian Catholicism), Protestant and Catholic faiths have not unified due to an agreement to collaborate but remain separate. A bishop is the leader of the Susquehannean Church. The seat of the Susquehanna Catholic Church is Saint Cyril's and Methodius Basilica in Danville, Montour County. The head of the Church is the Patriarch who is responsible for doctrine and assigning priests to various parishes.
There are three dioceses in Susquehanna, the Diocese of Danville, the Diocese of Bloomsburg, and the Diocese of Hazleton. This is primarily due to the small size of the nation, yet scattered population. There is one diocese, the Diocese of the World that covers any other believers outside of the nation. It has a few sects in Niagara Falls and some other New England states but does not have large population.
Emergency Conclave
The surviving church leaders and high personnel called an Emergency Conclave in Bloomsburg, Columbia County at Saint Columba Parish. It was in response to definite proof that the Diocese of Harrisburg and Scranton were no longer functioning, and that the local church leaders needed guidance in what to do. Some disagreed with the meeting, but overall there was general compliance.
Parishes, Individuals and Religous Orders in Attendance:

Immaculate Conception of the Blessed Virgin Mary Parish (Berwick, PA)
Saint Cyril's and Methodius Parish (Berwick, PA)
Saint Joseph's Parish (Berwick, PA)
Saint Columba's Parish (Bloomsburg, PA)
Geisinger Chaplin (Danville, PA)
Sisters of Saint Cyril's and Methodius (Danville, PA)
Saint Joseph's Parish (Danville, PA)
Saint Mary's Parish (Ringtown, PA)
The church leaders decided to temporarily form the Diocese of Bloomsburg, and assigning a conclave of two priests and one nun. There would be no new dogma or religious doctrine put in place until contact was regained with the Holy See, Vatican City (presumed destroyed), or any other legitimate representation of the Church in the world.
Some of the more conservative Catholics wanted to reform the Church and reverse Vatican II. Cool heads prevailed in the end and no changes were made.
No bishop was assigned, because the clergy wanted to wait until it was confirmed that the bishops from the Diocese of Scranton and Harrisburg were both dead. There was hope that one had possibly survived the carnage of the war.
In 1992 the church remnant had waited almost a full decade and decided it was long enough, and they needed to move on. They voted to form the Catholic Church in Susquehanna with the head parish in Danville at the Chapel of Saint Cyril's and. Methodius. It was redesignated as a cathedral in 1995 and a basilica in 2000. At the second conclave, to pacify some of the more conservative Catholics, several key sticking points from Vatican II were reversed.
Differences Between Susquehannean Catholicism and Roman Catholicism
High Mass celebrated on all feast days
Kneel to receive Communion
No Meat on Fridays year round
Recognizes John Paul II as the Pope
September 25th is a Holy Day
Traditional prayers recited in Latin
Women are asked to cover their heads in mass
Similarities Between Susquehannean Catholicism and Roman Catholicism
New American Bible is in usage
Practice in local tongue
Priest faces congregation during mass
Current Events
The Susquehanna Catholic Church is in talks with the Byzantine Catholic Church in Susquehanna over possibly unifying the two beliefs due to similar mass styles, and agreements in a variety of areas. Most of the key issues are the same problems that hail back to the East-West Schism. This includes key dogma, as well as the role of the Pope, Rome being the center of the Catholic faith, Mary, and original sin.
A group of scholars from both religious bodies in the Commonwealth have come together to discuss and find a resolution of the problems to reunify the two bodies.
Relations with the Roman Catholic Church
The Catholic Church in Rio de Janiero recognizes the Susquehanna Catholic Church as Catholic and in communion with the rest of the world. There are talks to officially reunify with the Roman Catholic Church. A major sticking point is the lack of North American bishops being present during the first conclave, so the Susquehanna Catholic Church will not officially recognize Anthony I as the Pope. They are still in talks though, and many believe reunion may be in the near future.
Relations with the Niagaran Catholic Church
The Susquehanna Catholic Church recognizes the Niagaran as Christian but not Catholic due to the usage of the King James Bible and the ordination of women. Relations though, are relatively good with positive dialogue in the past few years which has made Susquehanna more receptive.
Diocese and Parishes of the Susquehannean Catholic Church
Diocese of Bloomsburg

Christ the King Mission (Benton)
Immaculate Conception of the Blessed Virgin Mary Parish (Berwick)
Our Lady of Mercy (Catawissa)
Saint Columba's Parish (Bloomsburg)

Diocese of Danville

Saint Joseph's Parish (Danville)
Saint Francis of Assisi Parish (Washingtonville)

Diocese of Hazleton

Most Precious Blood Parish (Hazleton)
Our Lady of Mount Carmel Parish (Shenandoah)
Queen of Heaven Parish at Our Lady of Grace Church (Hazleton)
Saint Gabriel's Parish (Hazleton)
Saint Mary's Parish (Ringtown)
Saint Patrick's Parish (White Haven)
Saint Stanislaus Parish (Hazleton)
Holy Name of Jesus Parish (West Hazleton)

Diocese of the World
Other Religious Bodies
Geisinger Chaplin (Danville, PA)
Sisters of Saint Cyril's and Methodius (Danville, PA)
Images
Protestant Faiths
As the Catholic Church was working on salvaging the remaining members of the church, the Protestant faiths all met in Bloomsburg as well, and agreed to consolidate under one leadership. Today, each faith operates independently, but all meet several times a year to discuss doctrine and plans for the next year.
There is very little animosity between the Catholic and Methodist faiths. Many times the churches work together.
There are churches scattered around the nation that have the various faiths. Many towns have more than one due to the many types.
Amish
The Amish have changed relatively little since 1983. Much of this is due to the fact that the leadership survived and their lifestyles. Amish were the least impacted group on Doomsday, and many worked to aid others.
Today they still live like their ancestors did and farm the land. Many crops come from their farms and their produce is some of the best in the nation. Most Amish remain apart from the government, and the government leaves the pre-Doomsday laws in place that the United States and Pennsylvania put in place.
Byzantine Catholic
Byzantine Catholicism is a branch of the Catholic Church that has a small following in Susquehanna, mainly in Schuylkill County. After Doomsday, similar to the Roman Catholic, the few remaining churches met in a conclave in Ringtown, Schuylkill County, to decide what to do. They had lost contact with the Diocese of Philadelphia and Eastern Pennsylvania. Unlike the Roman Catholic Church, the priests that met assumed that their leadership had either all died, and formed the Diocese of Shenandoah and Central Pennsylvania.
There are two churches in Susquehanna: one in Shenandoah and one in Hazleton. They have a small membership and the current Bishop is Gregor Allen.
Judaism
Judaism was more or less wiped out in the region on Doomsday. There is a very small Jewish population who remain. There is a small synagogue in Bloomsburg, and there is only one rabbi who has recently moved from Canada. Susquehanna gives any Jewish soldier an allowance for their dietary restrictions.
Mennonite
Similar to the Amish, Mennonites have changed very little since Doomsday. Most continue to follow their elders' customs, but are more involved in the government and current affairs.
Media, Information and Communication
Newspaper
The Commonwealth of Susquehanna has recently formed several media outlets for people to use. Newspapers were one of the first forms used, being hand-typed on old typewriters that had been stored at area high schools from the 60's and 70's. One of the first newspapers to reform was the Morning News (renamed the Press Enterprise) in Bloomsburg. On September 25, 2013, the thirtieth anniversary of Doomsday, they released a special paper with stories of some survivors who managed to escape Scranton and Wilkes Barre.
Today the nation has two major newspaper distributors, The Press Enterprise, based in Bloomsburg, Columbia County; the Daily Item, based in Sunbury, Northumberland County; and one minor newspaper distributor, the Standard-Speaker, based in Hazleton, Wyoming County.
The Press Enterprise is the successor to the Morning Press, being renamed in 2004. They operate nationally, providing national and world news, cartoons, advertisements, and coupons for the citizens, along with serving as an announcement bulletin for the government, printing upcoming bills, elections and issues. The paper publishes five days a week. Originally the Danville News operated independently, but after two months became cost prohibitive, and merged with the Morning Press to form the Press Enterprise. The newspaper is distributed in the entire nation through pre-Doomsday newspaper racks and stands. The paper publishes seven days a week, and prints papers for the Standard Speaker on Tuesday and Thursday to bring in extra revenue.
The Daily Item is a recently founded newspaper, formed in September, 2015. It operates in the eastern side of the nation, covering Columbia, Montour, Northumberland, and Schuylkill counties, providing regional news coverage as well as some national and world news. They offer puzzles, coupons, and advertisement as well as providing service announcements from community and government organizations. The paper publishes Sunday, Wednesday, and Friday.
The Standard-Speaker was the original newspaper for Greater Hazleton when it was an independent nation. It was only one or two pages long with just some basic news for the city with some ads and on the weekends, puzzles and comics. Today it is six pages long, and publishes Tuesday and Thursday and has an agreement with the Press Enterprise to roll copies of that paper during the rest of the week.
Journalists work for all the papers, and the three companies share news articles via telegram. Reporters for the Standard-Speaker focus on news in Wyoming County while reporters for the Press Enterprise and Daily Item cover national and international news.
Radio
Soon after Doomsday, many resources went into restarting the radios as they were the most efficient way to get information to the public, because in the news and bulletins, it was already at least one day old.
In 1984, the communities that would form Susquehanna later on banded together and started the Provisional Pennsylvania Broadcasting Company, the predecessor to the Susquehanna Broadcasting Company. The original transmitter was in Bloomsburg, and was constructed from salvaged equipment from Danville and Berwick. It was up and running by late 1986.
Today there is a variety offered through the radio, as it has claimed the market formerly occupied by television. Through aid from Canada and Vermont, Susquehanna has three radio stations in operation as of 2015. Two are operated by the Susquehanna Broadcasting Company, and the third is run by the Press Enterprise.
Radio listeners can pick up signals from State College, Reading, Texas, Mexico, North Pennsylvania, and several other regional radio stations with larger transmitters.
Susquehanna Broadcasting Company
AM

SBC Station One (1570 AM: Susquehanna Broadcasting Company Station One): This station is the first channel opened by Susquehanna. It was founded in 1986 after some engineers managed to get it operational again. It operates from 7:00 AM until 10:00 AM, and 6:00 PM until 10:00 PM, Sunday, Tuesday, Thursday, and Friday. The station transmits government broadcasts, religious programming and sports.

FM

SBC Station Two (91.1 FM: Susquehanna Broadcasting Company Station Two): This station is the second radio channel operated by the Commonwealth. The second to open, with aid from Canada, it began transmission in late 2013. It operates from 7:00 AM until 11:00 PM, Monday to Saturday. It transmits music, government broadcasts, news, and entertainment. There are plans to go 24/7 by 2017.
Privately Operated
AM

WALZ Hazleton Current Hits (1490 AM: Hazleton Current Hits): This station was recently purchased by the Press Enterprise. The station was operated by the City of Hazleton in the late 1990's with help from Reading. It originally operated from 6:00 AM to 11:00 PM seven days a week. Since its incorporation with the Press Enterprise the hours have been slightly adjusted. Currently it broadcasts from 7:00 AM to 10:00 PM, Monday, Wednesday and Friday. They transmit current music ranging all over the music spectrum.
Telephone
There are only three phone lines in operation for Susquehanna. The lines run to Gettysburg, Reading and to Niagara Falls through State College and North Pennsylvania. All three lines are owned an operated by the government. There are currently no private phone lines, but the government is working with West Texas Bell to begin phone service to the nation by 2030.
Most of the lines are still standing but will need replaced to begin functioning again.
Telegraph
Telegraph is the primary medium of communication outside of the nation. Susquehanna has telegraph connections with most nations in the Northeast and Eastern Canada. Each of the larger communities has a telegraph station in the downtown area. One line does connect with a network of lines, giving them sporadic contact with the Republic of Texas, United States of America, Toledo, and a few other nations that are farther out but this is rarely used.
The government operates its own telegraph service independent of the civilian relays. It gives them contact with all nations they have diplomatic relations with, as well as the members of the United Communities, Mexico and West Texas.
HAM Radios
With the FCC being vaporized in the strikes on Washington D.C. the government of Susquehanna has lifted any restrictions on the use of HAM and CB radios for any that had survived the ravages of the EMP, and post Doomsday chaos. The federal government utilized several HAM radios to keep in touch with leaders from the United States, Mexico and the Republic of Texas on a more regular and stable basis than the telegraph has allowed. HAM radio usage among the civilian population is much more limited. Primarily the wealthy have the money to purchase one for use, often families will purchase bootlegged radios, or improvise their own. This is especially common for individuals with families in other nations.
Film
Susquehanna operates two movie theaters which run from generators that the government has given them. They have a limited supply of fuel and normally operate two days a month. The equipment they use is obsolete, salvaged or recently purchased equipment mostly from Virginia or Toledo. Susquehanna received films from Canada, and Virginia but the Virginian films are heavily edited.
There have been no films made in Susquehanna, although recently Canada and the Celtic Union have shown interest in filming in the Commonwealth due to the low costs.
Television
There are no television stations operating in Susquehanna, although there is some consideration to repair the equipment at the small local TV stations and restart one under Susquehanna Broadcasting Company. The 2015 budget has no funds to work on any repairs, concentrating on infrastructure and communications.
Libraries
There are several libraries in Susquehanna. One is held by Bloomsburg University, one by Hazleton University, one by Geisinger, and the rest are in the public domain, owned either by the federal government or county governments. Each school maintains libraries with between 1000 and 5000 items, as well as 600 to 3000 books.
All libraries are subsidized by the Commonwealth of Susuquehanna, and there are thousands of books stored in Berwick, waiting to be catalogued and sent to the various libraries.
Libraries:
Andruss Library - 2.5 million items; 400,000 books (Bloomsburg University, Columbia County)
Bloomsburg Public Library - 135,836 items; 36,322 books (Bloomsburg, Columbia County)
Geisinger Medical Library - 79,375 items; 58,256 books (Danville, Montour County)
Hazleton Area Public Library - 149,423 items; 152,336 books (Hazleton, Wyoming County)
McBride Memorial Library - 21,842 items; 35,483 books (Berwick, Columbia County)
Ronald Wilson Reagan Memorial Library - 2689 items; 13,843 books (Hazleton University, Wyoming County)
Thomas Beaver Free Library - 59,100 items; 31,500 books (Danville, Montour County)
There is a book-sharing program between the libraries to ensure that everyone has access to needed information.
Computers/REMUNDO
REMUNDO does not have a presence in the nation. There are no facilities in the nation to support the infrastructure. It is highly unlikely that there will be any for the far future.
There are no computers operated in the nation, either, as all the ones previously used were destroyed from the EMP on Doomsday, or lost in the following chaos.
Overall Conditions
Overall, Susquehanna has a subsistence economy, with 90% of goods and crops that are produced supporting the nation. It has a GDP comparable with pre-Doomsday Niue, and a per-capita GDP comparable with pre-Doomsday Sudan. Much of the economic development comes from aid from Canada, North Pennsylvania or Niagara Falls. It is expected that in the coming decades the economy will improve and expand with additional mining of coal and iron, and drilling for gas.
Manufacturing will increase slightly with cotton being used to make cloth and fabric. Other industries include asphalt and concrete manufacturing, and other industries.
Services have been increasing including medical care, education and banking. These are expected to be the major economic boost to the nation.
It is classified as a developing nation with a strong enough economy to support itself but relying on external donations to improve any.
Before Susquehanna joins the global market there are many things that will need to be accomplished. These range from transportation to economics.
Transportation
Hazleton International Airport will need massive amounts of capital to lengthen the runway to handle large aircraft. It also may need a landing site for airships due to their increased usage.
Due to the location of the capital, the government may need to expand that airport as well, or build a new one to replace the current small one used. Another possible solution would be to relocate the capital closer to Hazleton International Airport.
Railroads and roadways will need to be standardized and heavily repaired. This is so they can safely link with those of State College and Reading.
Rail lines are currently the safest and quickest method of transportation and more than likely will be the primary initial focus.
Economy
The government more than likely will need to develop a stable currency for foreign trade. More than likely, it will be pegged with that of Canada or Mexico.
Another possible need may be a stock market to keep businesses able to interact on a global scale.
They will need to find a strong stable source of income for the government to avoid inflation or deflation of the currency. More than likely, the economy will settle to be focused on heavy industries including steel, iron, coal, natural gas, limestone, and granite, as well as agriculture including corn for ethanol, corn for eating, red deer meat, soybeans, and vegetables.
Education
For citizens to be able to compete in a global job market they will need to get a better education. This will mean students will either be encouraged to leave the Commonwealth for universities in Toledo, Canada, Niagara Falls, or Vermont or the government will need to improve the education system by hiring teachers from first world nations.
Susquehanna is working to improve its overall education services. There are still many issues with preventing truancy and encouraging parents to keep their children in school rather than pull them out to work the fields.
See Also