Coming to America




Theatrical Poster

Directed by
George Deacon
Produced by
Nick Morgan
Written by
Alan Flynn
George Deacon
Based on
An Immigrant's Tale (1973)
Starring
James Woods
Vincent Puzio
Alf Wexler
Sarah Wilder
Ben MacMillan
Robert Loggia
Peter Dempsey
Mickey Walters
Brandon Logan
Studio
Pacific Print
Release date(s)
1982
Running time
183 minutes
Country
United States
Language
English and Italian
Followed by
An American's Story(1989)

Coming to America is a 1982 American feature film directed by George Deacon and based on the first part of Carlio Brunzi's 1973 novel An Immigrant's Tale. Coming to America was released to universal critical acclaim and went on to become the first film to win every Academy Award it was nominated for, sweeping all nine categories, including Best Picture, Best Director (Deacon), Best Adapted Screenplay, Best Score, Best Actor (James Woods) and Best Supporting Actor (Alfred Wexler).

The film launched the careers of numerous actors who appeared in it and spawned two sequels, An American's Story (1985) andThe American Dream (1989), both of which went on to rake in a number of awards themselves. They are part of a trilogy referred to as The Story of America, which is considered the best film series ever shot, and the films typified the "Hollywood Renaissance" of the 1980's.
Plot
The film follows the life of Carmine Scariane, beginning with his adventures aboard the Rosalina, a cargo ship full of immigrants bound for America. A thirteen-year old Carmine (played by Johnnie Seal) and his comrades Patricio (Rick Halter) and Alphonse (Eddie Wryder) are stowaways aboard the Italian vessel and sneak off of the boat in New York's harbor when arriving in America in late 1910.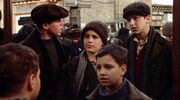 The boys spend a great deal of time as pickpockets in New York, living as street rats and befriending Old Willie (Ben MacMillan), a vulgar, violent Irish pub owner who lives in Hell's Kitchen. Willie employs the three boys, who he calls the Terrible Trio, to steal goods for him, which he sells out of the back of his pub. In return, he allows them to live in one of the pub's back rooms and makes sure they are clothed and fed. The boys manipulate a German shopowner's son named Jimmy (Jim Deacon, the director's nephew) into stealing from his father's customers, resulting in their friend being beaten violently. On one theft gone wrong, the police chase them and Alphonse is run over and crushed by a street car. Willie nearly kills and then casts the two surviving boys out when the police come looking for them. They avoid the police by hiding in an alleyway, where the body of an old black man is decomposing, and Carmine sees a headline decrying the Titanesque disaster, curious as to what happened as he cannot read.
The plot jumps ahead from 1912 to 1922, and now an older Carmine (James Woods) and Patricio (Vincent Puzio) share an apartment in Brooklyn and work for an aging carpenter named Manny Galloceri (Robert Loggia). Manny also employs the boys to rob houses for him and, much like Willie, sell the hot goods for him. The three split the profits three ways and in turn, Manny teaches Carmine and Patricio his trade, how to read and how to count. The eternally-positive Carmine considers Manny a father-figure while Patricio, more disillusioned after the debacle ten years prior with Willie, considers the old carpenter to only be useful in the short-term.
While on a sell for Manny, the two friends encounter Willie once more, this time an old and infirm man. Due to his deep-seated hatred of the old Irishman, Patricio stabs Willie in the throat as revenge for trying to murder them years before. They abandon the sell, which earns the ire of Manny, who is in debt to the local block's bully, Frank Rucco (Brandon Logan).
Manny convinces Rucco to spare him when he and his thugs come by later, offering the services of Carmine and Patricio. Rucco begrudgingly accepts and tasks the boys with driving an illegal liquor shipment from Long Island to New Jersey in a hearse. Rucco comments offhandedly to his friends that it is an effective suicide mission, as the buyer in New Jersey is an enemy of Rucco's and will likely think it is he driving the liquor out.
Carmine and Patricio cross the new bridges in New York City to get to New Jersey and when they arrive at the old slaughterhouse on the Hudson where the deal is set to go off, they are fired upon from numerous directions, and are forced to escape first in the hearse and later by foot. Patricio is arrested by a police officer and Carmine barely manages to hop aboard a streetcar headed back towards the city.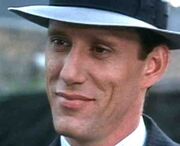 The story jumps forward again to 1925, with Prohibition still at its height, the Pacific War raging and with the economy in tatters. Carmine has risen in the ranks of Rucco's small outfit, and is partnered with Tony (Henry Danson), who is Frank's brother. Tony is an unstable young hothead, unlike the levelheaded Carmine. While trading whiskey for cigarettes with a gang of Irishmen from the Bronx, the deal goes awry when one of them, Donny (Rody Evanston) recognizes Carmine from his days at Willie's pub and orders Tony to hand him over. A firefight ensues and Tony is killed by Henry St. John (Liam Neeson).
Carmine returns to Rucco's hideout to express this news and, upon overhearing that Rucco plans to kill him for allowing his younger brother to be killed, Carmine assassinates Rucco personally the next day at a restaurant while wearing an opera mask, giving him his first-ever kill. He and the ailing Manny together take over Rucco's telephone repair store in Brooklyn and subsequently begin exacting tribute from Rucco's territory, which earns them the attention of Rucco's boss, Carlo Borghese (Alf Wexler).
Borghese orders his mute enforcer, Falco (Peter Dempsey) to capture Carmine and bring him to his lavish home on Long Island, where he is kept in the basement. Borghese demands to know why Carmine murdered his assistant in cold blood, and Carmine responds that he had little choice. "It was me or it was him," Carmine says in a famous line. Borghese, impressed by Carmine's attitude and resolve, decides to keep him on as his new enforcer and assigns him Rucco's old territory and crew officially.
Carmine is introduced to a new world of excess and luxury, stunned by the lifestyle lived by Borghese and his gang. At a decadent party, Carmine is introduced to numerous notables, including future US President Herbert Hoover (Robert Bolton) and the Mayor of New York, Robert Hughes (Bob Keanney). Borghese explains how the illegal trade of liquor is one of the most profitable in the country for the right people, and how Rucco didn't have the "vision" to become a self-made man. Carmine is introduced to Maria, Borghese's niece, and they begin a romance over the next year, finally marrying in 1926, and the birth of their son, Alphonse, shortly thereafter implies that they were wed to hide the pregnancy.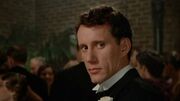 At a high-profile 1928 dinner to fundraise for Presidential candidate Herbert Hoover in downtown Manhattan, at which Mayor Hughes is present, two assassins attempt to kill Borghese, instead gunning down his mistress, Oliva Bella (Roselyn Wilson) and wounding Carmine, who jumps in the way of Borghese. Falco shoots one of them in the head but Carmine spares the other one when he recognizes him as Patricio, whom he has not seen in six years.
Carmine begs Borghese to spare Patricio's life, and in turn the crime lord only cuts off one of Patricio's little fingers before beating him and throwing him in an alleyway. Carmine takes Patricio back to Manny's home, where he is nursed back to health. Patricio explains that, after he returned from the Pacific War and began working for an outfit in the Bronx, a contract was put out on Borghese's life by Seamus Murphy (Mickey Walters), one of the most powerful Irishmen in the city. Apparently, Murphy's son was killed by Sparky (George Cramer), a black gangster who sells Borghese's liquor to the black community and helps keep the law in the speakeasies owned by the Mafia in Harlem.
Despite the protestations of Maria, Carmine journeys to Harlem to personally kill Sparky, which Borghese orders as a sign of good faith towards Murphy to end the feud and avoid a turf war. However, Carmine fails to shoot Sparky while at the Apollo Theater and is captured by Sparky's men. As they are torturing Carmine for information in an abandoned mechanic shop, however, Irishmen led by St. John burst into the room and brutally massacre the black men and bring Carmine with them to Hell's Kitchen to meet with Murphy.
Murphy, a one-armed bootlegger, asks Carmine what Borghese has promised him, and then goes on to insinuate that, like most gangsters, Borghese is only using him for his own designs - namely, as a pawn until he is no longer useful. Donny asks Murphy permission to kill Carmine, but Murphy instead pins him down and tells Carmine to kill him, or be killed instead. Carmine smothers Donny and Murphy recruits him as a double agent.
Carmine begins secretly feeding Murphy information about Borghese's operations in a montage showing the resulting decline of Borghese's empire and is finally informed that Murphy plans to kill Borghese at his 60th birthday celebration in 1930. Carmine learns that his old friend Patricio will deliver the killing stroke as revenge for his treatment at the hands of Borghese years prior. Carmine debates warning Borghese, and even tries to talk Patricio out of going through with it. Patricio responds by promising Carmine that should his plan fall through, Maria and her infant son will be murdered instead, giving the Irish leverage over Carmine.
At the party, Carmine watches as Patricio guns down Borghese as he watches two Italian singers perform an opera duet. Falco, who did nothing to stop the murder, then draws his own gun and kills Patricio. Carmine assumes command of the criminal operation shortly thereafter, and finally admits to his wife that he and Falco agreed to sacrifice Borghese to appease the Irish, and Maria slaps him and curses him, despite Carmine appealing to the notion that he did it to save Maria's life.
In 1931, Prohibition ends and the illegal enterprise of the mob collapses. Carmine decides to legitimize his industry as his daughter Carlotta, called "Carla" affectionately, is born. He forms an unlikely friendship with St. John, who is opening a car shop that doubles as a gamblers den in Hell's Kitchen, and Carmine proposes a partnership. Not long thereafter, he and St. John arrange the assassination of Murphy and his inner circle while they are playing poker, and they both now control a significant portion of the gambling industry in New York. Carmine reveals to Mayor Hughes that he and Falco have evidence of him dispensing bribes to police officers and for soliciting a prostitution ring, and that with this leverage, they hope to have an understanding with him about the longevity of their business going forward.
In the final shot of the film, Carmine is playing with his son and daughter at Borghese's old home in the mid-1930's, and embraces them both in a hug. Looking over their shoulders, he sees Falco approaching and nods to him, a silent order of some kind passing between the two of them.
Cast
Development
Writing
George Deacon had read An Immigrant's Tale in 1977 and the film had been a pet-project of his ever since. He initially approached Jack Kennedy to produce, but was turned down, and in turn went to Pacific Print and got them to sign on to the project. Deacon and screenwriter Alan Flynn, of Oahu fame, decided to pen the project together, with the 1960's crime epics Bogart and Beantown in mind for tone, but aiming for a scale that had yet been unseen in most crime films.
The finished screenplay was put into production in early 1980 as they began developing the film further, with Deacon directing and Nick Morgan producing.
Casting
Deacon wanted actors who suited the roles instead of big-name stars, and in many cases, got exactly what he wanted. For Carmine, James Woods was "the only person I ever wanted" after having seen his performance in the 1979 film Mercury, but admitted that casting Patricio was more difficult as the character was critical to the plot and needed natural chemistry with Woods. Vincent Puzio eventually got the role, and the previously unheard-of theater actor was thrust into the forefront of the 183-minute epic.
The Rucco brothers (Brandon Logan and Henry Danson) were recruited from a variety of television shows, and a number of other actors were chosen. However, the three big wins for Deacon were the respected Wexler, who brought "a level of gravitas, dislikability and Bogart-esque cruelty to the role of Borghese" and unknowns in Peter Dempsey, who was a male model at the time recruited for his presence (playing the mute Falco, he had no spoken lines) and Irish actor Liam Neeson for Henry St. John, who had appeared in choice theater roles in Dublin and was brought in to the project while working as a forklift driver in Belfast.
Filming
Release
Sequels