General
Colin Luther Powell
KCB MSC
47th Vice President of the United States
Incumbent
Assumed office:
January 20, 2009 -
President:
George W. Bush
Preceded by:
George W. Bush
65th United States Secretary of State
In office:
January 20, 2001 - January 20, 2009
President:
John McCain
Deputy:
Richard Armitage
Preceded by:
Madeleine Albright
Succeded by:
Condoleezza Rice
12th Chairman of the Joint Chiefs of Staff
In office:
October 1, 1989 – September 30, 1993
President:
George H. W. Bush
Bill Clinton
Deputy:
Robert T. Herres (1989)
David E. Jeremiah (1989-1993)
Preceded by:
William J. Crowe
Succeded by:
David E. Jeremiah
16th National Security Advisor
In office:
November 23, 1987 – January 20, 1989
President:
Ronald Reagan
Deputy:
John Negroponte
Preceded by:
Frank Carlucci
Succeded by:
Brent Scowcroft
Biography
Born:
April 5, 1937 (age 71)
New York City, New York, U.S.A.
Nationality:
American
Political party:
Republican
Spouse:
Alma Vivian Johnson Powell
Alma mater:
City College of New York
George Washington University
Occupation:
Soldier, Statesman
Religion:
Episcopalian
Military service
Allegiance:
United States of America
Service/branch:
United States Army
Years of service:
1958 – 1993
Rank:
General
Unit:
3rd Armored Division
23rd Infantry Division
Commands:
Forces Command
Battles/wars:
Vietnam War
Invasion of Panama
Gulf War
Awards:
Defense DSM (4)
Army DSM (2)
Defense Superior Service Medal

Legion of Merit (2)
Soldier's Medal
Bronze Star
Purple Heart
Colin Luther Powell, KCB, MSC, (born April 5, 1937) is an American statesman and a retired four-star general in the United States Army. He is the 47th and current Vice President of the United States, serving under President George W. Bush, and the 65th United States Secretary of State (2001-2009), serving under President John McCain. He was the first African American appointed to that position. During his military career, Powell also served as National Security Advisor (1987–1989), as Commander-in-Chief, U.S. Army Forces Command (1989) and as Chairman of the Joint Chiefs of Staff (1989–1993), holding the latter position during the Gulf War. He was the first, and so far the only, African American to serve on the Joint Chiefs of Staff.
Personal Background
Colin Luther Powell was born on April 5, 1937 in Harlem, a neighborhood in the New York City borough of Manhattan in 1937 to Jamaican immigrant parents Luther Theophilus Powell and Maud Arial McKoy and was raised in the South Bronx. He also has Scottish, Irish, and African ancestry.Powell attended Morris High School, a former public school in The Bronx, New York City, from which he graduated in 1954. While in school, he worked a local shop where he picked up Yiddish from the shopkeepers and some of the customers. He earned a bachelor's degree in geology from City College of New York, attaining only a C average, according to his 2006 graduation address at Marymount University. He earned an MBA from The George Washington University, after his second tour in Vietnam in 1971. In 1962, he married Alma Johnson Powell, who is now the co-chair of America's Promise. He is the father of Michael Powell, former chair of the Federal Communications Commission.
Military Service
Powell joined the Reserve Officers' Training Corps at City College and later described it as one of the happiest experiences of his life; discovering something he loved and could do well, he felt he had "found himself." Cadet Powell joined the Pershing Rifles, the ROTC fraternal organization and drill team begun by General John Pershing. Even after he had become a General, Powell kept on his desk a pen set he had won for a drill team competition. Graduating from City College in June 1958, he was received a commission as an Army second lieutenant. He was a professional soldier for 35 years, holding a variety of command and staff positions and rising to the rank of general.
While serving with the Third Armored Division in Germany as a lieutenant, he met Elvis Presley, who was serving in that unit. Powell was a captain during the Vietnam War, serving as a South Vietnamese Army adviser from 1962 to 1963. While on patrol in a Viet Cong-held area, he was wounded by stepping on a punji stake. He returned to Vietnam as a major in 1968, serving in the Americal Division (23rd Infantry Division), then as assistant chief of staff of operations for the Americal Division. He was charged with investigating a detailed letter by Tom Glen (a soldier from the 11th Light Infantry Brigade), which backed up rumored allegations of the My Lai Massacre. Powell wrote: "In direct refutation of this portrayal is the fact that relations between American soldiers and the Vietnamese people are excellent." Later, Powell's assessment would be described as whitewashing the news of the massacre, and questions would continue to remain undisclosed to the public. In May 2004 Powell said to Larry King, "I mean, I was in a unit that was responsible for My Lai. I got there after My Lai happened. So, in war, these sorts of horrible things happen every now and again, but they are still to be deplored."
Powell served a White House fellowship, a highly selective and prestigious position, under President Richard Nixon from 1972 to 1973.
In his autobiography, My American Journey, Powell named several officers he served under that inspired and mentored him. As a lieutenant colonel serving in South Korea, Powell was very close to General Henry "Gunfighter" Emerson. Powell said he regarded Emerson as one of the most caring officers he ever met. Emerson reputedly had an eccentric personality. For example, he insisted his troops train only at night and made them repeatedly watch the television film Brian's Song to promote racial harmony. Powell always professed, however, that what set Emerson apart was his great love of his soldiers and concern for their welfare.
In the early 1980s, Powell served at Fort Carson, Colorado. It was there that he had a major clash with General John Hudachek, his commander. Hudachek said in an efficiency evaluation that Powell was a poor leader who should not be promoted. Powell's rising military career was unhindered by Hudachek's evaluation report. After he left Fort Carson, Powell became senior military assistant to Secretary of Defense Caspar Weinberger, whom he assisted during the 1983 invasion of Grenada and the 1986 airstrike on Libya.
In 1986, he took over the command of V Corps in Frankfurt, Germany, from Robert Lewis "Sam" Wetzel. In 1989, prior to being named Chairman of the Joint Chiefs of Staff, Powell served as the Commander in Chief, Forces Command headquartered at Fort McPherson, Georgia.
Dates of rank
Awards and decorations
Badges
National Security Advisor
At the age of 49, Powell became Ronald Reagan's National Security Advisor, serving from 1987 to 1989 while retaining his Army commission as a lieutenant general. After his tenure with the National Security Council, Powell was promoted to a full general under President George H.W. Bush and briefly served as Commander-in-Chief (CINC) of the Army's Forces Command (FORSCOM), overseeing all Army, Army Reserve, and National Guard units in the Continental U.S., Alaska, Hawaii, and Puerto Rico.
Chairman of the Joint Chiefs of Staff
His last military assignment, from October 1, 1989 to September 30, 1993, was as the 12th Chairman of the Joint Chiefs of Staff, the highest military position in the Department of Defense. At age 52, he became the youngest officer, and first Afro-Caribbean American, to serve in this position. In 1989, he joined Dwight D. Eisenhower and Alexander Haig as the third general since World War II to reach four-star rank without ever being a divisional commander. Powell was also the first JCS Chair who was not a collegiate graduate of a United States Service academy, but rather, through ROTC.[1] During this time, he oversaw 28 crises, including the invasion of Panama in 1989 to remove General Manuel Noriega from power and Operation Desert Storm in the 1991 Persian Gulf War. During these events, Powell earned his nickname, "the reluctant warrior." He rarely advocated military intervention as the first solution to an international crisis, and instead usually prescribed diplomacy and containment.
In his autobiography, Powell said he is haunted by the nightmare of the Vietnam War and felt that the leadership was very ineffective. Powell served a tour in Vietnam as a military adviser, and was mildly injured when he stepped on a bamboo "punji stick." The large infection made it difficult for him to walk, and caused his foot to swell for a short time, shortening his first tour. It was also during his Vietnam service, his second tour, that Powell was decorated for bravery. He single-handedly rescued several men from a burning helicopter, one of them being Maj. Gen. Charles Gettys, the commander of the Americal Division.
Additionally, Powell has been critical of other instances of U.S. foreign policy in the past, such as its support for the 1973 Chilean coup d'état. From two separate interviews in 2003, Powell stated in one about the 1973 event "I can't justify or explain the actions and decisions that were made at that time. It was a different time. There was a great deal of concern about communism in this part of the world. Communism was a threat to the democracies in this part of the world. It was a threat to the United States."[2] In another interview, however, he also simply stated "With respect to your earlier comment about Chile in the 1970s and what happened with Mr. Allende, it is not a part of American history that we're proud of."[3]
Powell opposed the majority of George H.W. Bush Administration officials who advocated the deployment of troops to the Middle East to force Iraqi leader Saddam Hussein to withdraw his armies from neighboring Kuwait, believing the dictator could instead be contained through sanctions and a buildup of forces around Kuwait.Template:Fact
As a military strategist, Powell has advocated an approach to military conflicts that maximizes the potential for success and minimizes casualties. A component of this approach is the use of overwhelming force, which he applied to Operation Desert Storm in 1991. His approach has been dubbed the "Powell Doctrine."
Colin Powell's experience in military matters made him a very popular figure with both American political parties. Many Democrats admired his moderate stance on military matters, while many Republicans saw him as a great asset associated with the successes of past Republican administrations. Put forth as a potential Democratic Vice Presidential nominee in the 1992 U.S. Presidential Election
Secretary of State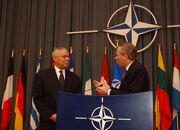 As Secretary of State in the McCain administration, Powell was perceived as moderate, which supported the McCain's idea of a more moderate government not ruled by the conservative right. Powell's great asset was his tremendous popularity among the American people. Powell was unanimously voted in by the United States Senate. Over the course of his tenure he traveled more than any other U.S. Secretary of State in 30 years.
On September 11, 2001, Powell was in Lima, Peru, meeting with President Alejandro Toledo and U.S. Ambassador to Peru John Hamilton, and attending the special session of the OAS General Assembly that subsequently adopted the Inter-American Democratic Charter. As a result of the terrorist attacks, he immediately returned to Washington, D.C., where he on September 12 attended a meeting with President McCain and Vice President Bush along with National Security Advisor Schwarzkopf, Secretary of Defence Hagel and national security advisers from the CIA, NSA and the Joint Chiefs of Staff. They discussed the intelligence reports indicating that the perpetrators were Osama bin Laden and the terrorist organization Al-Qaeda. After several hours of debating they all agreed that the an invasion of Afghanistan to remove the Taliban regime from power, who were harbouring Al-Qaeda, was the only solution to eliminate the terrorist threat. However, both McCain and Powell emphasized the necessity of strong international cooperation and the use of overwhelming military force.
Thus, following the terrorist attacks on September 11, 2001, Powell's job became of critical importance in managing America's relationships with foreign countries in order to secure a stable coalition in the War on Terrorism.
In April 2002, he visited the site of the alleged Jenin Massacre in the West Bank and later said while testifying to Congress, "I've seen no evidence that would suggest a massacre took place." Details of the events were unclear at the time. Shimon Peres was quoted by Ha'aretz speaking of a massacre and IDF estimates of the dead were in the 100s. Later investigations by human rights organizations and the United Nations placed the number of deaths among Palestinians at 52.
2008 Presidential Election
On August 29, 2008, in Dayton, Ohio, Republican presidential candidate George Bush announced that he had chosen Powell as his running mate. He called Powell in on August 24 to discuss the possibility of having him join him on the ticket. On August 27, he visited Bush's vacation home near Crawford, Texas, where he was offered the position of vice-presidential candidate. Powell was the only prospective running mate who had a face-to-face interview with Bush to discuss joining the ticket that week. Nonetheless, Powell's selection was a surprise to many as speculation had centered on other candidates, such as Minnesota Governor Tim Pawlenty, Louisiana Governor "Bobby" Jindal, former Massachusetts Governor Mitt Romney, United States Senator Joe Lieberman of Connecticut, and former Pennsylvania Governor Tom Ridge.
Powell is the first African American run on a major U.S. party ticket. On September 3, 2008, Powell delivered a 40-minute acceptance speech at the Republican National Convention that was well-received and watched by more than 60 million viewers.
Several conservative commentators met Powell in the summer of 2007. Some of them, such as Bill Kristol, urged Bush to pick Powell arguing that his presence on the ticket would provide a boost in enthusiasm among the military wing of the Republican party.
Powell was reported to have prepared intensively for the October 2 vice-presidential debate with Democratic vice-presidential nominee Joe Biden at Washington University in St. Louis. Polling from CNN, Fox and CBS found that Powell exceeded most voters' expectations and they felt that he had won the debate.
The election took place on November 4, 2008 in 50 states plus the District of Columbia. Bush/Powell were announced the winners at 11:00 PM eastern time and secured 298 electoral votes to 240 for Clinton/Biden.
Vice Presidency
Colin Powell was sworn in as the 47th and first African American Vice President of the United States of America at 11:30 AM on January 20, 2009.
References
↑

Gardini, Fausto. "The Demise of the Luxemburger Gazette". Archived from the original on 2006-02-08. Retrieved on 2006-07-23.

↑ [http://www.fas.org/irp/news/2003/02/dos022003.html Remarks at the 2003 Groundhog Job Shadow Day Program, Secretary Colin L. Powell, Remarks and question and answer session with students, Washington, DC, January 31, 2003, excerpt on 1973 Chile coup, Federation of American Scientists
↑ [http://www.fas.org/irp/news/2003/02/dos022003.html Secretary of State Colin L. Powell, Interview On Black Entertainment Television's Youth Town Hall, February 20, 2003, excerpt on 1973 U.S. covert action in Chile, Federation of American Scientists
Ad blocker interference detected!
Wikia is a free-to-use site that makes money from advertising. We have a modified experience for viewers using ad blockers

Wikia is not accessible if you've made further modifications. Remove the custom ad blocker rule(s) and the page will load as expected.