This is an alternate history scenario in which the Cold War eventually blazed into full-on war due to the launching of a Saudi satellite that disabled nuclear weapons.
Opening days
It began on July 15, 1967, the day after all nuclear weapons were deactivated by the above-mentioned Saudi satellite. Soviet Chairman Alexei Kosygin declares war on West Germany, sparking the war. The USA is kind of busy fighting in Vietnam, so Europe is temporarily on its own, while the US musters a force to send to Europe. On July 17, 1967, France, Belgium, the Netherlands, Luxembourg, and the UK declare war on the Soviet Union to aid West Germany. The war begins in earnest on July 20, with the East German (the Warsaw pact sided with the Soviet Union) invasion of Hamburg.
The European Front (1967-1973)
In September, Italy, Portugal, and Denmark have declared war on the Warsaw Pact. By late 1967, trenches have been dug in West Germany. The map is at this point. TBC.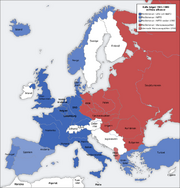 Ad blocker interference detected!
Wikia is a free-to-use site that makes money from advertising. We have a modified experience for viewers using ad blockers

Wikia is not accessible if you've made further modifications. Remove the custom ad blocker rule(s) and the page will load as expected.