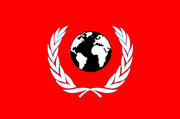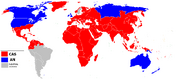 The Coalition of Axis States is the largest and most powerful multinational organization on the planet. Founded in 1949 by the victorious Axis Powers, it in theory serves as a body that dictates international law as well as acts as a forum for Axis-aligned nations to engage in diplomacy. In practice, however, it is little more than an extension of the largest and most influential members' power and serves as a tool for the Greater German Reich and Empire of Japan to keep a rein on their less powerful minor allies and puppets.
Membership is extremely regimented and participating states occupy a tiered system. Standing in the hierarchy is determined by a combination of global political influence, military strength, and loyalty to the Security Council. It is arranged as follows:
Security Council
Tier I
Tier II
Mengjiang United Autonomous Government
Tier III
Ad blocker interference detected!
Wikia is a free-to-use site that makes money from advertising. We have a modified experience for viewers using ad blockers

Wikia is not accessible if you've made further modifications. Remove the custom ad blocker rule(s) and the page will load as expected.