Early career 
In November of 1941 due to a number of financial misfortunes, Orson Welles gave up production on his second film for RKO The Magnificent Ambersons, much to the dismay of George Schaefer, who hoped the film would make back the money lost by Citizen Kane, Welles instead focused on another passion of his life, politics. As a self-proclamed "Progressive" Welles was a supporter and admirer of Franklin D Roosevelt. In late 1941 Welles chose to run for the office of Mayor of Los Angeles as a Democrat
After a unique campaign, in which Welles promised to open his own house to the homeless of the city, he emerged victorious defeating opponent Stephen W Cunningham even after Cunningham's smear campaign in which he referred to Welles as a "Communist". After Welles' first 5 months in office the standard of living in Los Angeles increased expedencially, Welles eventually became known as "The Voice of L.A" and "The saviour of the people" Welles himself felt the latter name was blasphemous, but the name stuck.
Governorship
Welles went on to serve four consecutive terms as mayor until 1961 when he was defeated by Republican Norris Poulson after failing to win a fifth term in office Welles went into semi-retirement from politics, until 1964 when his then wife, Paola Mori, suggest he run for Governor, Welles apparently stated he "wouldn't remember what to do" but in the end he joined the race, He proceeded to campaign eventually winning the Democratic nomination until the 1966 California gubernatorial election when he came up against successful conservative Republican candidate Ronald Reagan, this ignited one of the most brutal and unorthadox campaigns in history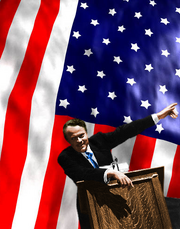 Ad blocker interference detected!
Wikia is a free-to-use site that makes money from advertising. We have a modified experience for viewers using ad blockers

Wikia is not accessible if you've made further modifications. Remove the custom ad blocker rule(s) and the page will load as expected.