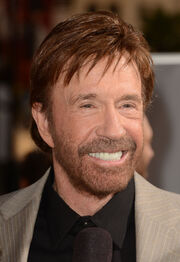 Carlos Ray "Chuck" Norris (born March 10, 1940) is an American politician, martial artist and retired astronaut. After serving in the United States Air Force, he began his rise to fame as a martial artist, and has since founded his own school, Chun Kuk Do.
Norris was defeated in his first two tournaments and three matches at the International Karate Championships. By 1967 Norris was going nowhere in International Competition and in 1970 entered the University of Texas after hearing a speech by then president Nixon and in 1974 earned a B.S. in engineering and a M.S. in Nuclear Engineering in 1976.
Norris entered NASA after graduation and started working in research on the new NERVA (nuclear rocket) project. Norris still trained as a martial artist and helped develop a new style for use in zero gravity and low gravity.
Norris entered astronaut training for Deep Space missions and travelled to Venus in 1985 and was the Chief Engineer on the First Jupiter mission. Norris retired from NASA in 2010 and ran for congress in South Dakota winning by a comfortable margin. He was re-elected in 2012.
Ad blocker interference detected!
Wikia is a free-to-use site that makes money from advertising. We have a modified experience for viewers using ad blockers

Wikia is not accessible if you've made further modifications. Remove the custom ad blocker rule(s) and the page will load as expected.