Previous: Under A Different Flag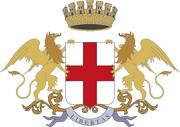 Christopher Colombus under the pleas of his father comes back to his home of Genoa. The Doge, hearing of his idea, and with many ships to spare and wanting anything to bring Genoa back to its former height, agrees to let Christopher spare two of Genoas many ships to sail to the new world.
Christopher lands on the tip of Cape Cod, naming it Genovaisola -Genoan Island. One of Christopher' ships crashes into many rocks. Hearing that all of his men might might not be able to make it back home he has them make a fort and he sails back telling the doge of the new land he likes to call Colombia. He is able to commission another voyage based on the new possible trade goods he presents to the Doge.
Columbus sails back and what does he find?

OCT MARIUS, HAIL HIM

00:31, January 21, 2014 (UTC)
Ad blocker interference detected!
Wikia is a free-to-use site that makes money from advertising. We have a modified experience for viewers using ad blockers

Wikia is not accessible if you've made further modifications. Remove the custom ad blocker rule(s) and the page will load as expected.