The Territory of Christmas Island is a territory of the ANZC in the Indian Ocean. It is located 2600 km (1600 mi) northwest of the former Western Australian city of Perth, 500 km (310 mi) south of the Indonesian capital, Jakarta, and 975 km (606 mi) ENE of the Cocos (Keeling) Islands.
Phosphate, deposited as guano, has been mined on the island for many years. 63% of its 135 sq km (52 sq mi) is an Australian national park. There exist large areas of primary rain forest.
History
Pre-Doomsday
At Australia's request, the United Kingdom transferred sovereignty to Australia; in 1957, the Australian government paid the government of Singapore £2.9 million in compensation, a figure based mainly on an estimated value of the phosphate forgone by Singapore. The first Australian Official Representative arrived in 1958 and was replaced by an Administrator in 1968.
Post-Doomsday
Amid the chaos of Doomsday contact was temporarily lost with mainland Australia but after a few weeks communications had been largely restored.
The container port in Flying Fish Cove saw many Freighters, pleasure craft, cruise ships and naval vessels from NATO stop by for resupply and refuelling on their way to Australia or New Zealand. Some of the smaller craft, unwilling to risk the journey opted to settle in Christmas island.
From the late 1980s and early 1990s, boats carrying asylum seekers, mainly departing from Indonesia, India and the Middle East, landed on the island. During 2001, a large number of mostly Middle Eastern persons landed with the intent to apply for asylum in Australia.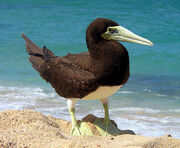 Transportation
Container port
A container port exists at Flying Fish Cove with an alternative container unloading point to the south of the island at Norris Point for use during the December to March 'swell season" of seasonal rough seas. After Doomsday, the port was abuzz with activity. (see history)
Air travel
There are three weekly flights into Christmas Island Airport from Coral Bay, Western Australia.
Road transport
There is a new recreation centre at Phosphate Hill operated by the Shire of Christmas Island. There is also a taxi service. The road network covers most of the island and is generally good quality, although four wheel drive vehicles are needed to access some more distant parts of the rain forest or the more isolated beaches, which are only accessible by rough dirt roads.
Ad blocker interference detected!
Wikia is a free-to-use site that makes money from advertising. We have a modified experience for viewers using ad blockers

Wikia is not accessible if you've made further modifications. Remove the custom ad blocker rule(s) and the page will load as expected.