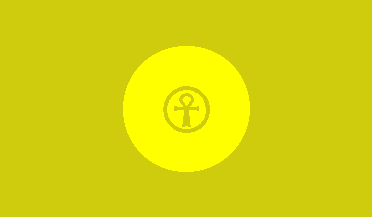 The flag of Chra Ptolemey
Chra Ptolemey was the first Ptolemaic rebel nations to successfully declare itself independent of the Seleucid Empire, as can be seen in its flag. Many other nations still use the circle which represents the sun, change, independence, and the likes. But Chra Ptolemey started this trend. In the middle of the circle is an ancient Aigyptoo (from Aigyptos, the Greek name for Egypt, the oo represents an omega, Aigyptoo thus should be the genitive of Aigyptos if I'm not mistaken) symbol. Many think this symbol is supposed to represent rebirth and resurrection.
Ad blocker interference detected!
Wikia is a free-to-use site that makes money from advertising. We have a modified experience for viewers using ad blockers

Wikia is not accessible if you've made further modifications. Remove the custom ad blocker rule(s) and the page will load as expected.