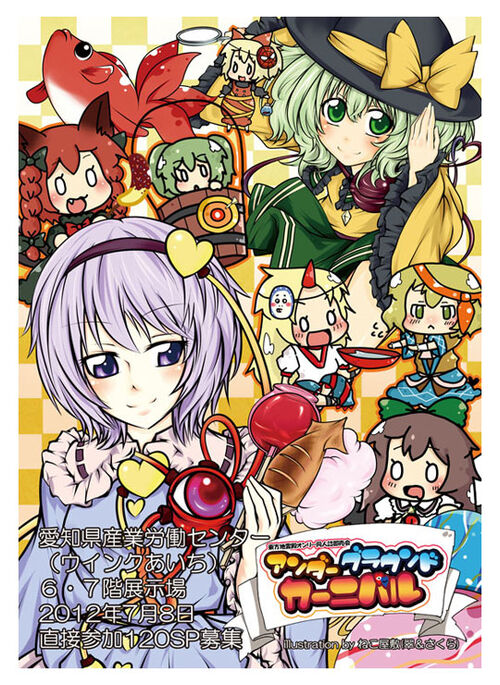 The 地霊祭 (Chireisai) (Underground Carnival) is an annual event that takes place in certain parts of the world and the locations change every year. It was first established in 2008, a year after 東方地霊殿 ~ Subterranean Animism was released. Since then, this annual event has dealt with primary Subterranean Animism.
The next one was hosted in 2012年7月8日, and the next one took place on 2013年7月12日.
List of cities hosted
This is a list of cities that hosted the event. Some of them change every year, while some stay the same.
2008
Sendai, Japan
Shanghai, China
Kokkola, Finland
Rio de Janeiro, Brazil
2009
Hakodate, Japan
Tianjin, China
Göteborg, Sweden
2010
Kōchi, Japan
Oslo, Denmark-Norway
Hanseong, Korea
São Paulo, Brazil
2011
Takasaki, Kōshi
Copenhagen, Denmark-Norway
Sapporo, Japan
Incheon, Korea
Surat Thani, Thailand
2012
Miyazaki, Japan
Sejong, Korea
Vantaa, Finland
Quanzhou, China
2013
Kobe, Japan
Shenzhen, China
Amsterdam, Belgium
Berlin, Prussia
東方Project

Main
Games
Fan Stuff/Other Productions
Characters
Other stuff
Related games
少女里見 ~ Third Power
Satomi Maiden ~ Third Power
超大国
Superpowers
組織、企業、等
Organisations, Companies, etc.
戦争
Wars
その他の情報
Other information