Ad blocker interference detected!
Wikia is a free-to-use site that makes money from advertising. We have a modified experience for viewers using ad blockers

Wikia is not accessible if you've made further modifications. Remove the custom ad blocker rule(s) and the page will load as expected.
Chinese Yuan (中國元) is the legal currency of Republic of China. It was created after the Second Chinese Civil War in 1956. It circulates in China. It is one of the International currencies like ReichMark, Pound Sterling and USD.
Denominations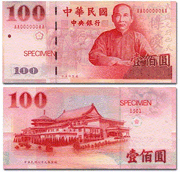 Coins
1 cent, 2 cent, 5 cent, 10 cent
$1, $2, $5, $10
Paper currency
$10, $20, $50, $100, $200
Exchange rate
Up to 30 January 2012 UTC+8 17:51
Pound sterling 1:1 Chinese Yuan
Reich Mark 1:1 Chinese Yuan
United States Dollar 1:1 Chinese Yuan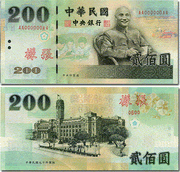 Italian Lira 5:1 Chinese Yuan
Spanish Peseta 9:1 Chinese Yuan
Forint 10:1 Chinese Yuan
Hryvnia 8:1 Chinese Yuan
Japanese Yen 6200.52:1 Chinese Yuan
Korean Won 17121.621:1 Chinese Yuan
India Rupee 15:1 Chinese Yuan