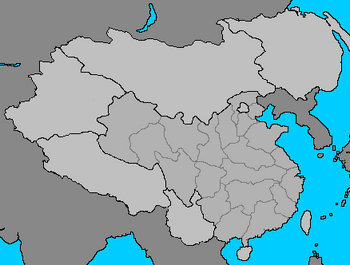 Overview
After the end of Occupied China in 1996, the Second Chinese Republic was founded as a shaky democratic nation. It was still recovering from its loss in GWII, and is still feeling the repercussions of its loss.
History
After the English, the Scottish, the Indians, and the Vinlanders pulled out of China in 1996, China was given its freedom as a democracy. The English oversaw the re-founding of China through until it seemed stable enough to start on its own. After the English pulled out of China in 1999, Tibet peacefully integrated into it.
Throughout the next seven years, it experienced many oligarchic revolts and Chinese State nationalist raids. In 2008 it passed the Reigning Peace Bill, which declared that anyone who attempted to overthrow the government would be immediately sentenced to death. The raids and attempts decreased significantly.
Provinces
Xinxiang (Sinkang)
Qinghai
Gansu
Shanxi
Shannxi
Yan
Bohai
Heibei
Shangdong
Heinan
Jiangsu
Yunnan
Sichuan
Anhui
Zheijiang
Hubei
Hunan
Fujian
Guangxi
Guangdong
Presidents of the SCR